A powerful brand engages with the customers on an emotional and deeper level. It's able to create an identity that the people want to be associated with, and those who are, often become loyal to the highest limit. However, creating a robust and impressive brand is easier said than done.
Turns out that if you want to master branding, then you must know about the visual end of it. Most importantly, you should know what is included in a visual brand identity checklist. You can save time on that by just learning about the following:
The Logo
A logo is one of the most important visual assets of a brand. After all, it's the face of an entire business, a symbol that the customers can relate to and identify easily even in the biggest of markets.
A logo can be of any kind:
Wordmark: these logos comprise the names of brands. Examples include Google, Sony, Visa, etc.
Lettermark: When the name of a brand is quite long, then a wordmark logo becomes impractical. For instance, HP stands for Hewlett Packard. Since the latter doesn't make for a good logo, the company went for a lettermark logo which uses the initials of the actual name. Other big brands that have chosen this concept include CNN, HBO, WB, BBC, etc.
Brandmark: Brandmark logos use icons or symbols. There are countless examples of good brandmark logos viz. Twitter, Apple, Target, etc.
Many people think that logo designing is a time-consuming and expensive process. However, neither of these is true. Not only it's easy to create a logo online, but it's also a lot cheaper now. There are online programs that allow you to create unique and interesting logos in a matter of minutes.
Typography
Whether you want to sell something on amazon.com or services via your own website, you need to maintain consistency in the typography you use. This is because it's an integral part of your brand and gives character to its personality.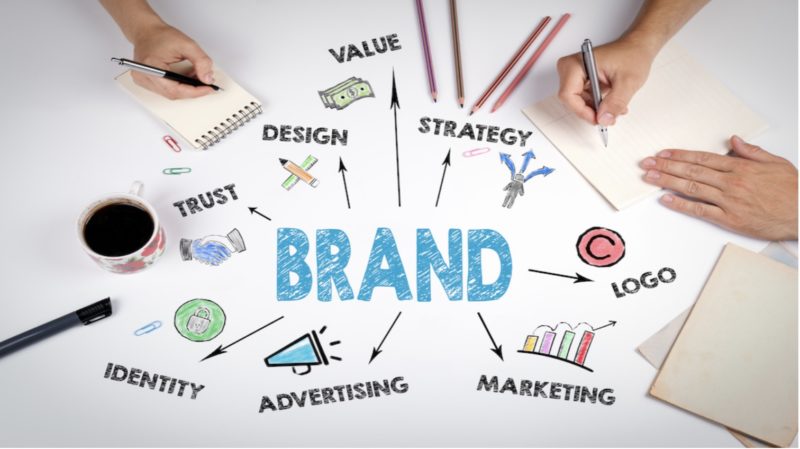 Most brands pick two fonts- a primary font for the headers and titles used in blogs, websites, eBooks, newsletters, etc. and a secondary one for the paragraphs in the same content.  Although, you may benefit from picking a third font as well that can be used for special phrases and paragraphs that need to be highlighted in some situations.
Color
Industry experts are quite familiar with the psychology of color in marketing and branding. This is why all the top brands pick the colors carefully.
You may feel inclined to use the colors you personally like, but when it comes to branding, then you have to set aside your preferences and stick to what's best for your visual identity. For instance, the following are some of the most common colors that are used by brands and the different feelings associated with them:
Purple: modesty, creativity
Pink: intuition, love, respect
Blue: trust, ambition, awareness
Green: nature, growth, positivity
Yellow: fun, energy, optimism
Black: strength, authority, power
Red: ambition, passion, confidence
Grey: solidness, timelessness, balance
Images
The images and graphics you use on your website, digital ads, and other digital entities also make for an important part of your overall brand. While it's important to pick photos that have high resolutions and are clicked by professionals, it's also important they aptly reflect what the brand is all about.
Let's say that you sell apparels for teenagers. Naturally, you would want to hire models to click images of them wearing some of your best products. However, you should be careful with those you select. The models should appropriately carry the persona of your brand- urban, country, hipster, formal, etc. The setting for the photos will also play a key role which is why you need to that in mind as well.
Other Graphic Elements
There are all kinds of graphics assets that you use apart from those above. These include textures, line style formats, video intro and outro formats, and more. It's important that carefully examine each one of them and ensure that they fit your brand identity portfolio.
The Bottom Line
No matter what kind of business you are running and what its size is, you have to remember at all times that brand image matters more than you think. You can't afford even small mistakes as they can affect lead to inconsistencies. So, make it a point to assess your brand today itself based on the information above. You might be surprised by what you will find. Good luck!