I've just migrated from a MacBook Air to a MacBook Pro and am confused that my favorite bluetooth headphones are now really soft. Is there some secret Mac OS X control that lets me make them loud again?
Congrats on the migration to the more powerful MacBook Pro system. Lots to really like about the new computer, including of course some new circuitry and capabilities, as well as – hopefully! – a performance boost to go with it. Generally speaking your bluetooth devices, once paired with the new system, should behave exactly as they did with the old system, but it turns out that there are a couple of different places where volume controls can affect output device performance.
In fact, there are so many different volume settings that I encountered one I'd never seen before while I was writing up this tutorial, one that was a throwback to 90's audio technology called Musical Instrument Digital Interface and is how electric guitars and synthesizers interact with the computers that control their sound output.
But let's start at the beginning. If you're using bluetooth technology on a macOS system (it's not officially called "Mac OS X" any more, just so you know 🙂 ) then I strongly recommend you enable Bluetooth on the Menu Bar, a setting in the Bluetooth System Preference. Then you can double check your device is being used for audio output easily:
In this case you can see that I'm already using my Sennheiser Momentum M2 bluetooth headphones (if they weren't being used as audio output it'd say "Connect" instead of "Disconnect" on the slide-out menu). From this point you can also go to Sound Preferences… if you need, but before you do, check your overall system volume by simply tapping on the "louder speaker icon" on the keyboard. On screen you'll see this:
That's nice and loud, but the headphones or speakers still not working as you'd like? Turns out that iTunes has its own output level slider, another place that you might find the settings aren't quite what you desire. In the big iTunes window, it shows up adjacent to the current track mini-window:
For some reason, on my system there's a bug that causes iTunes to adjust its volume to about 20% every time I switch output to a Bluetooth device. You might not have that problem, but a quick adjust of the above is all that's needed to correct it.
Surprise, though, there's a third volume control that's tied to the Apple MIDI interface, as referenced earlier. To find this mystery app, the easiest is to do a Spotlight search for "audio midi", as shown:
With its digital keyboard icon, it's easy to assume that's not related to your bluetooth output device, but, surprise, when you launch the program, you'll see that it not only knows about all the configured bluetooth devices, but has its own internal volume control too: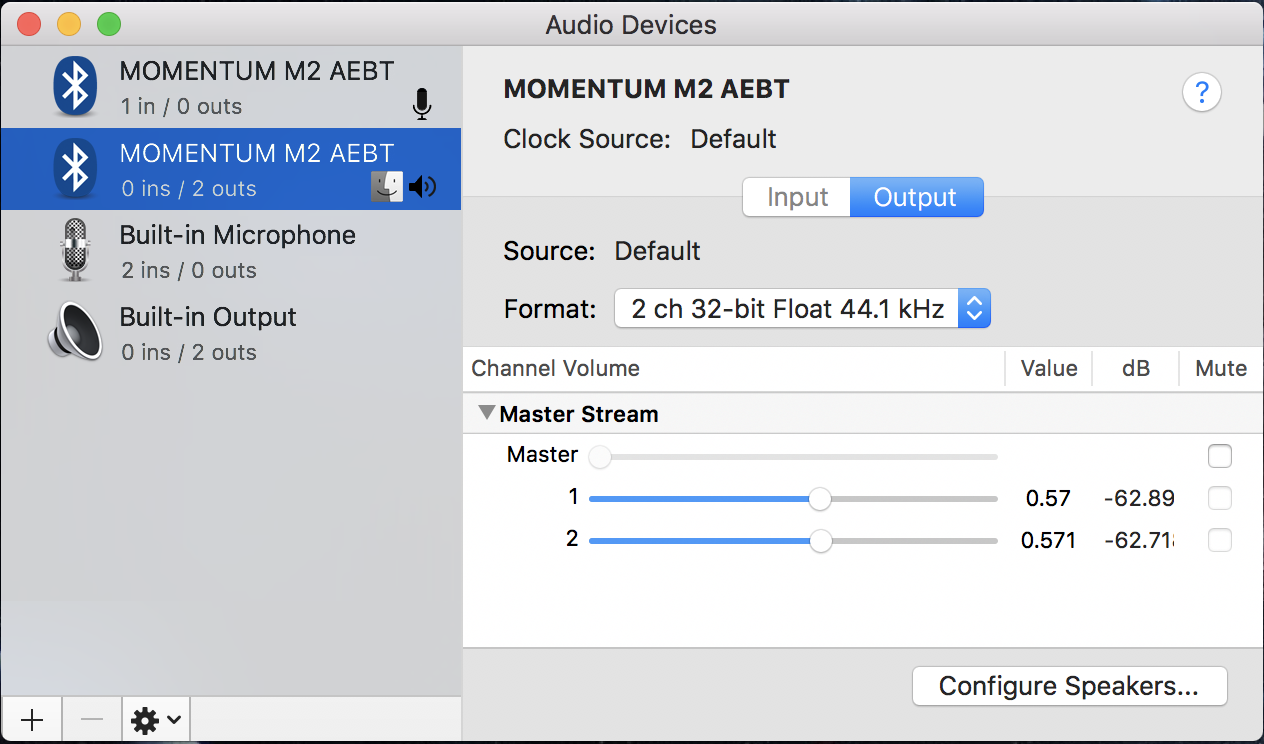 Heck, you can finally fix the left/right balance issue if you have one, or switch it to mono rather than stereo if that's your preference. More importantly, those sliders let you adjust the internal volume: slide 'em rightward to make your unit louder (though I wouldn't recommend having them all the way to the right lest you introduce clipping and other audio artifacts that will adversely impact your listening experience).
Don't leave this app yet, however. Click on "Configure Speakers…" too because, well, it's cool:
I only have two speaker output devices, but I presume that if you had a 5.1 or 7.1 Dolby surround sound system you could use this to fine-tune the output and per-device volume, fix left/right issues and similar. You can switch from Stereo to Surround Sound in the pop-up menu, but with two speakers it's not going to be an audible difference.
Anyway, the important thing is that you now know all the different places in macOS where there are audio output level controls. With that knowledge, you should be able to tweak and adjust everything to get your headphones back to the desired volume. Good luck!