I'm studying the eBay marketplace to decide if I want to get into the world of baseball trading cards and want to know if there's any way to figure out the half-dozen largest merchants in this area of eBay without tallying things up manually?
Fortunately you aren't going to have to tediously go through thousands of listings to ascertain which merchants or sellers have the most baseball or trading cards for sale. A little known corner of eBay that's well worth studying for any serious seller is eBay Pulse. As you can see below, it doesn't look like much:

The key to notice is the top grey bar, which says "Category" and offers up an extensive pop-up menu of categories. Using that, you can drill down into any subcategory on the entire site, which means that you can go into
Sports Mem, Card & Fan Shop
, a category I bet you already know quite well. That's not where it gets interesting, though, it's deeper that'll reveal what you want. Click again on the pop-up menu and look at what it shows: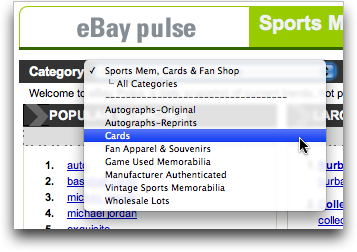 As you can see, it lets up back up to All Categories, but more importantly, it lets you dig deeper into the hierarchy of eBay categories and subcategories. One more level down, subcategory
cards
and now it's revealed that you need to choose between Minors, MLB and Negro Leagues: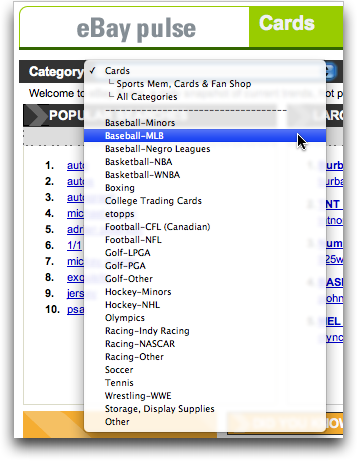 Choose "Baseball, MLB" and now you can see that eBay Pulse shows you exactly what you want: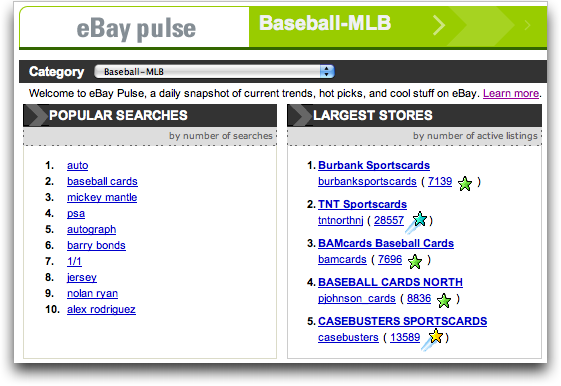 That gives you the answer to the question you want. In this subcategory, the seller with the most listings is Burbank Sportscards, followed by TNT Sportscards and BAMcards Baseball Cards. If you want to have a presence in this niche, these are your primary competitors.
Go get 'em, tiger!