We live in a society where anything over 99 cents is a purchase to be made carefully, particularly if it's a game in the App Store. A game may be in the top charts on the iPad, for example, but that doesn't guarantee it's good! Here are the current top three games in the App Store, and whether or not you should buy them…
If you're into video games or PC gaming, you'll be used to paying $50 or more per title, but don't let that $0.99 title mislead you: there are a ton of great games in the App Store that have been lovingly built with professional graphics, gameplay and underlying simulation engines, often the same ones you'd find on the far more expensive titles.
One of the key elements? In-app purchases. A lot of the most successful titles on the iPad and iPhone are free to download, actually, and make all their revenue off in-app upgrades, new levels and additional capabilities. It's a different world!
But let's have a look at the top three titles as of this writing: Minecraft, Angry Birds Star Wars and The Room.
Minecraft: Mobile Edition
Anyone familiar with PC or Xbox gaming will be at least remotely familiar with Minecraft, the block-building game with randomly generated terrain, creative monsters, and features galore. A while back, Minecraft made it to iOS, but it was rough around the edges and lacked a lot of features. Thankfully, Mojang has recently concentrated a lot of effort on increasing the world size and adding features from the PC game to make it more complete!

If this is all you've seen of Minecraft: Mobile Edition, you are literally scratching the surface.
Minecraft has two modes: Creative and Survival. Creative is simply building blocks, enabling the player to fly and place as many blocks as he or she wants with little restriction. Survival, on the other hand, places you in a randomly-generated world and gives you nothing. You manipulate the environment around you and craft items in your inventory together to create a wide variety of other items, ranging from blocks with various appearances and qualities to tools that let you mine different minerals or chop down trees more quickly to numerous utilities such as storage chests, torches, furnaces, etc.
Of course, it's called "survival" because it is possible to die! Hostile creatures such as spiders, explosive Creepers, and zombies will actively seek to kill you if you stray close enough to them.
Minecraft: Mobile Edition is almost as good as the PC version. The main problem is that the controls are a bit sketchy, making quick reactions and building significantly more tricky than on the PC. Don't let that detain you from buying such a fantastic title, though.
Angry Birds: Star Wars
Next up, we have Angry Birds: Star Wars. This title in the bird-flinging pop culture phenomenon franchise has you slingshotting absolute abominations at other abominations. For example, the black bomb bird that you will be familiar with if you've played other Angry Birds games is now an Obi-wan lookalike. The infamous, ever-oinking pigs that you're set out to bash into now don the garb of imperial stormtroopers, tusken raiders, and officers under the command of a porcine Darth Vader imposter.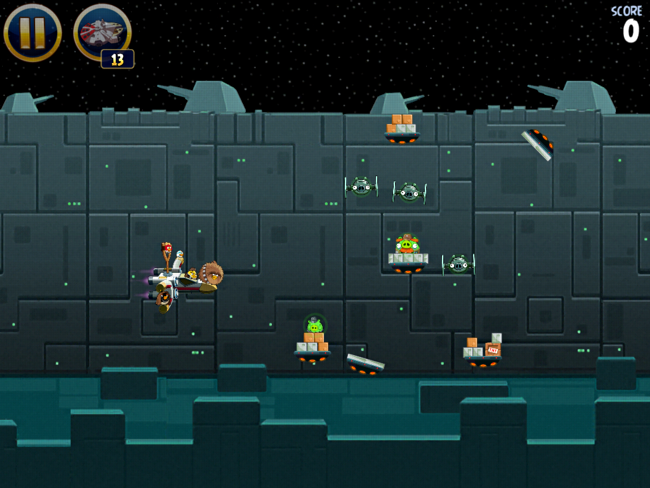 This scene will look familiar to any Star Wars fan.
I have never been a fan of nor enjoyed Angry Birds, however, this title is easily far better than the original. Added mechanics such as a red bird that swings a lightsaber in an arc and a pink bird that can "grappling hook" objects toward it add new strategy and depth to an otherwise boring game.
As with other Angry Birds titles, Star Wars suffers from the "frustration factor": Angry Birds is a difficult game. The first two "worlds" are fairly easy, but it's inevitable that you will have to try some levels many times, and you might end up completely stuck on one or two. It's an unfortunate part of the genre that Rovio has cultivated. Regardless, even I enjoy Angry Birds: Star Wars at my jaded, hardened gamer core, and I highly recommend it to casual gamers and more experienced players alike.
The Room
Lastly, Fireproof Games presents "The Room." This three-dimensional puzzler literally revolves around a single, complex object (to start with, a bizarre safe) that holds hidden switches, numerous puzzles, and nebulous lore. The structure is simple and intuitive. You can swipe around to fully explore all sides of any given object, zoom in, activate levers, turn dials, and complete a wide variation of puzzles that are reminiscent of the aging Myst games. Along the way, you discover clues as to what the devices you are working with actually are, and what exactly happened to your mysteriously disappearing uncle.
One of the four objects you manipulate. The graphics are fantastic.
Containing four chapters, each revolving around a different object, The Room is simply fantastic. Between the clever puzzle design, ambience, and smooth controls, I can only wish there were more games like it. There is but one absolutely crippling flaw: those four chapters will not last you for very long. I completed the game, start to finish, in less than an hour and fifteen minutes. I dare not suggest you avoid such a wonderful independent title, but be prepared for the disappointment of having no more bizarre puzzles to solve!
While not constantly restarting the same Angry Birds level to get three stars, Zach Comm writes gaming-oriented articles over at
GameCheetah.com