So many games, so little time! What are the best games for the Microsoft Xbox 360, Dave? I don't want to drop $40-50 on some clunker, obviously!
That's a tough one because everyone has different tastes in games, but I have to admit that both my very small Sony PSP game library and my Mac game library have a couple of clunkers, games that seemed like they'd be fun based on the box description or a review online until I dropped the cash, played them a few times and got bored.
Fortunately, there's a really great Web site that consolidates the reviews of all the other game sites into one "meta-review" rating called, ingeniously enough, metacritic.com. It actually offers up reviews of movies, TV shows, games for a wide variety of different systems, books and more, but for us, let's focus on the Xbox 360, shall we?
The metacritic area for the Xbox 360 is here: Metacritic Xbox 360 Reviews. Look down the lower left corner of the page and you'll see a nice scorecard for all games they've analyzed, and the lower right will show you the top scoring games on the site (I've mashed 'em together on this screenshot below):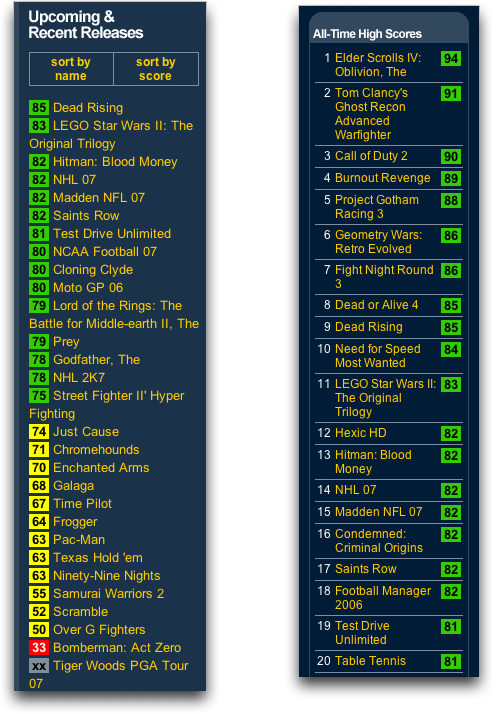 As you can see above, the top rated games for the Xbox 360 include:
Elder Scrolls IV: The Oblivion
Tom Clancy's Ghost Recon Advanced Warfighter
Call of Duty 2
Burnout Revenge
Project Gotham Racing 3
Now, once you pick a game that seems like it might be cool, a smart next step is to pop over to Gametrailers.com where you can see some "preview" movies of the game in action. Their Xbox 360 area can be found here: Xbox 360 Game Trailers.
Let's check out Elder Scrolls IV there. You can dig around but I find it a lot faster to just do a search, which quickly reveals that the Elder Scrolls IV trailers can be found here: Elder Scrolls IV for Xbox 360: Trailers.
You want to scroll down to find the trailers, and you'll see that there are a rather staggering number of trailers on the site, actually, including user-contributed trailers, interviews with the designers, "how they did it" trailers, and much more. Each trailer is also rated, so it's not hard to identify that one of the best is the Demo Demonstration 1 video. Here's a single frame to whet your appetite: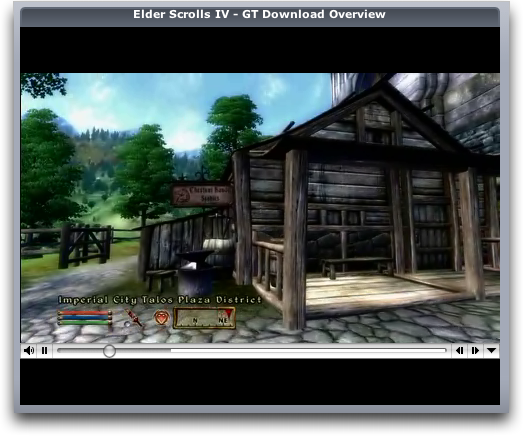 Finally, once you decide what game to buy, I suggest that you try out
Shopping.com
for a price comparison tool. I find it does a good job and as you can see if you go there and type in
elder scrolls iv
, it suggests that
Newegg.com
has the best price, almost $15 cheaper than Amazon.com.
Anyway, that should get you started growing your Xbox 360 library smartly. Don't forget that you can also rent Xbox 360 games from a variety of different online and offline stores if you want to try a game out before dropping $50 on a purchase. Good luck, and enjoy!
---
Thanks to Patrick Crispen and
The Internet Tourbus
for suggesting the topic, and to Drew Crouch, part of the AskDaveTaylor team, for writing it!