I'm not sure what changed, but my Ubuntu Linux system is now showing the wrong time! For some reason it thinks I'm on Eastern time, but I live in San Francisco! What's the best way to fix the wrong timezone in Linux?
Having the correct time and date on your computer turns out to be a lot more important than you may realize. And that's even more true if you're online and visiting other sites too. In the old days, you were left trying to figure out how to make sure it was correct and compensating for clocks that were really, really close, but didn't quite keep your computer on time, all the time. It's like a bad clock where you notice it's gained or lost a minute and have to reset it. With computers this was solved with something called the Network Time Protocol (NTP), first introduced in the mid 1980's. Before that, one can only assume that the IT operators were using sundials, right? 🙂
NTP means that your computer time should always be exactly correct down to the second, and it's frequently recalibrated so even if your computer clock wasn't precise, the net effect would be that your computer is still always on time. Unless it thinks you're in a different timezone or you have it set to only manually calibrate time, not do it automatically. My guess is that's where your Ubuntu Linux system got tripped up, though it's hard to imagine why someone would disable time NTP sync.
The easy way to realize something's wrong is to see that the minutes past the hour are consistent with your phone or watch, but the hour's wrong. DClock makes it easy to see the time – and see when it's wrong too:
This would be fine, except it's actually 6:35am in my office locale. So how do you fix that timezone problem?
The easiest way is to jump into Settings. You can get there by clicking on the tiny downward triangle on the very top right of your screen (you can see it in the image above). That pops up this menu:
Settings can be accessed by clicking on the lower left button, the screwdriver & wrench icon (yes, you have to look pretty closely to realize that's what it is). That brings up an app that I hope you've used before:
If you want to navigate to the correct spot to change time and timezone, go into "Details" on the lower left. But the cool kids use the search feature. Click on the magnifying lens icon on the top left of this window, then type in 'timezone':
Instead of hunting, you can now jump directly to Date & Time by clicking on the result shown in this search.
The result Settings then reveal the problem:
The date and time are both being synchronized from a network time protocol server on the Internet, so those are good, but the timezone is not being updated automatically. There are a couple of logical reasons to turn off timezone updates, including if you use a VPN that can possibly confused your computer about where it's actually located or because you travel and want your Linux system to stay on "home time".
In any case, I'm based in Denver, Colorado and it's showing a timezone for Los Angeles. Well, that would explain the error with what time it is currently! The fix is easy: Click on the current displayed timezone and it'll bring up a world map and let you change it to the one you prefer: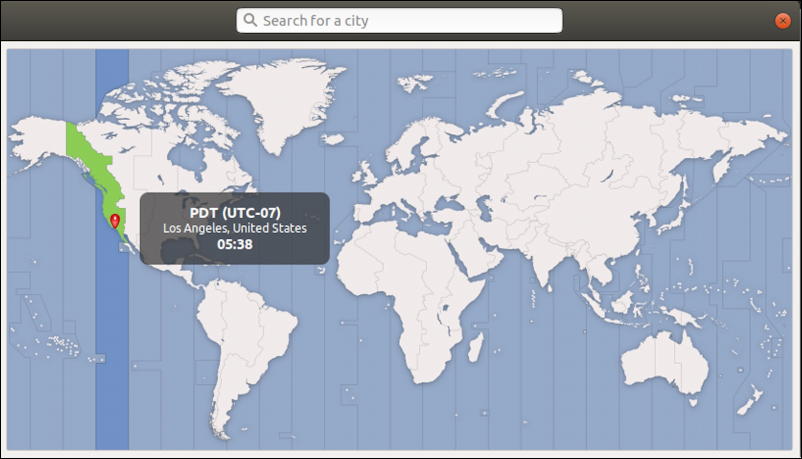 I really like this window and think it's pretty interesting and cool both to type in a city (in the search box on the top) and see the vertical bar of where in the world that particular timezone applies. Or you can just type in a big city in your timezone: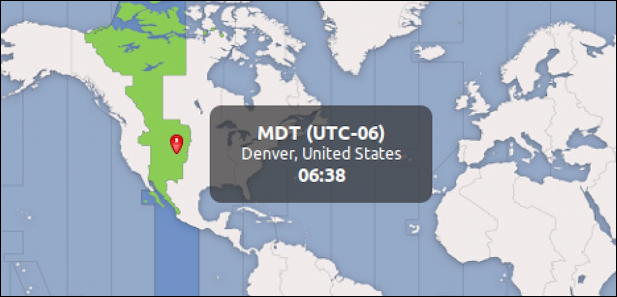 That's it. Fixed. Now Dclock is showing 6:38 rather than 5:38 and all is good in my digital Linux world. Easily done.
Pro Tip: I've been writing about Linux since the beginning of the operating system. Please check out my extensive Linux help library with hundreds of useful tutorials while you're here!