Dave! I keep having "memories" and "on this day" show up on my Facebook timeline. Most of the time it's fun but there are a few events, people and dates that I would rather forget, not be reminded of. Can I turn off those notifications in Facebook without shutting down Memories entirely?
The thing about nostalgia is that it's often not what we wish it would have been. Our memories of the past are generally filtered through those proverbial rose-colored glasses. Certainly as a parent that turns out to be a species survival mechanism – childbirth wasn't too bad, the terrible two's were just annoying, we laughed as we never got a good night's sleep. In reality, it was probably a lot tougher than that. But… we like to reminisce. Except there are some life events that are not pleasant memories, however much our brains might be trying to spin and reinterpret events.
This is where the Facebook Memories feature can be a painful experience instead of a pleasant, nostalgic moment in your day. The loss of a child or parent, a divorce, a company going bankrupt, or a house being repossessed, none of these are anything you want to revisit because a piece of software matched dates. Fortunately, Facebook does let you fine tune your On This Day memories, letting you disable the feature entirely or filter it by person or date.
FACEBOOK ON THIS DATE MEMORIES
At its most basic, you can always get to your Facebook memories by going to facebook.com/memories/ or clicking on "Memories" on the left side of your main FB window:
Don't forget that "Events" on this same list lets you quickly get to your friend's birthdays in Facebook too, if you like to keep up on that!
Tap or click on "Memories", however, and you'll get a list of items you posted on the same day years in the past. it's generally sorted from most recent (e.g., last year) to oldest, so I find I scroll to the bottom to see what was happening 8, 9, even 10 years earlier.

On the left side, however, are a few new menu options: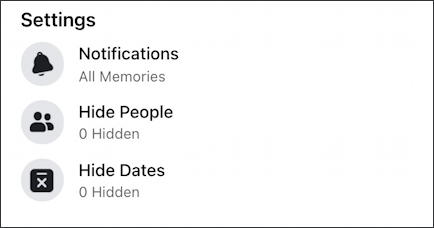 Let's start with Notifications…
UPDATE FACEBOOK MEMORIES NOTIFICATIONS SETTINGS
Easy enough, tap or click on "Notifications" and a few options appear:

If you really don't want any memories showing up in your newsfeed or notifications, chose "None". Want some, but mostly videos and those that produced a high engagement rate with your friends and followers? That's "Highlights". Or you can leave the default setting, which is "All Memories". Has a bit of a sci-fi tinge, doesn't it, as if you can edit which memories are still in your head!
HIDE PEOPLE FROM FACEBOOK MEMORIES
Let's say that you got a divorce, however, and just want to remove posts related to that person from your memories. You can do that with the "Hide People" menu option:
You can have a big list if your memories are a rocky road, one or two people who do not make your day better, or leave it empty.
HIDE DATES FROM FACEBOOK MEMORIES
In a very similar fashion, you can block out dates and stop notifications from that period. A terrible fire that destroyed your home? Block off the day it happened and a week or two afterwards and you'll never have them show up again…
Note that it's not smart enough to be a recurring date so if you would prefer not to be reminded of what you posted after 9/11, you'd need to not only specify 9-10-2001 to 9-12-2001 but possibly those same dates for each subsequent year too. A bit tedious, but it is something you'd only have to do once.
That's it. Everything you wanted to know about managing notifications related to your Facebook On This Day Memories.
Pro Tip: I've been writing about Facebook since the beginning. Check out my extensive Facebook help library for tons more useful tutorials while you're visiting. And why not follow AskDaveTaylor on Facebook too, while you're clicking? Thanks!