I am going to upgrade to an iPhone 11 and want to sell my iPhone 6. Before I do that, I want to to a factory reset to wipe off all my personal data. But before I do that I would like a full backup of everything on the phone. Messages, photos, attachments, music, everything. How can I get all the data off my Apple iPhone?
Apple is somewhat notorious for having a closed ecosystem, and this is one example of where it is not beneficial for us consumers. Your Mac or Windows computer can do a full back up of your iPhone — you can also do a full backup in to iCloud — but you can't really access all the data that's contained in the backup. Which leaves us iPhone owners with a bit of a dilemma if you really want a full and complete backup of 100% of everything from your phone, and want to be able to access it too. Fortunately third-party companies have stepped up to the challenge!
Even better, some of these third party iOS backup tools are free or freemium (e.g., you get a certainly level of access without charge or license, then need to pay a few dollars for full access to everything). For this task, I'm going to look at a free tool called iTransor Lite from iMyFone. The program exports 18 different types of data and works with any iOS device and has versions for Mac or Windows computers. I'm going to be doing a full backup of an iPhone XS (in fact, it's the backup I did prior to testing the company's LockWiper utility, as documented here: Access a Locked iPhone Without the PIN with LockWiper)
Start out by downloading the program. Easiest way to get a free license is to share the product info on Twitter or Facebook, as they detail. That gets you a 30 day usage license without payment, plenty of time to do that full backup! When you launch the program, you'll see a window like this: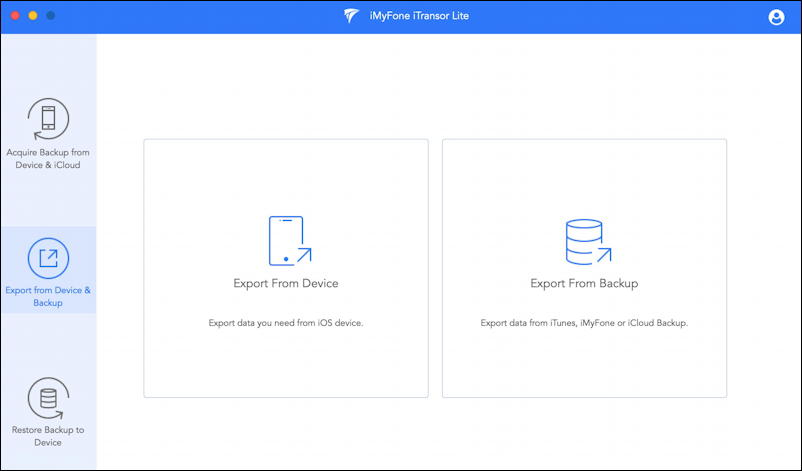 Easy enough: Two basic options: Export from Device or Export from Backup. Notice that you can download a backup from iCloud with iTransor Lite too if you no longer have the phone in your hands. If it's password protected, however, you'll still need to know that password!
Since the iPhone XS is plugged into the computer, I'm going to opt for "Export from Device". A click and it will scan the device:

That "it may take a moment" is optimistic as it took a few minutes with the iPhone XS, but then again, as you'll see, we had a lot of data on the phone too!
Once the analysis is done, the program displays a summary of what it found: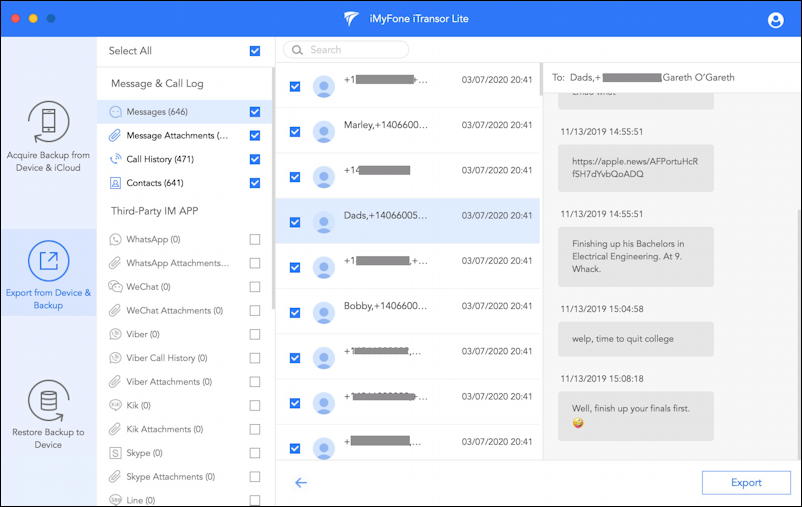 I've redacted phone numbers and other personal info throughout, but you can see just within Messages & Call Log there are 646 message threads identified, a call history of 471 phone calls and 641 contacts (all on the top of the second column of info). Not so much with WhatsApp or WeChat, Viber or Kik, etc. The right half of the window shows all the message threads and, rightmost, individual messages within a selected discussion thread.
Ready to proceed? Go through the list of found data to select what you want..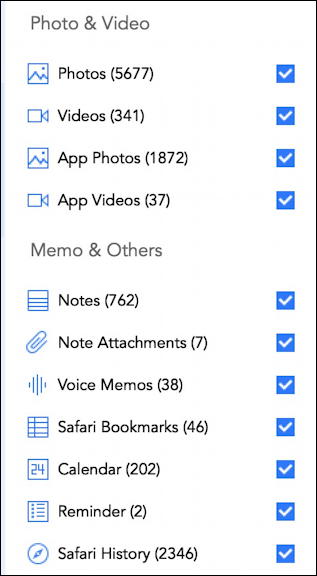 Clearly this phone is pretty full, with 5,677 photos, 341 videos, 1,872 app photos, 762 notes, 38 voice memos, 46 Safari bookmarks, 202 calendar entries and over 2300 Web pages in Safari's history! You can select category by category or just grab the whole thing by clicking on "Select All" at the top of this column. Ready? Click "Export" on the lower right corner of the window.
You'll be prompted where the data should be saved and in what file format: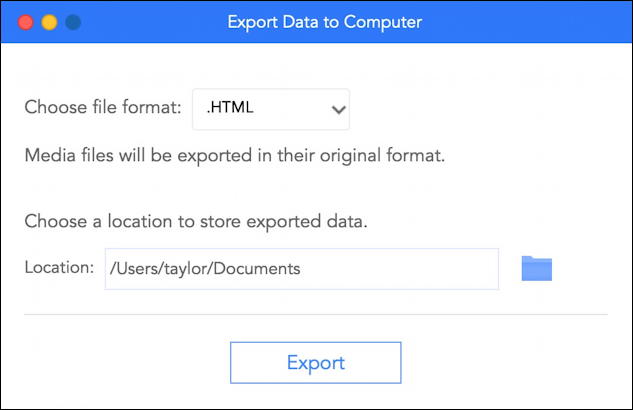 Generally speaking, the defaults should work fine. Do note where it wants to store the exported data so you can find it later, however! To proceed click on the "Export" button!

This is a good time to pop into the kitchen and make yourself a cup of nice, hot tea. It's going to take a while. Possibly 15 minutes or longer, depending on how much data you have on the iPhone or iPad.
Finally: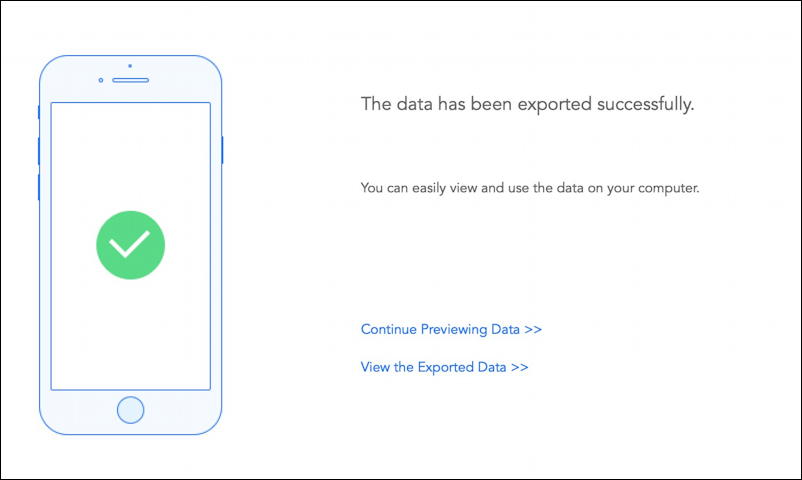 Done. Now you have a pretty sizeable backup folder on your computer and it might be smart to save that on an external hard drive. Yes, that's a backup of a backup. But redundancy is a whole lot better than losing 5,677 photos, right?
So what does it look like? Here's what our test iPhone XS produced as a backup from iTransor Lite: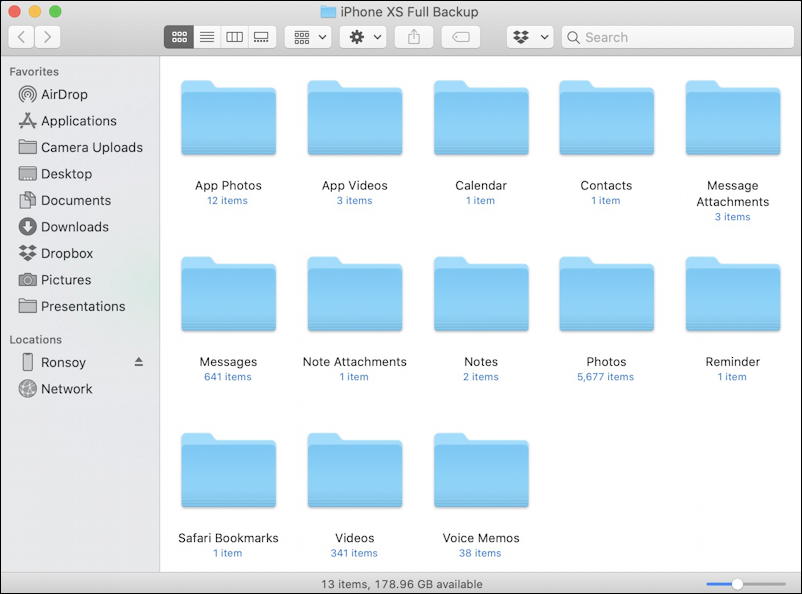 A quick peek in Photos shows that it did indeed get all 5,677 of 'em: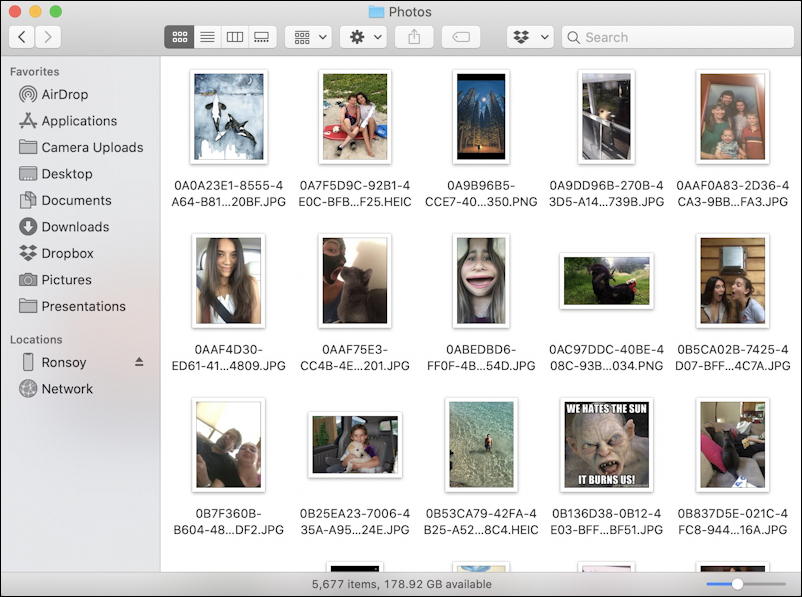 Perhaps a bit more interestingly, iTransor Lite turned every text message thread into its own HTML document, naming them based on the phone number of the other participant. A bit weird (it'd be nice if it cross-referenced your contacts and used names here) but easy to rename or use as is anyway: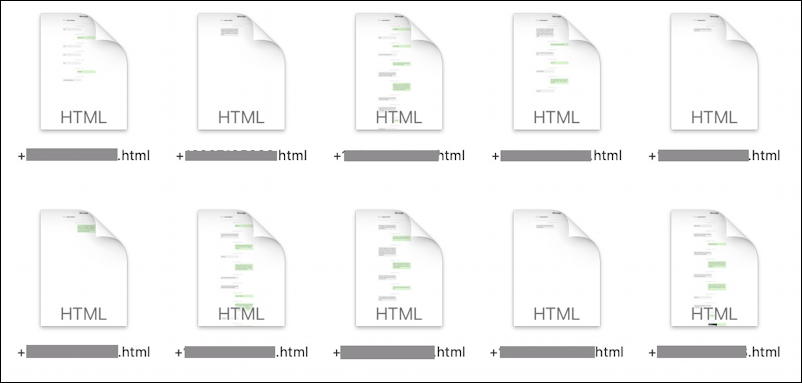 Each file's name is the phone number of the recipient, so if my number were (202) 456-1414 then the resultant file would be +12024561414.html. Make sense? Remember that after a few hours to analyze them, the search feature on your Mac or Windows computer (Spotlight on Mac) can comb through the contents of these HTML files, so you can easily search hundreds of these files for a specific word, phrase or name.
And that's it. Mission accomplished. And a quick peek shows just how big this backup proved to be: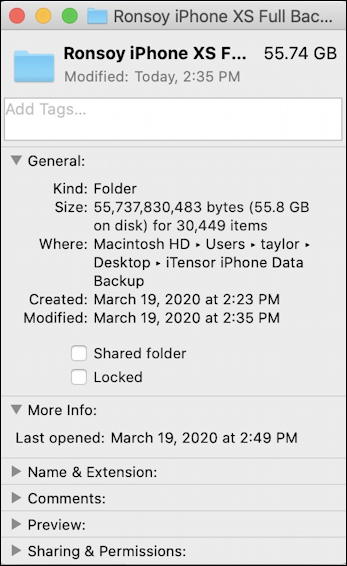 That's 55.74GB of data. That's a LOT of, well, everything! Turns out that iTransor Lite does the job quickly and easily. Darn handy, really.
Oh, and once you're done, here's a handy Apple tutorial on how to factory reset/reformat your iPhone before selling it to protect your privacy: Restore Your iPhone to Factory Settings.
Pro Tip: I've been writing about the Apple iPhone since the very first device hit the market. Please check out my extensive iPhone help area for lots of additional tutorials, software reviews and how-to guides!
Disclosure: iMyFone supplied me with a license for iTransor Lite so I didn't have to share info about the program via Twitter or Facebook. If you choose that route, do let me know how it works here in the comments!