I was curious as to why my banner ad reports don't match up with my google analytics visitors. For instance, my recent report shows 1200 clicks on banner ads, but the referring visits from the banners on GA only shows 500 visits.
This is one of the real problems with using more than one analytics package, as far as I can tell. Since they measure different things using different techniques, it's rather inevitable that they are going to end up disagreeing.
I don't know what system or package you're using for counting your banner ad impressions, but I'm going to spin out a scenario and then you can tell me in the comments if I matched what you're doing.
You have a number of different ways through which you get traffic to your site, ranging from banner ads running on other sites to search engine traffic, and perhaps even just good old-fashioned inbound links from sites that like your content or material.
You're using Google Analytics to track all of that, so you see reports like this: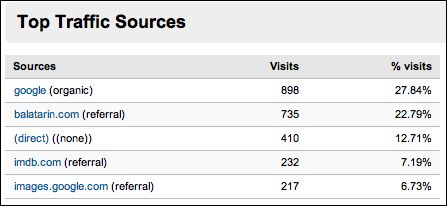 (here I'm showing traffic sources for my Dave On Film
film blog
. Quite interesting to note that I get a significant amount of traffic from Google Images, btw)
Let's say for purposes of discussion that the traffic I get from the Internet Movie Database site (imdb) is due to a banner I have running on the site (though it's not, in actuality. I can't afford to run a banner ad on that site! 🙂
For this traffic, we'd see that in thirty days I had received 232 visits from that banner.
Now let's continue our hypothetical situation and say that Amazon, owners of the imdb.com site, sent me a banner traffic report that indicated that it had been shown 1000 times and of that 350 people had clicked on it.
Here's the dilemma I believe you're talking about: how can the banner display site claim 350 click-thrus when Google Analytics only shows 232 visits from the site where the banner is running?
Actually, there are two common causes. The most common is that many Web browsers let you mask or completely disable the "REFERRER" data, so that some of the people who are coming from the other site show up as "direct" or "unclassified" traffic.
The second reason could well be that they don't actually make it onto your site long enough for Google Analytics to kick in. This can happen if there's what I call a "fast bounce": your page starts loading and they immediately say "oh, no, that's not what I want" and click on the back button or a bookmark or something. You've probably done this yourself, actually.
Those are the two main reasons I can come up with but I suggest that if you are paying for banner ads and you are finding inconsistencies like you say, ask them to justify their numbers and see what they say.
Good luck to you!