I find it really annoying to have to log in to my iMac every time I start it up. Is there some way to set it up so it's just logged in and ready to go every time I power up?
The short answer is yes, you can have your Mac system automatically log you in every time you boot up, but do you want to? If it's sitting in the kitchen or on your office desk, it certainly seems like a safe environment, but a lot of security is about "what if". If you have all sorts of private information on your computer, do you want anyone who can get near your iMac be able to dig through it at any time? Mobile devices like iPhones or a MacBook are clearly more at risk, but I have to admit I'm a strong proponent of some sort of device security for every computer you have that has any personal device, or even access to your internal network.
This is where biometrics and related can be so great; put your finger on a fingerprint sensor, look directly at the camera, or even walk up to your computer with your Apple Watch on your wrist, and it can unlock (depending on model and configuration). Don't have any of those? Consider a simple 5-6 digit numeric lock PIN instead. Certainly a good, trustworthy password is a bit of a pain to type in with its upper and lower case letters, digits, punctuation, etc, but over time you'll find you get faster and faster at typing in a common sequence.
I'm also wondering if you shutdown your computer when you're done with it each time? If so, try using the sleep function instead; it's more energy efficient and gets you back to where you were much faster. In terms of power usage, the different is typically pretty negligible for most users. You can also set your wake from sleep to require a password or not!
With all of that said, let's look at how you can never see this prompt again when you boot up your iMac system: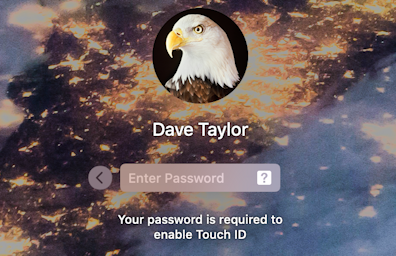 Notice here that I have TouchID available as an alternative verification option (though it's not enabled at the moment).
Once logged in, go to Apple Menu > System Preferences:
As highlighted, you want to click on Users & Groups to proceed. Once you do, here's what you'll see:
Doesn't look like there's much you can do, but there is! What you need to do first, however, is to click on the padlock icon on the lower left to verify permission to change these system settings. A click and you'll need to re-enter your password:
Assuming you know your password 🙂 you'll then be able to click on the "Login Options" on the lower left (bottom of the white box). Click there and you'll see:
Yes, it's the "Automatic login" that you want to enable. Click on the menu where it says "Off" and you'll see a list of all possible users on your system:

I'll choose my main account, Dave Taylor, at which point I will again have to enter a password. This time it's the password for the account that should be chosen as the automatic login option:
Once that's done you might get a warning from MacOS X that the lowered security of automatic login will automatically disable some additional security elements, notably Apple Pay (to ensure random people don't buy stuff on your computer!) and any biometric login options that the device supports. Here's the full warning:
You can still back out if this makes you a bit nervous, or you can just go for it: Click "Continue" to proceed.
Done. Now restart your computer and instead of prompting for a login, it'll zoom past it and you'll be logged in and ready to go.
Pro Tip: I've been writing about Mac and MacOS X since the dawn of the operating system. Please check out my quite extensive Mac help library for hundreds of useful tutorials!