I'm addicted to Instagram, both to see what other people are posting and to share my own photos and activities. But when I share my Instagram pics on Twitter, the photos aren't actually shared, just a link. Lame. Can I get the photos themselves to show up on Twitter too?
I completely understand the addiction to Instagram. Particularly when you follow people from around the world, it's a fascinating window into different lives and different cultures, like seeing people on the beach in Australia during a snowy winter's day in North America. You're right, though, that if you tap to share an Instagram post on Twitter, it's just the caption and a shortened URL that links to the photo, which is about a million times less compelling than having the actual photo show up on Twitter too.
Unfortunately there's nothing you can do within the world of Instagram or Twitter to fix this problem. But don't despair, there's a great third-party service called "if this then that" (or IFTTT) that lets you do just what you want, along with a ton of other really remarkable and sophisticated things.
If you don't yet have an account on IFTTT, then you'll need to set one up: Sign up for an IFTTT account. It's free, no worries.
Now log in and you'll see a list of your "recipes":
To create a new recipe, always start by checking to see if someone else has already created what you seek.
You can most easily do that by clicking on "Browse" along the top of the screen. Then enter "Instagram":
A search — click on "Search" — reveals a number of related IFTTT recipes, including:

That looks like exactly what you seek, so that's convenient.
Click on the recipe's title to learn more and, if needed, learn what channel or channels you'll need to activate for this particular recipe to work. For me, it's Twitter, because I already have an active Instagram channel on IFTTT:
Easy enough, you've probably done this a hundred times. Click on "Activate", then read through the permissions it seeks: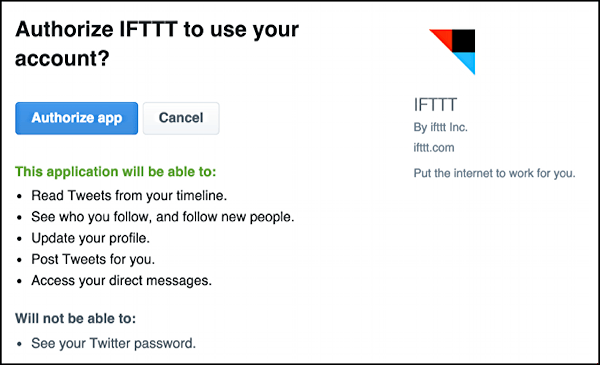 Acceptable? Click on "Authorize app".
You'll go back to the IFTTT site, but this time you'll get the all important…
Click on it to add the recipe and it'll show you related recipes that might be of interest too: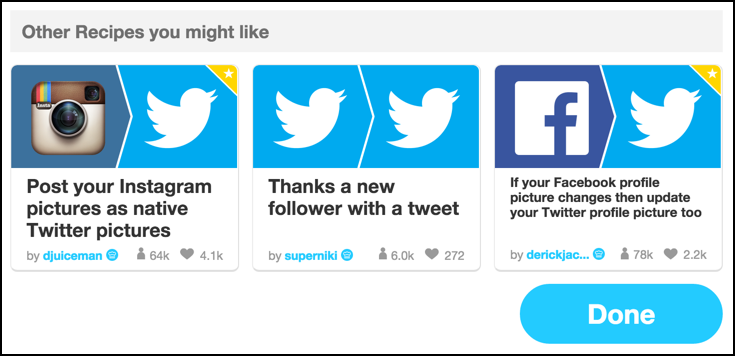 Nah none leap out as mission critical, so let's click on "Done" to proceed.
Now you'll have a new rule shown on your list of recipes:
Want to test it? Click on the circular arrow button. Want to see what accounts are in use? Click on the pencil.
It'll let you tweak the recipe, but more importantly, it identifies accounts:
There you can see that it's anything from my d1taylor instagram account that then gets shared to my @DaveTaylor twitter account.
Exactly right.
Now the results!
Without using the rule, the standard — boring!! — way that Instagram shares posted photos on Twitter is thus:
Not so good. But with IFTTT in the loop, check out the far, far superior results:
A really massive improvement. And now you know how to do it!