I was able to see large photos of incoming callers from my contact list and now I'm just getting the wallpaper backdrop on my iPhone when my friends call. How I do I revert to the viewing the full photos of my contact list when I make or receive calls?
It's definitely strange that it changed based on what I presume was a hardware update (iPhone 3GS to iPhone 4?) because you should have done a "Restore from Backup" and gotten all the settings, etc, to migrate across. Is that what you did, or did you just start from scratch with your new phone?
In any case, you're asking about the sort of photo equivalent of a custom ringtone and it's pretty straightforward to tweak things as you desire, but you need two things: a photo of each person you want to have appear when they call and patience, because you're going to have to assign them the photos to their address book entries on a one-by-one basis. Tedious.
Still, here's how to do it, and I will say, it is pretty darn fun…
For this example, I'm going to tie a picture of my friend Angelina to her existing phone entry on my Apple iPhone 4. To do this, I need to find her entry in my Contacts…

There she is, about half way down. I tap on it and see her entry: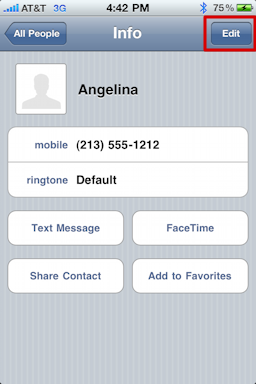 The "Edit" button on the top right is the next step. Tap on it and now I can modify her record on the iPhone: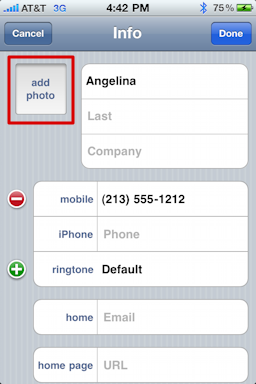 As you might guess, I need to tap on "Add Photo" on the upper left (highlighted in this screen capture), which takes me here: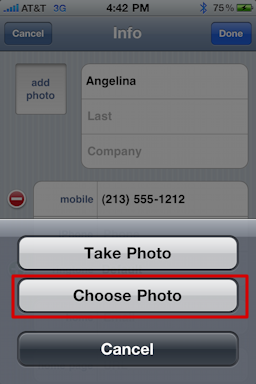 Luckily, I took a pic of her last time we were together, so I'm going to find that in my photo gallery. If you have them in front of you, use "Take Photo" instead, of course. I "Choose Photo" and now see my photo gallery: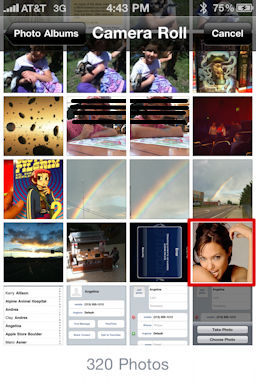 Angelina is near the bottom, on the right. I highlighted her pic. I tap on it and see a nice big view to confirm it's really her: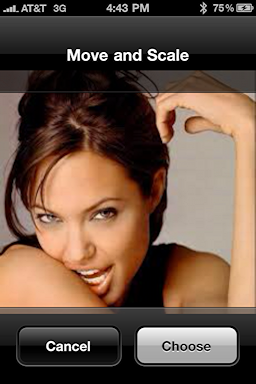 Looks good. To select it as the photo assigned to her contact, I simply tap on "Choose" and it shows up in the little window on the contact entry: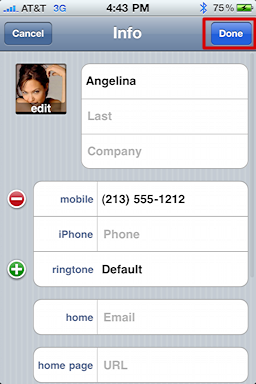 A key point that lots of people forget: you need to tap on "Done" to stop editing the contact or there's a good chance your changes will be forgotten. Do that and now you can see the non-edit view of her contact data: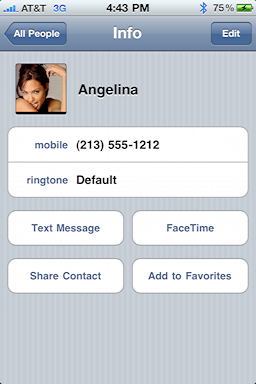 That's all there is to it. Next time Angelina calls me (or I get any call from that phone number), I'll see her smiling face on my screen. With the ringer set to silent, it's a nice way to keep track of who is bothering you too, as you can imagine).