Thanks for your article on how to get Spaces set up on my MacBook Air [see: Turn on Spaces on Mountain Lion], but one thing I don't get. I used to assign certain programs to always lauch and operate in a certain specific Space desktop. Now I can create Spaces, but I don't see where I can assign, for example, Excel to always open in Space #2, etc. Can you help with this – am I missing something obvious?
For reasons that I don't fully understand, Apple's made Spaces harder to work with than it was in previous versions of Mac OS X, notably Lion. In the new Mountain Lion — and presumably beyond — it's really hard to enable it, and incredibly subtle to learn how to assign specific apps to specific Spaces.
What do I mean by that? Let's say you set up three virtual workspaces, and your intent is to have the first be social media apps, the second your email program and the third your word processor. With a simple sideways three-finger swipe you can move between them and avoid a ton of on-screen clutter. A good thing!
Used to be that there was a specific System Preference for Spaces, but now while it's ostensibly a part of Mission Control, it's really not, and you're left to your own devices (or my site!) to figure out how to get it up and running.
And in terms of assigning specific apps to specific spaces? That's done with the Dock, believe it or not.
Start up an app, then click and hold its icon on the Dock. A menu pops up: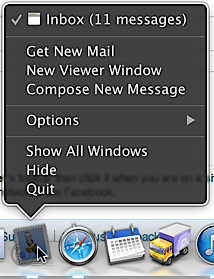 Now click on "Options" and you'll see where they've tucked away this capability:
As you can see, there are three options under the "Assign To" section: All Desktops (how I have iTunes set up), "This Desktop", and, if you've already assigned it to a Space other than the one you're currently in, "Desktop X". Or "None" if you want it to just appear in whatever Space you're current in when you launch it.
So now you can see the strategy. Launch all the apps you want to assign specific spaces, then move from Space to Space assigning specific apps as needed.
Then the next time you launch the app, you'll shift into the designated space for that application. Neat.
Why it's so darn confusing and hidden? I dunno, maybe it's going to be phased out in the next major release of Mac OS X? I hope not, I use it all the time…