I'm sure there's a way do to this: how do I assign a different ringtone to specific people on my new Motorola RAZR v3c cellphone? I have Verizon service, if that makes any difference.
Actually, distressingly, it does make a difference what kind of cellular service you have. It appears that different carriers install their own operating systems on this particular phone, the slick Motorola RAZR, and enable or disable various capabilities.
Fortunately I too have Verizon so let me show you how I assigned a unique ringtone to my pal Aaron Dragushan of Wondermill.
First off, click on "Contacts" and you'll see a list of your programmed contacts on your phone: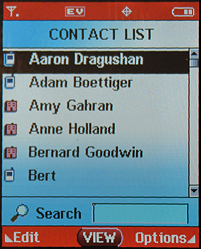 I'll choose my first entry just to make life easy. Don't click on the entry, though, choose "Edit" instead, and you'll see specific information on that contact:
Scroll down a bit and you'll find fields that you probably didn't even knew existed, including the all-important "ringtone" field:
Move until the box for Ringtone is highlighted, then click on "Set". You'll immediately and rather without explanation be dropped into the "Tunes and Tones" area:
I'll actually choose the Verizon default "yahoool" as it seems rather appropriate for Aaron, and choose "Ok" to accept the choice.
Now, when I look at this individual contact record, I see:
That's all there is to it. You can also do this with voice memos, remember, so you can easily have people speak into your phone their name or yell "It's me, Aaron!" and set that as the ringtone. Could be quite comical in serious business meetings! 🙂
Additional reading on Motorola RAZR V3c:
•
Voice Records as Free Ringtones: Motorola RAZR V3c
•
Sync Motorola RAZR V3c with Mac OS X via Bluetooth
•
Sync Motorola RAZR V3c with Windows XP via Bluetooth