I hear that in iOS 11 there's now the capability of assigning a different action to double-tapping the left or right Apple Airpods. Excellent! Now, how do I actually set this up?
Yes, there are a lot of neat additions and improvements in iOS 11 – I really like the new Control Center! – and one of the best is for those of us that own Apple AirPods. Without much fanfare these slickly designed earbuds suddenly gain additional capabilities and now you can assign a different function to the double-tap gesture on each element, so that a double-tap on the left AirPod does something completely different to that same gesture on the right AirPod.
Of course, you have to remember what you've done, but you can always just double-tap and see what happens too, right? 🙂
As always, if you take one out of your ears, it pauses your music and pull the second one out and that pause becomes a stop action, particularly handy if you're listening to music and suddenly need to talk to someone. Very smart engineering, and I appreciate that Apple is paying attention that not everyone wants to talk to Siri to change tracks, pause their music, etc.
To get to the customization options, you'll have to go somewhere non-intuitive. You want to head to Settings > Bluetooth: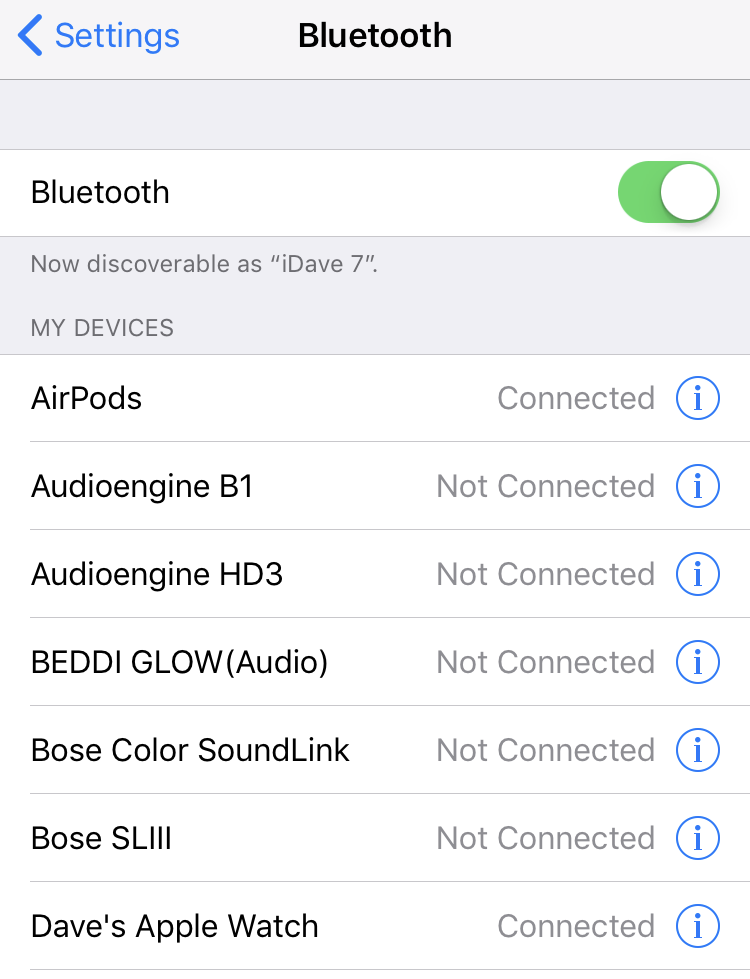 Find your AirPods on the list — mine are conveniently called "AirPods" but you can customize the name — and tap on the "i" in a circle adjacent to that entry. Instead of getting to a screen with Disconnect and Forget This Device as the only option, turns out there are plenty of things to tweak here:
You can change the name as one of the options, as you can see, but you can also assign the Left and Right double-tap gestures, which is what we want! Tap on "Left" on this screen to see your options:
There's your list of options: You can have a double tap launch Siri, alternate between play and pause (duplicating the effect of pulling one out of your ear), go to the Next Track, go to the Previous Track or you can disable the double-tap action entirely.
Here's how I've set mine up:
That's it. Just push the Home button to leave this screen (or swipe up to get to your Home screen if you're on a fancy latest generation iPhone) and you're good to go and ready to listen.
Oh, and can I just say that the icon that shows up with AirPods when you're on a phone call is great? 🙂
Way more fun than the generic Audio option.
In any case, yes, iOS 11 gives you some great controls with the AirPods that make them even more useful and easy to work with.