My teacher sent us all a copy of "The Wizard of Oz" to read in MOBI format. The file has a blank icon, however, which I hate! How can I assign a book cover to the file? Also, how do I read a .mobi file on a Mac?
I suspect you are asking your questions in reverse order of importance because surely reading the ebook is more important than changing the file icon on your Mac? Either way, both are doable with a tiny bit of work so let's check them out. First off, though, a quick primer: MOBI files are ebooks designed for the Amazon Kindle reader and app, while EPUB is a similar format for non-Kindle ebook readers (like the Apple Books app on your Mac).
Changing the displayed icon for a file on your MacOS system has remained the same for over a decade, rather surprisingly. It's not at all obvious, but everything happens within the Get Info window in the Finder. Then you'll be able to read your .mobi file by downloading the free Kindle app. Let's start with that icon…
ASSIGN A NEW IMAGE TO A MAC FILE ICON
I grabbed a copy of the same file, The Wizard of Oz, available for free from Project Gutenberg. As a .mobi, it's pretty uninteresting on my MacBook Pro: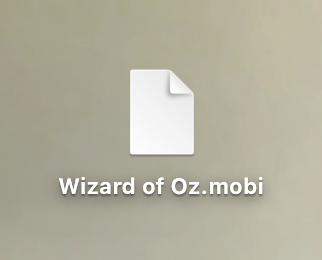 Let's fix it. To do that, go to an image search site. I like images.google.com but you could use images.bing.com too if you prefer. Either way, search for the book's cover and you'll see dozens of different designs:
None of them are the original book cover, but that second one at en.wikipedia.org looks good!
What's cool is that you don't need to actually go to the site to grab the image you want. One click on it and a larger thumbnail opens up on the side of the image search window with more information about the file:
From this point, move to the center of the image, then right-click (or, on your Mac, Control-click) and choose "Copy Image" from the menu that pops up.
Now go back to the Finder on your Mac system, click once to choose the Wizard of Oz.mobi file, then choose File > Get Info (or use the Command-I shortcut). That brings up a narrow little window:
There's a lot of useful information you can glean from this window, but for our task, click once on the tiny icon to the left of the file name. I've already done so, and it's picked up a narrow blue outline in the above image.
Ready? Choose Edit > Paste or press Command-V and the image you copied into the buffer will be pasted into the icon for this file. You'll know it worked when the tiny icon changes to reflect the update:
Nothing to see yet, but open up the Finder in icon mode, zoom in to make the icons big, and voila!
Way better than the original blank icon, right? Now, how do you actually read this .mobi file?
HOW TO READ A .MOBI EBOOK ON MAC
As I said earlier, Mac systems are designed to work with the EPUB or PDF document formats, but MOBI is something that your system's clueless about by default. No worries. Go into the App Store (off the Apple menu), search for "kindle" and download the Amazon Kindle app.
On first launch you'll need to log in to your Amazon.com account. Already own some Kindle ebooks? They'll all magically show up, which is pretty slick. If not, no worries, once the program's installed on your Mac, you can simply double-click on the .mobi file and the Kindle app will open it:
There ya go. The Kindle app is easy to use and you can zoom in or out to get the optimal text size on your screen as desired. That's it. As the Wizard might say, "extraordinary!"
Pro Tip: I've been writing about MacOS since the first Mac was introduced. Please do check out my substantial Mac help library for hundreds of useful tutorials and how-to guides while you're visiting. Thanks.