Hi Dave. I've been talking with some friends about how to make money as a blogger and they're split. Some say that Google AdSense is the way to go, while others wax enthusiastic about the Chitika network. What they all say, however, is that it's critically important to pick the right size ad and put it in the right place to get the best results. I'm skeptical, though: how important can that be on a Web page?
First things first: if you don't yet have a Chitika.com account, please click here to sign up.
Done that? Good.
Now, think about advertisements in any venue, whether it's TV spots, newspaper ads or even promo spots from sponsors on your favorite podcast. I would hope that it's obvious that some are better than others. A :30 spot during the Superbowl is going to cost quite a bit more than a :60 during the 3am-4am insomniac time period. Why? Because there are lots more people watching the Superbowl ad and the ad is more likely to be successful (depending on the product and audience, of course. I'm guessing a ShamWow won't do very well during half-time. 🙂
Perhaps a magazine is an even better example, because it's the same publication read by the same people, but the very first page people see when they open the magazine (the "inside cover") is going to be far more effective in attracting potential customers than a 1/4-page advert six pages from the end of the publication.
In a very similar way, the size and placement of ads on a Web page are critical too.
The first thing to consider is "the fold" (so named for newspapers where the top half of the page is "above the fold" because so many people fold their newspaper in half when reading).
I have a great, great example from the Chitika network to illustrate this, an example that comes from this very weblog.
My first attempt at adding Chitika ads looked like this:

A fairly good position (though not as good a placement as the Google AdSense ads on this page) but the results were fairly lackluster at best:
• average $0.11 eCPM (that is, revenue per 1000 ads displayed)
• an average of $2.74 per day from the site
• a grand total of $85/month in ad revenue
With some input from Chitika's team, we made a few tweaks to the size and style of the advert and moved it up just a wee bit on the page so it looked like this: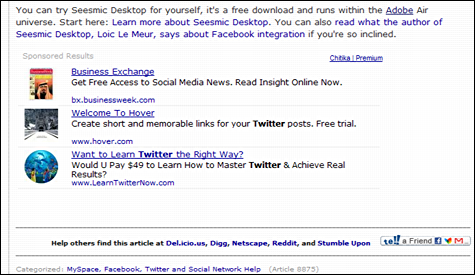 The results? Pretty amazing considering how little effort was involved:
• an average eCPM of $2.24 eCPM (a huge jump)
• which is now pulling in about $62.37 per day
• which calculates out to around $2000/month
Nice, eh? Yes, I think we can conclude from this experiment that size and placement of the adverts are very important to your success with online pay-per-click (PPC) advertising.
Oh, and if you're thinking that $2.24 eCPM is a nice multiplier for your own Web site traffic, then I encourage you to consider
joining the Chitika ad network too
.
Oh, and it's not just me finding good results with Chitika. Darren Rowse ("
problogger
")
says
that it's a top revenue source for him from his own popular, must-read Web site too!
Disclaimer: The Chitika sign up links are affiliate links: if you sign up for the program through these links, you'll not only help yourself, you'll help me keep the lights on in our offices. Thanks for helping out!