I work with lots of companies, setting up their shopping carts, and just learned that there's an affiliate program for Google Checkout where I could make a few extra bucks while pointing my customers to one of our transaction services of choice. Can you tell me how to find it?
I've been with Google Checkout myself for a while (see my Buy Dave a Cuppa page for an example of how I've used it on this site) and even documented the entire process of building and adding Checkout buttons to a Web page (see Add Buy Now buttons with Google Checkout).
if you're lucky, you log in to your AdSense account (Don't have one? Then see: getting started with AdSense) and see an ad with a link right to the Checkout affiliate program:
If not, you can get there by going to
AdSense Setup
then clicking on
Referrals
(or log in, then click here:
AdSense Referrals Info Page
). Now, among the ever-changing palette of referral options, find "View just Google referrals" and you'll see this:
If you guess at this point that you select Google Checkout, you're a winner!
There's now a rather startling number of different ads you can examine, starting with the most rudimentary text links: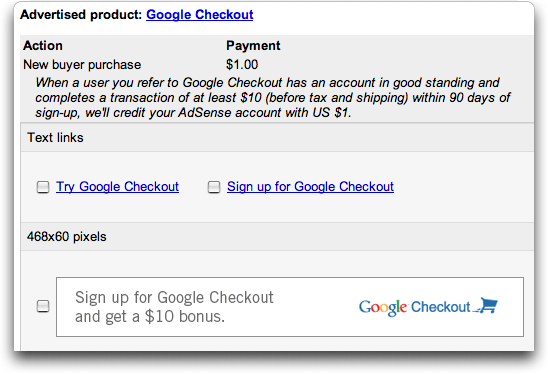 I personally like the text links myself. I'll add it to my shopping cart: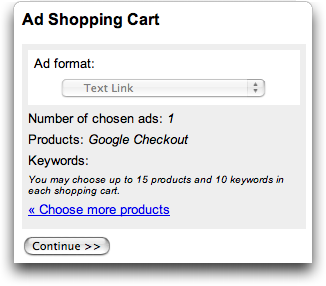 and click "Continue" then, if you like, specify a channel:
Finally, again click "Continue" and you'll get some code:
Here's how it looks clickable:
Finally, you can also get a banner, which might well be pretty. Here's how that would look:



There ya go. Should be easy to get setup, and at $1/referral, I can only hope you have a lot of clients to make this worthwhile! You might also check out the Paypal merchant referral program if that's on your list too.
Note: I'm aware that there are some problems with displaying the actual link and banner on this example. I'm working with Google on the problem, stay tuned.