I just bought a new Apple iPod Shuffle second generation and before I plug it in, want to know how it's going to sync with my Mac and what I should expect. Is there any software I need to download, for example?
Rather a surprising message: If you're on a Mac, you're on a computer that has a completely seamless connection with every Apple iPod. In fact, when I plugged my Shuffle in, it even had the correct icon when displayed on my desktop:


Anyway, before I plugged the Shuffle in, I popped over to Apple to ensure that I have the very latest version of iTunes:
Update your copy of iTunes
. Probably unnecessary, but I feel better having done it. 🙂
Now when I do plug in the iPod Shuffle, I get the iPod Setup Assistant, which starts with some legal mumbo-jumbo. Next step: name it and decide if you want to have the little marvel automatically and randomly filled from your iTunes library or not: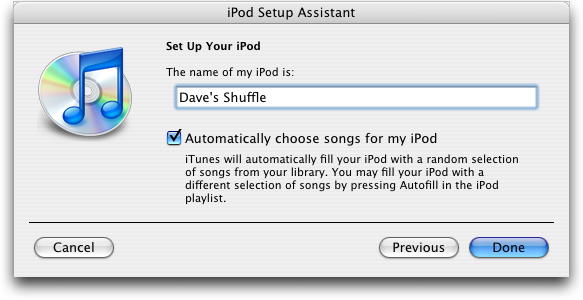 I never have it automatically do anything, personally, since I have specific music (and audio content) that I want to add to the device when I sync it with my Mac OS X system. You might have a different method of using your Shuffle once you plug it in, of course.
Now, since I've worked with iPods before, I am going to eject the device, pop it off its little stand, and reconnect it so that iTunes checks versions. Surprise! Here's what I get:


Well, "Download and Install" seems like a good choice, so that's what I do. A short while later, my Shuffle again shows up in iTunes, fortunately, so all is good with the new firmware!
Now it's just a matter of dragging across the content I want. I'll do that, and suddenly realize that there's quite a bit of space on this tiny device: I have the entire audio book
The Innovator's Dilemma
along with a half-dozen of my favorite CDs and it's still pretty darn empty:


As you can see, I'm only using 100MB and have an additional 866MB of space. Nice!
Before we wrap up, I'll encourage you to click on the
Settings
tab and make sure that your Shuffle, once you plug it in, is set up to match your needs. Here's all you can alter:


Lots to experiment with, for sure, and who knows, it's quite possible I'll switch to autofill and just let the whim of iTunes determine what music is poured onto my Shuffle!