My keyboard on my iPad 2 is in the middle of the screen, not at the bottom as it should be!
How can I fix it, or is something broken??
Sounds like you have an iPad with a defective assembly. I would recommend cutting it into thirds and reassembling the unit so that the keyboard is shown on the lower portion of the screen.
Just kidding!
Actually, it turns out that there are three modes for the keyboard on the iPad series, whether you have an iPad 2, iPad 3, new iPad or even an iPad Mini. In fact, I'll demonstrate all three with the iPad Mini…
First off, one of my favorite apps is "Notes", so I'll into that to bring up the keyboard in the first place (by tapping in the input area):

Whoops, looks like my keyboard is also floating in the middle of the screen. That's a feature. No, really.
To change between the three keyboard modes, tap and hold your finger on the keyboard button on the lower right of the keyboard (in any of its configurations). As you can see below, after a moment a menu pops up with the other two keyboard configuration options shown:
Since I already have the floating keyboard, the other two options are to "Dock" the keyboard (what you seek, it puts the keyboard at the bottom of the screen) or to "Split" the keyboard.
To make this interesting, I'll choose "Split", which reforms the keyboard thusly: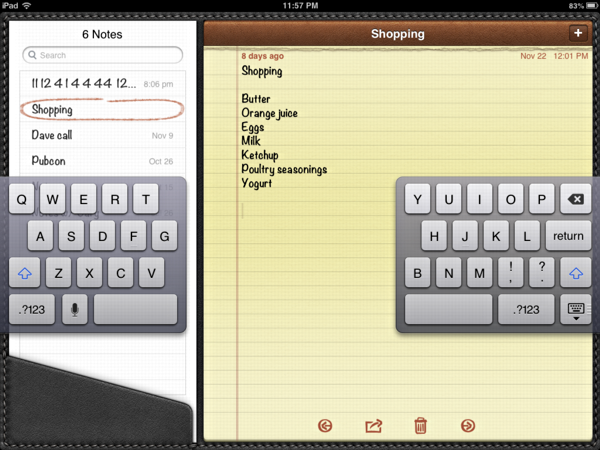 Seems really weird, but if you hold the iPad and type with your thumbs, it's surprisingly useful, though it takes a bit of getting used to before you'll feel proficient!
Don't like that? Use your right thumb to tap on the keyboard button on the lower right of the keyboard and choose "Dock".
There ya go. A quick tour of the three keyboard options on the Apple iPad series. Don't forget that if you just tap on the button, it'll hide the keyboard, so you need to ensure you tap and hold your finger on the button until the pop-up choices appear!