I love my Apple Watch Edition but realize that other than alerts and notifications, I've been completely ignoring the Calendar app in Watch OS 2. What am I missing? What can the Apple Watch Calendar app do to make my life easier?
As a fellow Apple Watch Sport owner, I completely relate to your observation that you love your watch but don't actually interact with it that often. I find that I am reactive with it, rather than proactive: it vibrates, I flip my wrist to see what's going on. I'll take phone calls on it and certainly give pithy text responses to SMS messages that come in, but generally find that I don't interact with my smartwatch very much.
It could also be the simple problem of having too many options, with my laptop and iPhone sitting within inches of my hands a lot of the day too. But still, I suspect that it's the nature of wearables to be passive the vast majority of the time…
Now, the Calendar app. iCal (oops, now it's Apple Calendar) is a vital part of any organized person's daily routine nowadays and it does indeed have a sort of view-only Watch app tied into it that serves up notifications but also lets you peek at your schedule. Let's, well, have a look!
First off, have you noticed that the Calendar app icon on the Watch is always the current date? Sneaky little trick they do there, those Apple folk:
A tap on "21" and the Calendar opens up with my current schedule in list view:
(for privacy reasons this is actually yesterday's schedule, but you can see the basic idea!)
I like the use of cheery colors so on my main Calendar I use lots of different categorizations to ensure it comes out rather engagingly, as you can see. Also note that there are holes in my schedule that don't show up in this "list" view (from 1pm-3pm, and from 4pm-6pm).
You can tap on a specific event to get more information about it, like "school out":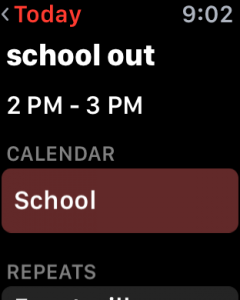 A swipe down and you could see the repeat status, whether daily, weekly, monthly or on some other recurring schedule. Remember, though, that there's no edit capability on the Watch so it's read-only here.
Now, do a force-press on the Calendar view and there's another view you can pull up of your schedule:
It's a bit confusing: "Day" is the hour-by-hour view, while "Today" lets you zip to the current day's schedule if you've been spinning the Crown to move forward or backward in your calendar. A tap on "Day" and here's what I see: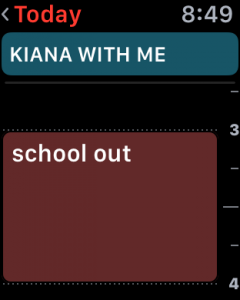 Here you can see the holes in my schedule, and the top entry "Kiana with me" is an all-day event so the timeline grid on the right edge doesn't extend quite that high. Subtle, yes? Here's where this gets more confusing: force-press on the Watch face now and instead of "Day" it'll show "List" as an option. Turns out that button toggles to give you access to the alternating view, which I find a bit odd as an interface element, but at least now you know!
One more trick: Tap on "Today", "Yesterday" or any specific date entry on the very top of a Calendar view on the Apple Watch Sport or Edition and you'll get a nice month-at-a-glance view:
That's all I have figured out so far with the Calendar app on my Apple Watch. It's entirely possible that Apple will sneak additional features and views