I've used iPhoto for a long time on my iMac and one of its best features is the ability to select a pile of photos and share them with my Facebook friends. I've recently shifted to Aperture and like its additional power and capabilities but can't get it to connect with my Facebook account any more. If it matters, I did set up the Facebook 2-step verification security, as you recommended. Are these related?
Nicely done. You identified the problem and the cause both in your question. It's a smart move to migrate from iPhoto to Aperture if you are working with large numbers of photographs — I use Aperture myself — but the core sharing capabilities are essentially the same when it comes to external sites like Facebook and Flickr. So that's not the problem.
On the other hand, when you set up 2-step verification, you also stop your standard account password from working. Otherwise the 2-step process would have zero value, right? Any app that tries to log in using your account and password will instead get a request for that secondary data code, which the app probably has no idea how to handle. Or it uses an old-style login handshake and gets an error back like "FAIL: Use 2-step" or similar.
What you need to do with Aperture and Facebook, however, is to pay attention to your registered mobile device. If it's like mine, when you tried to connect the Aperture Uploaded to your Facebook account, the device immediately received a temporary one-time password that can be used to authorize the utility.
Let me show you, it's pretty straightforward.
In Aperture, select a photo or three, then click on the Facebook button on the top bar to share them with your Facebook pals. It pops up a prompt like this: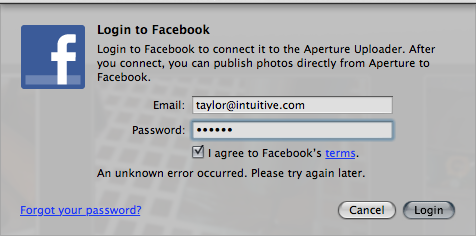 Notice that Aperture has tried to connect and hasn't understood the response from Facebook, the "use 2-step" or "enter secondary verification code". Instead, the utility simply reports
An unknown error occurred. Please try again later.
It's not going to change later, of course.
Meanwhile, look at your cellphone or mobile device that you've registered with Facebook as part of the 2-step process. Mine showed me this:


Well there ya go, it's a one-time numeric password that you should use
instead
of the usual account password.
Click on "Login" after entering the new temporary password and you're good to go, Aperture moves directly to the second step in an upload: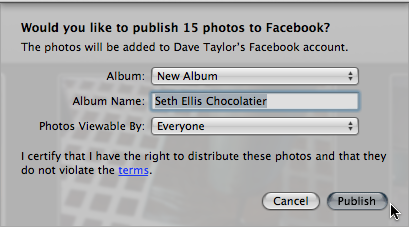 Once I've specified the information I want to share, album name, etc., I click "Publish" and the photos upload and become available just like you'd hope!