I made the huge mistake of letting my son play with my iPhone and when I went back to check a note a few days later was horrified to find that they were all gone. Really not good! Is there any way to recover notes from my iPhone or from within iTunes? If it makes a difference, I'm running Windows 7 on a Dell laptop.
Before you panic and think of disowning your child 🙂 the good news is that the answer is probably yes, there is a way you can recover your notes. There are two big "if"s in this, however: first, that you're been doing regular syncs of your Apple iPhone to your PC and second, that the notes you want to recover were created before your most recent backup. Both of those true? Great!
What you are going to need to do is dig into the actual backup file created by iTunes when you synchronize your phone: remember how each time before it does that it says "backing up…"? Now's when that's going to prove beneficial to you!
Turns out that there are a number of different solutions for wading through the complex data that comprises your backup file, but I'll show you how I pulled a Note out of my iPhone backup by using iBackupBot.
The hardest part is figuring out where your backup is stored on your computer. Digging around probably won't find it, but if you go here:
C:\Users\YOURUSERNAME\AppData\Roaming\MobileSync\Backup
You'll be looking at a lot of very weird folder names (like "29d40b64fa240e6d02df25abf61ccd4e9"), sort them by date and remember the most recent of the batch.
Download the free demo of iBackupBot, launch it, then choose "Open…" from the "File" menu and pick the most recent backup folder. Then you'll see: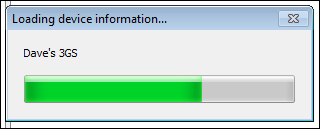 It can take a while, especially if you have as many photos, videos, music files and app data as I do: my backups are over 900MB in size! Once it's done you'll see list of every file in the backup, which is a bit intimidating:


Don't panic, though, because you don't have to wade through this. The list of icons along the top, that's the easy way to have the iBackupBot do the work. Find the Notes icon:



Click on it and voila! All of your notes show show up like magic: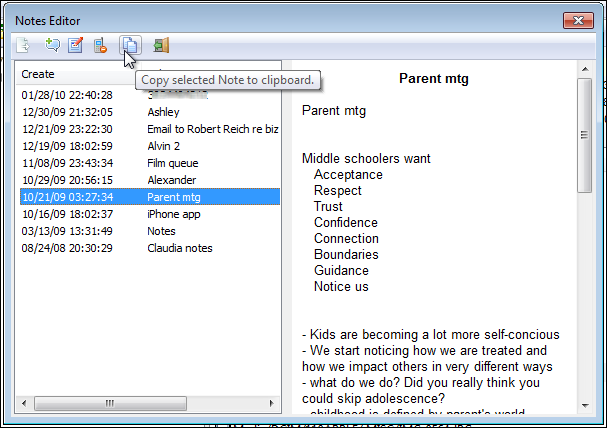 Again, pay attention to that icon ribbon. Choose the Note you want to save, and you can instantly copy all of its content to your Clipboard (as shown above), easily then emailed to someone, saved to a Word doc, whatever, by using Edit –> Paste in that application.
Hope that helps you recover what you've lost!
Note: iBackupBot is a pretty slick app, but we want to disclose that the vendor paid for visibility on this site. Still, if it didn't work, and work well, we wouldn't have chosen to write about it in the first place. Now ya know.