My Web designer uses a Mac system while I'm on Windows 10. I'd like to be able to annotate pages similar to what I want and share them with her. Is there any cross-platform way to do that?
Actually there are a number of ways to solve this particular dilemma, ranging from the easy to the ridiculously complicated. Since I am a fan of easy, I'll show you how you can use Microsoft OneNote – available for both MacOS X and Windows – tied with Microsoft Edge to let you do on-screen annotations and comments on Web pages and share them your designer. Even though she's on a Mac!
The only downside of this solution is that in testing I've found OneNote has some hiccups with the pop-up notes (sometimes they can't be opened) so I'd test things before you invest too much time annotating pages. Also, your designer will need OneNote, which is a free download from the Mac App Store, believe it or not.
With those caveats, let's have a look. To start, I'll go to the default home page in Microsoft Edge: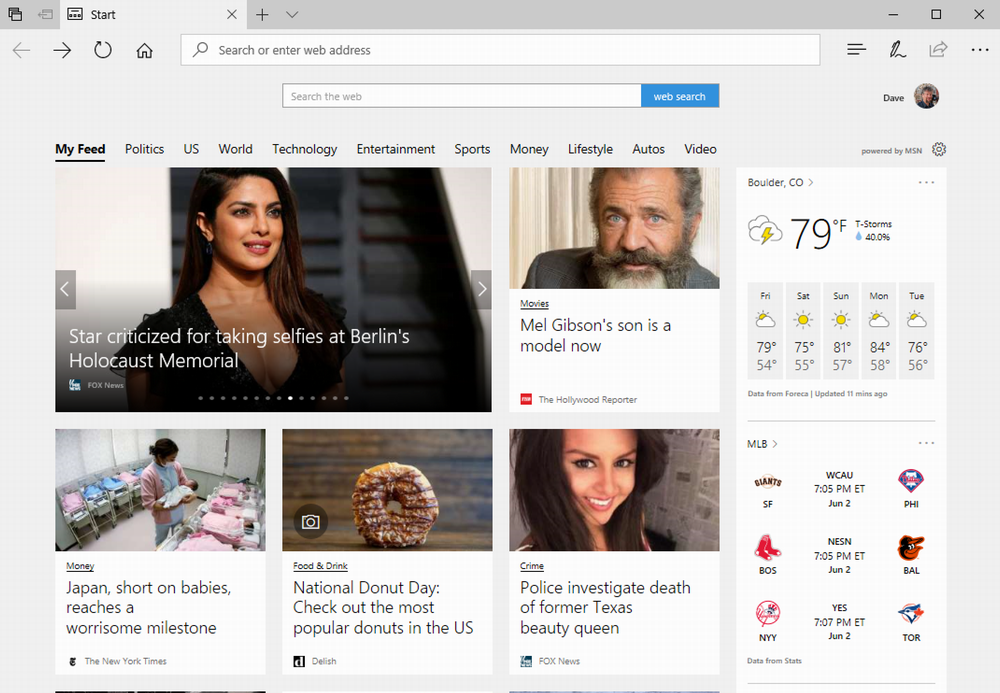 Nice enough, a simple browser design with minimal buttons and geegaws to distract you in your Windows 10 world. Look closely on the upper right and you'll see a pencil with a squiggly line icon. Click on it and you're in Web Note (Annotation) mode and a new toolbar appears:
The default is a light blue pen that you can click and drag around to draw, circle and scribble directly on the Web page. I've decided to highlight the donut entry, as you can see: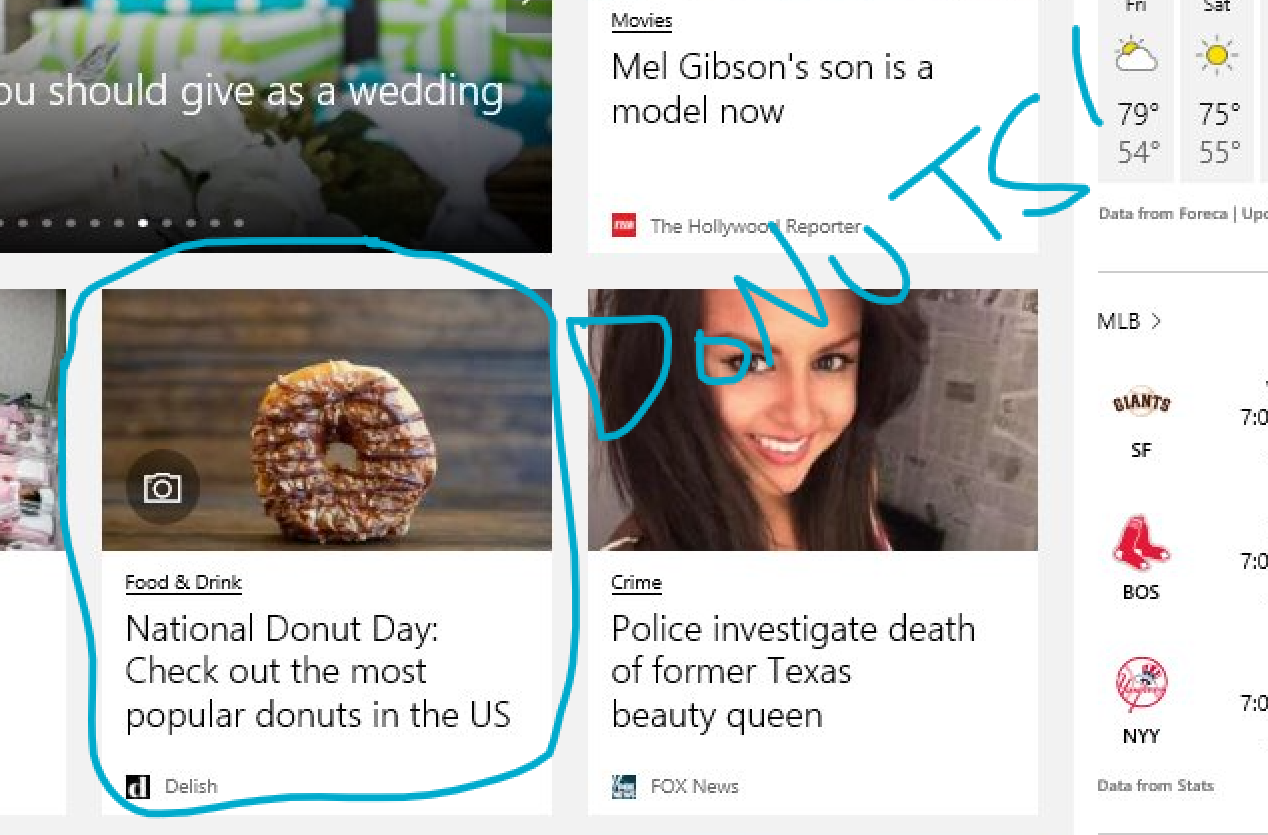 There's another tool that's darn useful too: the highlighter. That's the second icon:
While we're looking at the toolbar, the third icon from the left is an eraser (to erase your annotations), then the comment note feature that I mentioned earlier I find isn't 100% reliable, a clip feature, the touch-writing feature (that you need to enable so you can use your trackpad or mouse to annotate if you don't have a stylus), a save-as feature (do people really know what that icon represents in 2017??) and a share button.
Back to the highlight. Easy, useful:
Looks good. Now to share it! Actually, there aren't the usual social shares so after some testing, I believe that the Save As feature is easier because you can save it directly to your shared OneNote folder. Click on the Save As floppy disk icon (yup, that's what it is) and…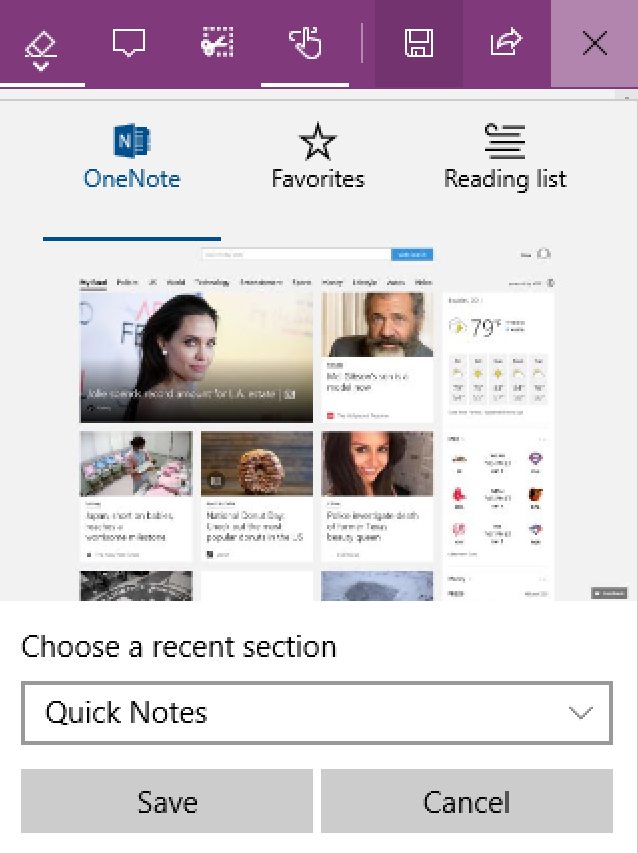 Notice here that it shows the page, but not the annotation. Don't worry about it, the web note content is still there. Pick OneNote from the top choices, find a recent section – or use the default of Quick Notes – and click "Save". Done.

Nicely done. Now you can double check it worked in OneNote on your Windows 10 system: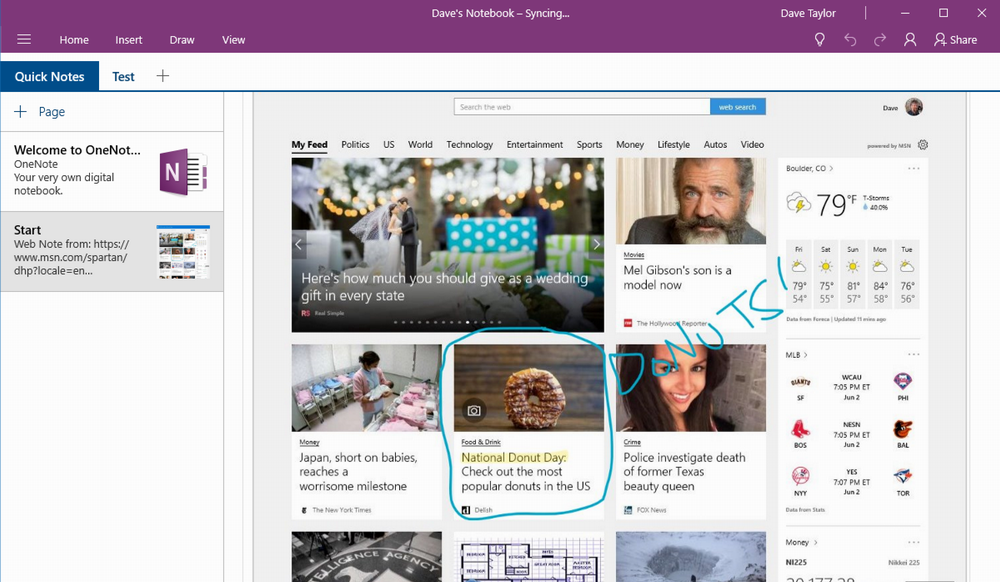 Far more interestingly, if your designer is also signed in to your Microsoft account or if you sign in to your own account while working with her, she can also see the exact same thing on her Mac system too: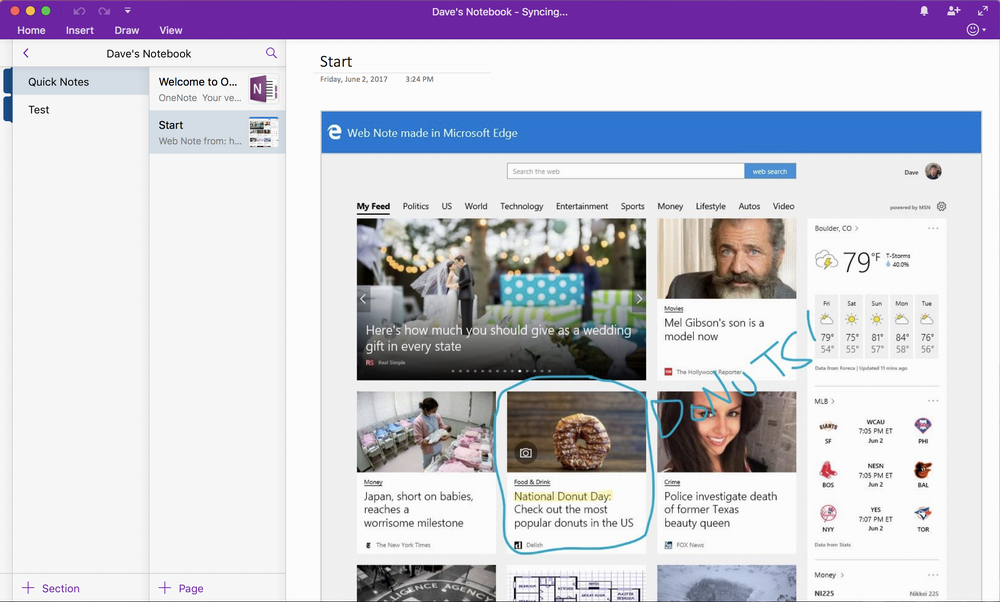 Don't want to share your account? Don't blame you. Lucky Microsoft Edge also has the ability for you to email someone your web note annotations on a page which is a way better approach in your situation.
Now, let's go get some donuts! 🙂