I want to share photos and other content between my Android phone and my sister's phone. I can text her or email it, but that's clumsy. Can you walk me through how to use "Nearby Share" instead, since I hear it's like AirDrop but for Android?
Apple has taken a long time getting its AirDrop feature to work, and even then sometimes it's there to make a transfer between Apple devices (iPhone to iPhone, iPhone to Mac, etc) easy, while other times it's non-functional. Google's Android team watched that experience and slowly planned out its competitor to AirDrop, Nearby Share, and quietly added it to Android a short while ago. The end result is that once you get it all set up and configured, Nearby Share is great and works as long as you're within Bluetooth range of the other device (typically about 10 meters). They don't even need to be in your Contacts list (though I generally recommend against being open to any and all data shared from unknown users, but I'll get back to that in a bit).
There are three parts to this tutorial, therefore; how to set up your Android device to work with Nearby Share, how to share something with another device that's, well, nearby, and how to accept shares and receive whatever's being sent. Let's go through them one-by-one! If you want to add Chromebook support too, check out: Use Nearby Share with Chromebooks.
HOW TO SET UP YOUR ANDROID PHONE FOR NEARBY SHARE
I can tell you how to dig through Settings to get to the right spot, but let's use the Settings search instead since it's soooo helpful. Go to Settings and search for "nearby":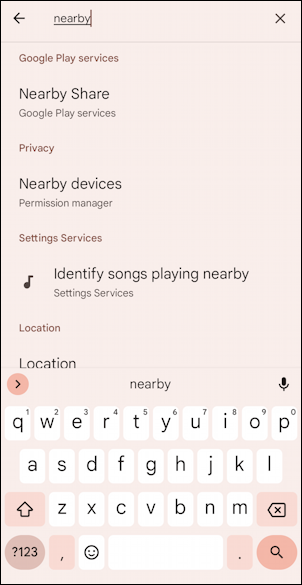 The first entry is what you seek: "Nearby Share", and it's (surprise) part of Google Play services. Tap on "Nearby Share" from the list and you'll jump directly to where you can enable the feature, or find it's already enabled and you never realized: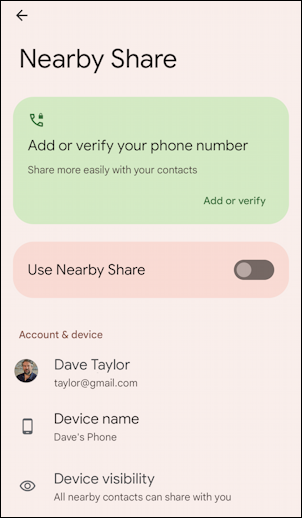 If you're configuring nearby share for the first time it might prompt you to add or verify your phone number, as shown. Easy enough, tap anywhere in the green box and you'll get a confirmation box: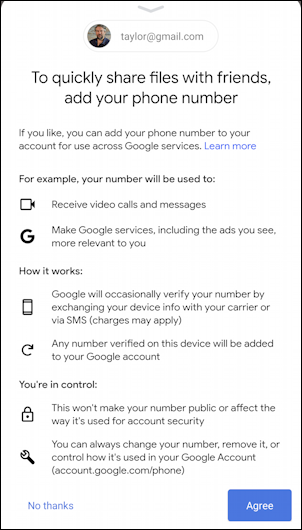 I find this to be useful, so encourage you to Agree to the terms and add your phone number to your Android account. Once you've done that, you'll want to enable nearby share. Simply tap on the slider control by "Use Nearby Share" and it'll turn on. No fanfare, nothing fancy happens.
Now the most important question: How visible do you want your device to be for everyone else within that 10m radius around you? Tap on "Device visibility" and you can choose from Everyone, Contacts, or Hidden. Generally, I recommend "Contacts" to ensure that you don't get some weirdo sending you inappropriate photos or similar (like this incident):
If you and your sister both set it up and are in each other's Contacts list, mission accomplished. But… sometimes you do want to open it for "Everyone", in which case Android has a smart default of that only being for a short period of time: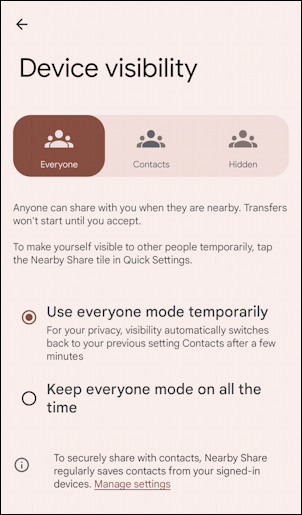 That's it. Either way, you've enabled Nearby Share and set up the device visibility that works best for you. So how do you use it? That's pretty darn easy.
HOW TO USE NEARBY SHARE ON ANDROID
Anywhere you would share something, nearby share is now an option. For example, while viewing a photo: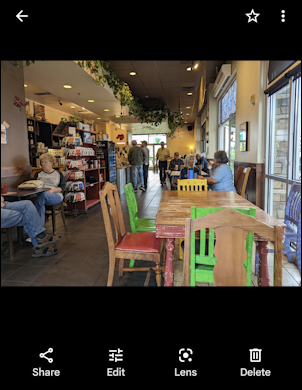 You've seen that "Share" button a million times, right? But now tap on it and the options are a bit different:
Do you see it along the bottom? "Nearby Share". Tap on it and this is the moment of truth; will it see the other device or not?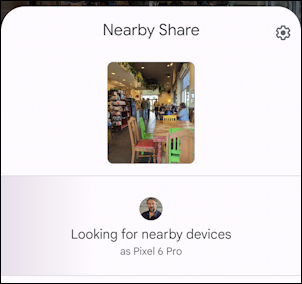 Looking… looking… and I'm in luck! It does see the other Android device!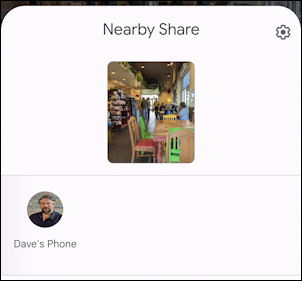 Now it's just a matter of tapping on the name of the other device, which initiates the transfer: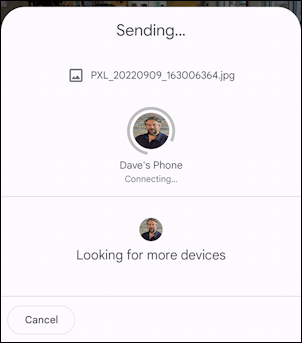 What happens at the other end? For now, it prompts the user of that other device to receive the proffered transfer, which is what I think is most appropriate. In the future, it might auto-receive Nearby Share transfers, according to Google. Hopefully you'll be able to enable/disable auto-accept based on your preferences
HOW TO RECEIVE A PHOTO SHARED WITH NEARBY SHARE
Meanwhile, on the receiving phone, here's what pops up: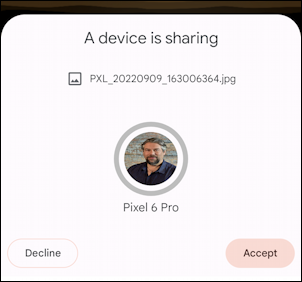 Don't know who that person is? Tap on "Decline". I want to receive this photo from Pixel 6 Pro, however, so I'll tap on "Accept" and…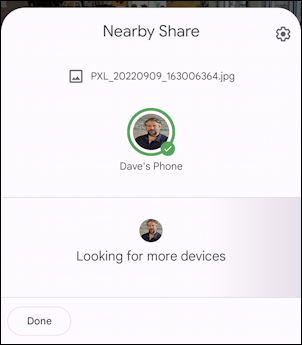 Received! And that's it, everything you need to know to get started using Nearby Share on your Android devices. Now if only that interoperated with AirDrop on the iPhone, but that's what transfer-via-text-message is for, right? 🙂
Pro Tip: I've been writing about Android forever! Please check out my extensive Android help area for hundreds more useful tutorials and guides! Thanks.