I was at a Starbucks recently using my Android phone to watch some Netflix and suddenly it popped up an error that there was "No Internet Access". Is that because I was watching Netflix? What are my options at that point if it happens again?
It's incredibly unlikely that what you were doing on the Internet connection at Starbucks had anything to do with you being kicked off the network. Knowing Starbucks and its IT team savvy, if you were actually kicked off for hacking, downloading illegal content via BitTorrent, or similar, it would pop up a window to tell you what had happened. Next time, look around to ascertain if everyone else in the place is also experiencing a loss of Internet connectivity.
Much more likely is that the entire Internet dropped for the Starbucks you were visiting, which happens occasionally. It can be their fault – someone accidentally unplugs something – or it can be something else on the connection pipe, from bad weather to a power outage to a nearby ISP having a problem. Nowadays, odds are good it will come back within five or ten minutes, but worst case, well, at least a good cup of coffee is nearby while you wait.
I recently had the Internet go down at a Starbucks too, as luck would have it. When I realized that's what had happened, I asked the manager to reboot their Internet. Five minutes later we were back online and all was working perfectly. But my Android phone helped me realize what was going on too…
HOW ANDROID TELLS YOU THE INTERNET HAS VANISHED
I was actually trying to update a few older apps when this popped up on the home screen of my Google Pixel 6 Pro Android 12 phone: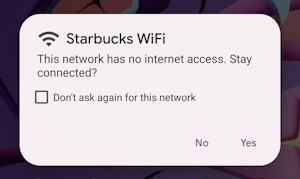 It says "This network has no internet access. Stay connected?" and at this point you can be optimistic and stay connected, assuming it'll come back soon enough, or you can disconnect. I stayed connected and pulled down the shortcuts window from the top of the Android phone screen…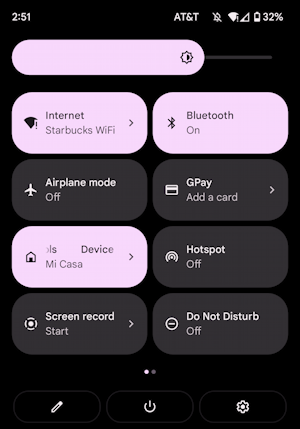 It's very subtle, but this also indicates that there's a problem with the Starbucks WiFi. Can you see how? It's the tiny "!" on the lower right corner of the wifi symbol.
Go into Settings and it's more obvious that there's a problem: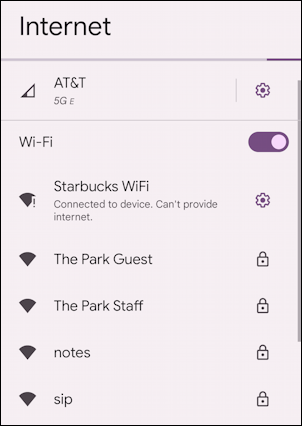 It's the small print, but it says "Connected to device. Can't provide internet". This is really helpful because it confirms that the router is still on and your connection to it is fine, but it's after that router that the connectivity problem appears.
Tap on the Starbucks WiFi entry and you'll learn even more!
Now what? Now you wait. Maybe let someone know there's a problem, but if you don't have your own hotspot, give it five or ten minutes and try again.
ONCE THE INTERNET CONNECTION IS RESTORED
Once it's back up, that shortcut icon will lose the tiny "!" and look like this:
Tap on it once and there's an easy way to switch networks, whether the current connection works or not:
You can also turn off AT&T 5G E network (through cellular in this instance) and turn off Wi-Fi entirely if you prefer. Get back online, take a deep breath, and you can get back to your day. Phew.
SHARE A NETWORK WITH A QR CODEs
One more fun thing to know about while we're poking around in network settings: In the Settings > Wi-Fi details view for the network you're using, tap on "Share" and you can get a handy QR code that's a shortcut for joining the network:
This is particularly helpful if you have a private network with a custom password.
Pro Tip: I've been writing about Android since the beginning. Please check out my extensive Android help area while you're visiting for lots more useful tutorials and guides! Thanks.