I don't get it. I got my latest cellphone bill and I was way over my bandwidth allotment. But how? Is there some way to figure out what apps or programs are using up all my data?
It would be great if every cellular carrier adopted an unlimited bandwidth policy but most of us are still under a quota, whether it's 2GB, 5GB, 10GB or greater. Stream lots of live sports, listen to Pandora or Spotify while on the road, feed your Netflix series addiction (yes, Stranger Things is terrific!) or play lots of Pokemon Go where you're hitting that map service again and again and you can go through a lot of data.
Some of these are fairly obvious: lower your bandwidth usage by setting these huge data hogs to be "wifi only", but other Android apps can be sneaky consumers of data, using up far more data than you realize with their background tasks and constant checking in with home base to see if there's anything new.
Fortunately the Android development team knew this was something that users would want to know about, so they added an easy way to list your apps by data usage within the system itself.
Start by going to Settings: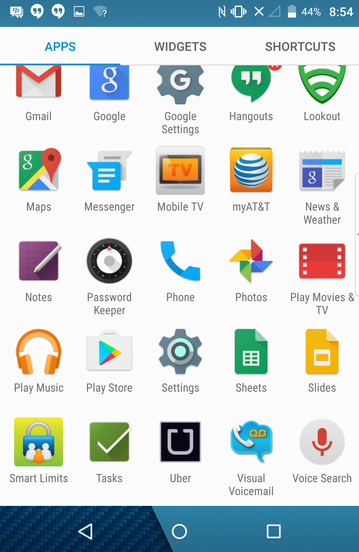 You can see the gear icon (and it's alphabetical too). Tap on it and you'll see a list of different options you can tweak and modify to meet your particular usage:
Hopefully you've explored this area before, but if not, take a few seconds to swipe up and down to see the many, many ways you can tweak and modify the settings and preferences within your Android world.
For this task, however, you'll want to tap on the — admittedly obvious — link Data usage.
One tap and it'll show you your overall bandwidth consumption:
You can see on this device that I use barely any bandwidth and that my allotment is 2GB/mo. Since you're hitting overages, I'm expecting your graph will be slightly different in appearance 🙂
No worries, swipe downward and you'll reveal a list of all apps on your smartphone or Android tablet, sorted by the amount of data they've used in the last period:
As you can see, Gmail is the single biggest data consumer for me using twice as much as the next service on the list (Google Services). Then it's Android OS, Google Play Store, and other apps that are barely touching the Internet at all.
On a device that gets more usage, these numbers are going to be considerably higher and this should let you crack the case and figure out what apps on your Android phone (Samsung Galaxy? HTC?) are consuming all your bandwidth!