I've been a long-time user of Google AdSense and pretty much have it all figured out, I think. Except for a new tab that's shown up: what is the "Allowed Sites" feature and when would I want to use it?
omI'm not surprised you are a bit confused by that feature, since Google just added it to AdSense in the last few weeks. The feature is a risk avoidance one that can be most easily demonstrated by you doing a quick Edit –> View Source on this very page.
Scroll down. Find the block that is Google AdSense code. Notice that you can cut and paste the code onto your own page and start serving up Google ads against my account. Not so bad, you think, you could have other people helping you earn money. Until one of them decides it would be amusing to put the ad block on a site that violates the Google AdSense terms of service (for example, a site about gambling).
You can see the problem.
So did Google, fortunately, and that's exactly what the "Allowed Sites" feature is about. Specifically, log in to your AdSense account and click on the "AdSense Setup" tab:


Click on that and you'll find that by default any site can serve up your ad block: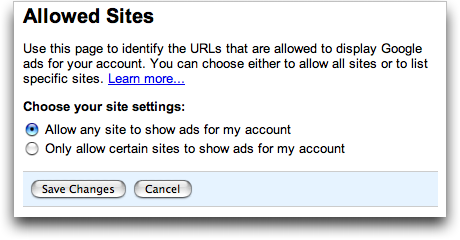 If you want to close that off and protect your AdSense account from malicious users, click on "Only allow certain sites to show ads for my account" and it will open up a box wherein you can type domains or even subdomains to allow: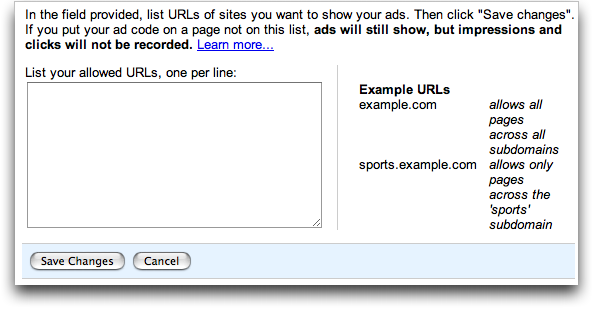 Google has a surprisingly bluntly worded note in the help section about this new feature: "some AdSense publishers are concerned about potentially malicious behavior from others on the web, such as stealing their ad code and placing it on an inappropriate site."
If you are worried about competitors or delinquents messing with your account, "Allowed Sites" is a smart addition to your account setup.
What? You haven't yet signed up for AdSense? Then, please, start out the smart way with my own tutorial intro:
Getting Started with Google AdSense
. Your bank account with thank me. 🙂
My thanks to the always-splendid Jen Slegg and her write up on her blog about this feature (see: Allowed sites now an option in AdSense). If you run AdSense, I recommend you subscribe to her site.