A friend was telling me that the Windows 7 calculator app has a ton of hidden features, including the ability to calculate the number of days between dates and the ability to easily compute monthly mortgage payments for purchasing a house or car. My husband and I are actually getting ready to buy a house and having a mortgage calculator on my Win7 PC would be darn helpful. Can you show me how to unlock the hidden calculator features?
I don't know if they're "hidden" features, per se, because all you have to do is poke around a bit on the different menu options in the calculator program to find the date calculator, mortgage calculator, etc, but I will say that it's likely the vast majority of people who launch the application then just assume it's a simple four-function calculator that can help you figure out how to split the lunch bill, but not much more. That's a mistake: in fact it's a remarkably capable little program.
Ironically, the Mac OS calculator suffers from the same lack of glitz and it too can do all sorts of calculations and can even retrieve stock values if you want to do calculations like "what's my 37 shares of Microsoft worth today?" That's the subject of a different article, however, so let's stick with MS Windows and calculators.
As usual, the fast way to launch the app isn't to dig around for it in "Programs" but to just type in the first few letters of the name and let the START menu do the work:

You can see it on the top, so you can click on it or – a handy tip – you can also just press Enter if it's the highlighted option too, which is even faster. "c-a-l-c-Enter" and it's running.
So here's what it looks like in its default mode:
Not very exciting, it emulates the functionality of a calculator you can buy for $5 at the local shop. But click on "View" and the world of Calculator functionality appears:
Notice the top section first. The buttons you see can switch from being a standard 4-function style calculator to buttons that are specific to scientific calculations (sine, cosine, etc), to programmers (binary and octal to decimal conversions, etc) and even statistical functions (handy for you grad students out there!)
You can even access a history of your calculations, what some similar programs call "paper tape mode" in honor of early printing calculators. I don't think they make those any more, however, so it might be included out of nostalgia 🙂
Unit conversion is really interesting and a boon for middle school students who have to know how many bushels in a peck, how many teaspoons in a gallon, etc. Makes those calculations surprisingly quick and is great for scaling recipes up or down.
Finally, what we want is "Worksheets", as you can see: Mortgage, Vehicle lease, Fuel economy (mpg) and Fuel economy (litres/100km). Choose "Mortgage" and…
Now it's a pretty standard mortgage calculator. Enter the base price, the down payment you're going to be able to include, the duration of the loan (in years) and the interest rate and it'll tell you the monthly payment that results.
For example:
Purchasing a $325,000 house with a hefty $70,000 down payment and 4.55% interest on a typical 30-year loan produces monthly payments of $1,299.63.
Tip: When you do sign a mortgage, make sure you can pay it off early then switch to making half payments every two weeks instead of a full payment monthly. In this case, you'd pay $650 ever two weeks instead of $1300 every month. The difference? You'd save over $40,000 in payments over the lifetime of the loan, and pay off the mortgage 54 months earlier than on a monthly payment schedule. Ask your bank, they'll explain the numbers.
One more quick feature since it's darn interesting: switch to Date Calculation mode and you can figure out things like "how many days between Feb 13, 2008 and today?"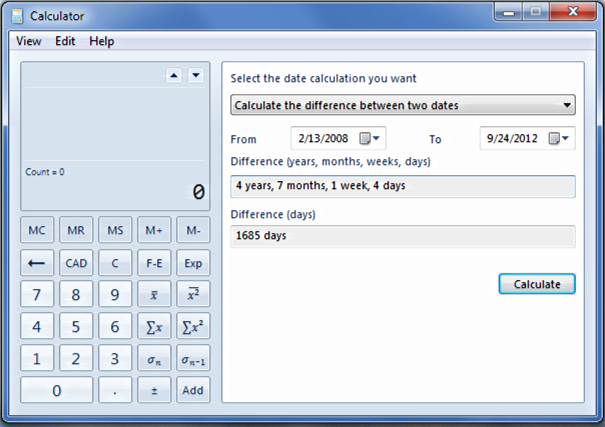 As you suspected, the Windows 7 calculator has a ton of hidden features and capabilities, including the ability to calculate payments on home loans and other compounding interest loans of that nature. Now go and find a great house, and good luck!