My school computer defaults to using Yahoo as our search engine. Rather than constantly move elsewhere, can you tell me a bit about how to do advanced Yahoo searches, please?
While some readers might think that Yahoo is a has-been, the fact is that it's the third most popular search engine in the online world. Yes, Yahoo. So I totally understand your school using that as the default search engine. Not only that, but it's a nicely simplified search interface too, which is good for users.
Here's the dirty secret, though; Yahoo search is now powered by Bing! You can see that by going to the very bottom of any Yahoo search page, where it says "Powered by Bing". Who knew? This means that you can use any of the advanced search features of Bing on Yahoo too.
Let's just jump right in with a fancy search:
This is a search for the phrase "macbook air" on Government Web sites – domain .gov – of type PDF written in English. I told you, a sophisticated search.
Step out just a bit and there's a little bit of search filtering available on the Yahoo search page, as shown here: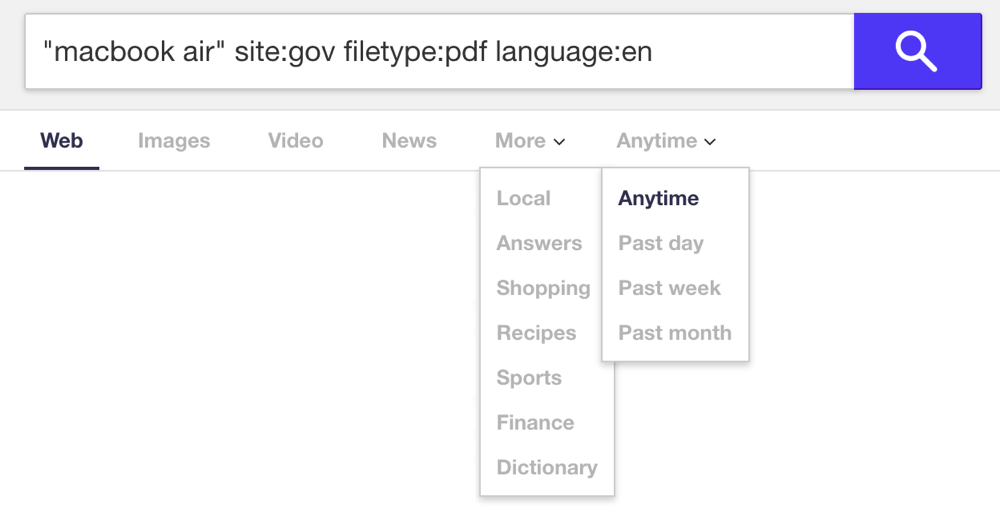 Well, the More menu doesn't really do much of value, but the Anytime menu is very helpful for constraining search to recent results.
However…
It turns out that there's an advanced search page for Yahoo, though there's no link from the main Yahoo page to get there. Go to this URL instead: https://search.yahoo.com/web/advanced
Using this page you can fill in a form to get exactly the search you want. Here's the first block of options:
I bet you're saying "wow. I had no idea!"
But there's more. Let's look at some of the other input options:
Now you can see that .gov site search is just a single button click away. Also notice file format options too. Now you know how to search for spreadsheets or Word documents, among other filetypes.
This shows off the many sophisticated options, including specifying that you just want results from pages hosted in a specific country – or continent – and in one or more languages (the above image is a small subset of all available languages).
Put them all together and here's the kind of search results display you'll see:
Lots going on here, all of a sudden. It's a search for pages in English that are on .gov sites and in PDF file format that include the phrase (phrase because the words are quoted and therefore have to be adjacent) "macbook air".
So there ya go. Now you can see that while you might start out at Yahoo.com for search, in fact Yahoo is hiding (courtesy of Bing) quite a sophisticated search engine. Remember the /web/advanced suffix to the search URL and you can jump straight to Yahoo advanced search too. Good luck!
Pro Tip: While you're here, check out our many computer tutorials and help pages!