I just got a new game that I really enjoy, but there's no way to stop the annoying soundtrack music. Since I sometimes play at work, I really need to be able to automatically mute the app, even though I want all my other apps to work normally. Is there a way to mute one program in Windows 11 but leave the other apps and programs working normally?
If you were running an earlier version of Microsoft Windows I would have to say that no, there's no way that you can change the volume for one program or app while leaving everything else on your PC normal. In fact, the feature's called "Volume Mixer" and a version of it appeared pre-Windows 10, then it vanished in 10, and now it's back in Windows 11. It's hard to say whether that means it's popular or that Microsoft ascertained that it wasn't popular! 🙂
In any case, yes, there is indeed a way that you can lower the volume on some apps while raising the volume in others. Therefore, you can mute an app or program as desired on your PC, enabling you to play some stealth games without having all sound disabled. Handy and not a feature that has an equivalent on the MacOS side (in case you Mac enthusiasts are curious).
Let's check it out…
HOW TO GET TO VOLUME MIXER IN WIN11
The easiest way to get to the Volume Mixer, an advanced sub-window of the Sound System Setting, is to just search for "mixer" in the terrific Windows 11 search system: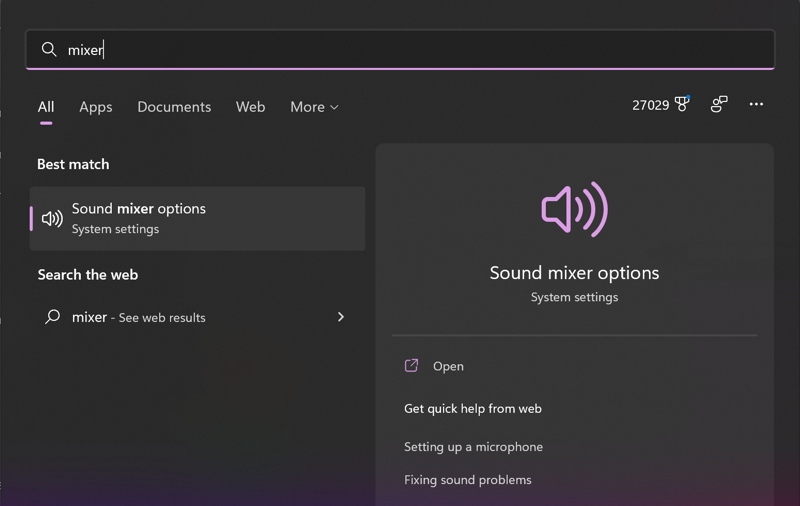 That's what you want to choose: "Sound mixer options". Click or tap on that and you'll get to the right window immediately: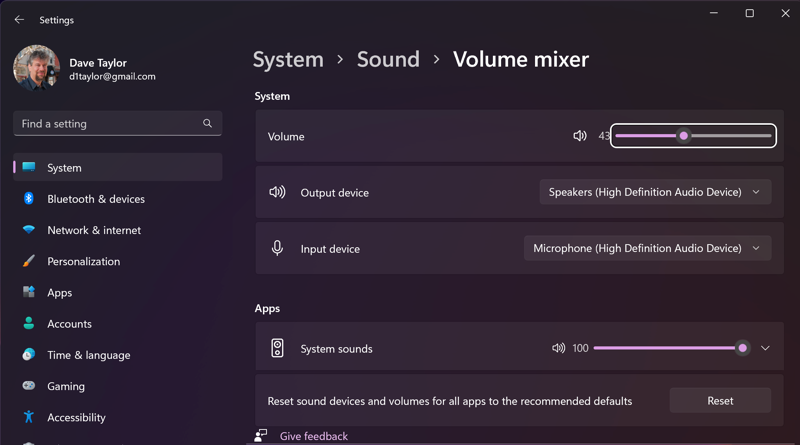 Okay, but where are all the apps?
Turns out that Volume mixer only lets you adjust the relative volume of apps that are currently running. In the above you can see that I have no other programs running; only System sounds shows up with its own adjustable bar. Also notice that there's a bit of relativity here too, because the per-app volume is relative to the overall system volume. In the above, I have volume set to 43, so having the System sounds at 100 means it'll be the full "43" volume. If I had System sounds set to "50", it'd be half of that 43 volume setting, the equivalent of having the overall volume set to half of 43, or about 21.
This is important because turning up an individual app to 100 doesn't mean it's going to be at max volume for your PC!
VOLUME MIXER WITH LOTS OF APPS RUNNING
If I fire up a few apps that have audio output, the Apps area of the window changes significantly: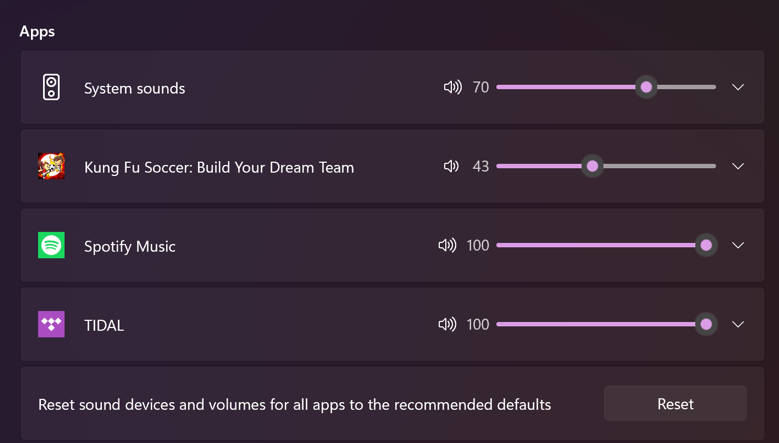 Notice in this instance that I have lowered System sounds to 70%, dropped Kung Fu Soccer down to 43%, but left both Spotify and TIDAL at 100%. Remember, that's all relative to the overall system volume.
To fully mute a program, simply drop its app volume to 0% and you're done. The system should remember that app volume the next time you launch the program, but you might test things to double check that's true when you're alone in the office or have headphones plugged in. 🙂
Or… you could simply set the app output to a different device. That's done by clicking on the tiny down arrow adjacent to the slider control:

While you're at it, note that you can also specify per-app INPUT devices too. Might be useful.
Finally, don't forget that you can always get to the overall system volume from the Taskbar:
That should keep you going with your stealth game. Good luck and be careful. 🙂
Pro Tip: I've been writing about Windows for years and have an extensive Windows 11 help area. Please check it out to find lots of additional tutorials and guides while you're here. Thanks!