I keep finding these great videos on YouTube and want to include some of them in my Typepad blog but I have no idea how to do that. I tried dragging and dropping while I was composing an entry, but was totally unsurprised when it didn't work either. Can it be done?
Ah yes, the astonishingly popular site YouTube. Turns out that it's pretty darn easy to find a video on YouTube and then include it in your blog entry or on your Web page.
I dug around and found an interesting little video showing the globe sculpture on the grounds of the Vatican Museum. Here's a link: Globe at Vatican Museum.
When you go there to check it out, notice the navigational elements on the right side of the video clip itself, in the "About This Video" box. It looks like this: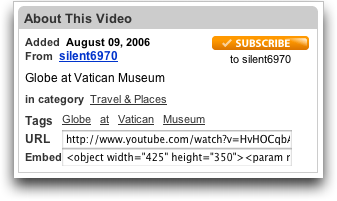 You can see the box you need, it's labeled "Embed" and the code, if you were to unwrap it all, would look like this:
<object width="425″ height="350″>
<param name="movie" value="http://www.youtube.com/v/HvHOCqbA6rE">
</param>
<param name="wmode" value="transparent">
</param>
<embed src="http://www.youtube.com/v/HvHOCqbA6rE"
type="application/x-shockwave-flash" wmode="transparent"
width="425″ height="350″>
</embed>
</object>
When I actually copy and paste it here, you'll see, the video just shows up:


Cool, eh? That'll answer your question and also point out how many people are doing video blogging (aka "vlogging").