i'm having lots of fun customizing my myspace profile, but what i don't understand is how some people have a little mini-player with a song on their profiles… how do i add a favorite song to my own profile? thanks, btw, for your great myspace help!
One of the most common questions I see here at AskDaveTaylor is about adding music to MySpace profiles, actually, almost always about the Standalone Player which is actually only an option for people who have band profiles on MySpace. That said, there are third-party mp3 audio players you can include, but for now let me just explain how you can add a one-song mini-player on your MySpace account instead.
The key to realize is that MySpace is trying to wrestle with the quite significant problem of illegal music downloads, etc., so it limits the music you can officially and legally put on a MySpace profile to either music you've created yourself (if you have a band profile) or music that a band or musician has already uploaded to the MySpace system.
If you're thinking that this limits you to music from bands already on MySpace, you're exactly right. Some popular bands and musicians are well represented, between official profiles and fan profiles, but plenty of others are surprisingly missing. For example, according to Billboard's Top 200 chart, the top ten albums this week are Justin Timberlake, John Mayer, Beyonce, Bob Seger, Bob Dylan, Lionel Richie, Hinder, Danity Kane, The Mars Volta and Nickelback. Of those, I could only find seven on MySpace.
None of those appeal to me, frankly, so instead I'll dig around and see if I can find the MySpace profile for Christine Aguilera. Fortunately, that's pretty darn easy: just type in her name on the top search bar, after checking to ensure that you're only searching MySpace itself:


A few seconds later and a list of matches are shown, with Christina's profile right on top:
When you visit
her MySpace profile
notice that she has one of those nifty MySpace Standalone Players: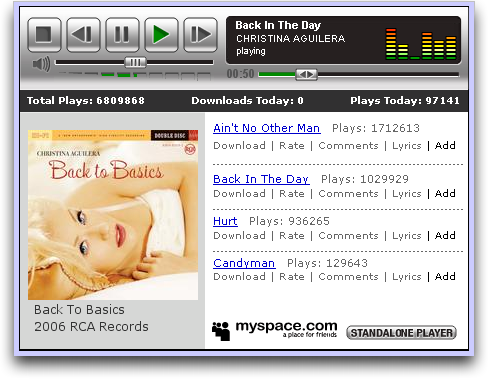 Frankly, if you've poked around on MySpace, you've probably seen these before on your favorite musician's profile, but the key is to note the word
Add
after the other options on a song. That's the magic link: it adds the specified song to
your profile
on MySpace.
Let's try it out. I'm going to add the song
Back In The Day
to my profile (temporarily, in real life my musical tastes run more to Bruce Hornsby, The Alan Parsons Project and Kate Bush!) by clicking on the
Add
link immediately adjacent to the name of that particular track.
Next thing I see is this:
I'll proceed by clicking on "Add Song to Profile" and have a confirmation from MySpace that it worked properly:
That's all there is to it. Now if I go to
my own MySpace profile
(remember, you want to view your profile as other people see it) there's a nice little music player that's now included: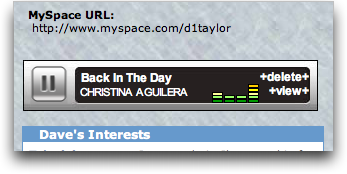 That should get you going with adding a single favorite song to your own profile on MySpace. Now, if you'll pardon me, I need to change it to a different song before people start accusing me of listening to pop music. 🙂
While you're here, I encourage you to check out all the
MySpace Help
I have here on this blog, and you can also become my friend by checking out my
MySpace profile
. Check it out, and you'll see that I frequently change my musical selection too…