I figured out how to add Google Analytics to my Web site, thanks [see Add Google Analytics to your Web Site Today] but now my colleague wants access to the Analytics reports and I really don't want to share my entire Google account information with her. Can I add people just to an Analytics account without them getting to my Gmail, Google Plus or other Google accounts?
While there are definitely many benefits to having a single Google account for all your Google services, from mail to photo archiving, documents to social chit-chat, it does end up being a bit of a limitation when you get to the more pro level tools like Google AdWords or Google Analytics, as you highlight.
Fortunately there's a way you can add other Google accounts to either your entire Analytics account or to just a specific domain if you'd like to corral them into a specific area rather than have them explore and fiddle with everything you have set up for your many Web sites (if you have a lot of Web sites!)
The first step for me to show you how to do this is for you to log in to your Google account, then go to your Analytics home page. You'll see something like this:



You're probably used to just clicking on "View report" here, but instead you want to click on the "Edit" link on the right side. Do that, scroll down to the bottom of the options and you'll find the following section "Users with Access to Profile":


You can guess what to do from here. Click on "+ Add User" on the top right and…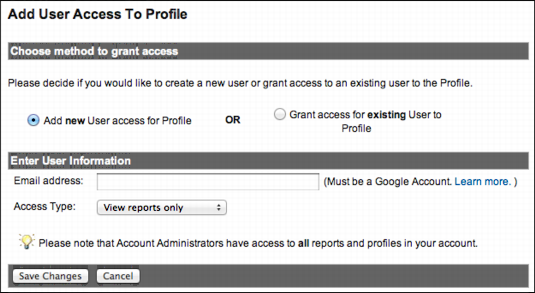 Important to note here is that when you add someone, it needs to be a Google account, so you'll need their @gmail email address. Don't have one? Sign up first!
The most important thing here is to ascertain if you need to give this person administrative access to your Analytics account for this particular domain or whether they can just have read only "View reports only" access. I obviously recommend the latter if possible, so you can avoid too many people monkeying with the Analytics settings, etc. but your boss might want just that kind of access, so you might need to ask:



Got everything set up? Click on "Save Changes" and you're done!


If at any time you want to remove them, you can see there's a handy "Remove" link too.