I now have two Twitter accounts, one for work and one for my personal updates and friends. Dunno if I'm supposed to do this, but it works for me and my friends. My question: I heard that there's a way in Twhirl to have both account windows open simultaneously. How do I do that?
Should you have more than one Twitter account? I don't know that there are any rules and certainly what you describe makes a lot of sense to me, having one for your work and having another for your personal use. The only time I might think it's not so good is if you were trying to consciously trick or deceive people, pretending you were someone you aren't. But even that isn't a huge issue and there are likely people who I follow on Twitter who are either fictitious or only reflect a single facet of their personalities.
Certainly micro-blogging services like Twitter, Jaiku and Pownce are so new that there is no "best practice" in place yet, and that's part of what makes these so interesting as sociological experiments, if you will.
Anyway. On to your question. When you start up Twhirl on the very top of the window you'll see this:


The tiny wrench is the button you want to press to get to the preferences area. Click on it and you'll see this:
One more click. Click on "Open Accounts" on the lower left and you'll get this:
Now just enter the new Twitter account in the box on the bottom (as I have done with
FilmBuzz
here):
Ready? Press the "+" button to add it, then select the new account and "Connect":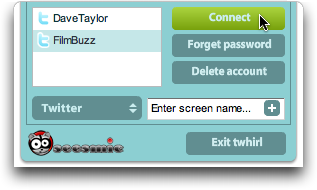 and it'll ask for your account password:
Finally, if you entered your password properly, you'll have a second Twhirl window pop up: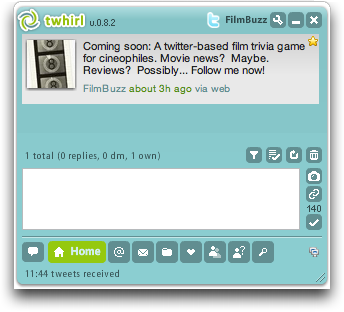 And that's how you can have two Twitter accounts up and running simultaneously!
Looking for more
Twitter help
? You need go no further than Ask Dave Taylor. Looking for me on Twitter?
Here's my Twitter account
.