How do I add more than one school to MySpace under the "Visit My School Home Page"? I remember adding the current school when I 1st got this account but now I can't find out where to add more schools to it. Thank you for your help
There are lots of different places where you can tweak your MySpace profile, but they're just about all accessible from the "Edit Profile" link adjacent to your picture on your home page. Click on that and you'll see quite a range of different options on the edit profile settings:

Click for full-size image
The option you want is "Schools", as you might have guessed. Click on that and now you can add a new school by scrolling down just a bit past your existing entry:
Once you specify a school, you'll search the MySpace database and it'll show you any matching results. If they're not right, you'll also get a list of all known schools in that city:
Find a matching school and you'll optionally be able to specify lots of information about your school experience: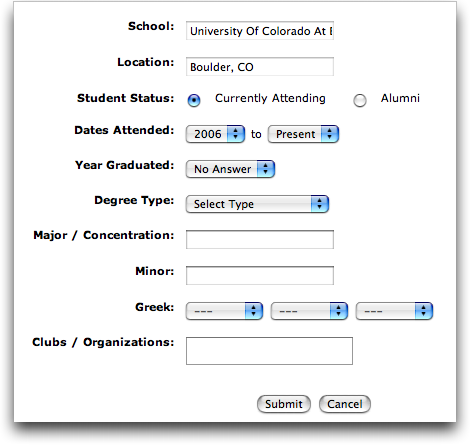 Once you've detailed as much as you're comfortable sharing with the MySpace community and the Web world at large, click on "Submit" and you've just added a new school to your profile!
While you're here, I encourage you to check out all the
MySpace Help
I have here on this blog, and you can also become my friend by checking out my
MySpace profile
.