I really like the set of social media buttons you have on the pages of your AskDaveTaylor site, Dave. What are they, and how did you add them to your site? In particular, a lot of the ones I've looked at have uninteresting sites like Delicious and Reddit, but don't yet support the new Google Plus "+1" button, so yours is really slick. What's the story?
Glad you noticed it! You readers are an eagle-eyed lot, I have to admit. The new social media widget that I'm using on this site is from a very interesting company called Po.st and adding it to your own site is about as easy as you can imagine. Even with my sites mostly running on the older blog tool Movable Type rather than WordPress, requiring me to hack source code, it's still a breeze.
To demonstrate, I'll show you how I added the po.st social media widget to my popular Dave On Film blog. You did know I'm also a professional film critic, right? Either way, pop over, enjoy some of my reviews while you're at it…
Worth noting before we proceed, however, is that po.st is the only social media widget I'm aware of that actually has a potential revenue stream for your site too. As the company explains on the site: "Monetized Sharing Widget — A 300×250 display ad that can carry your advertisers or ours. The ad unit appears only after a user has shared your content." Cool and extremely low key.
To get started with my film blog, I actually created a new po.st account for it. To do that, I simply went to their home page and clicked on the big "get it now" button. I'm immediately shown the default style of widget:

That looks good, and has the most important ones — remembering that the Google Plus "+1" button shows up elsewhere — so let's keep looking acros the page. On the right side, it shows a set of possibilities for the widget style and button sizes: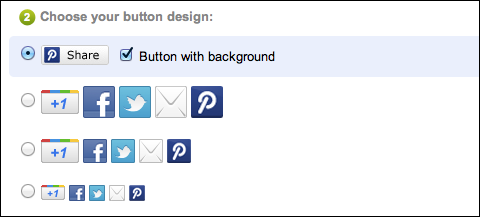 At this point I don't really like the default, selected, so instead choose the third option, a string of common social media services with common icons shown: Google's "+1", Facebook, Twitter, Email and the "P" for po.st (though I always think it's a
Pinterest
button, to be honest). I select that and, just below these widget options…
Got the style and widgets you like? Click on "Register" and it'll ask you just a few questions so Po.st can set up your account: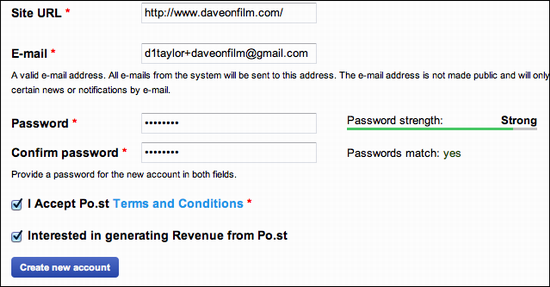 If you look closely, you'll see a trick that I use: Google's Gmail service actually lets you have any random string you want after your regular account name, as long as you separate them with a "+", so I'm using my "d1taylor" account here but customizing it for this purpose by adding my sitename: "d1taylor+daveonfilm" all @gmail.com.
Want to potentially make a few bucks too? Great. Click on that check box.
When you're done, click on "Create new account" and it'll set things up and show you the code you'll need to add to your pages / blog template to actually get it up and running: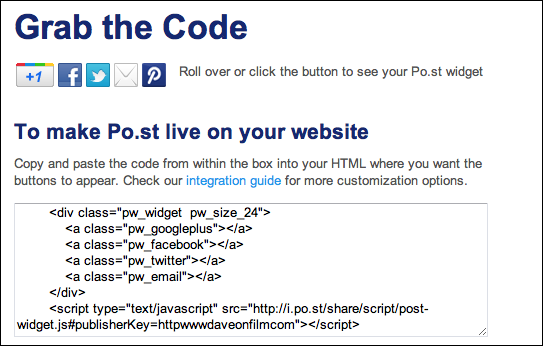 As I said earlier, my
Dave On Film
blog runs on Movable Type, so I just go to the Template Editor and paste in the new code: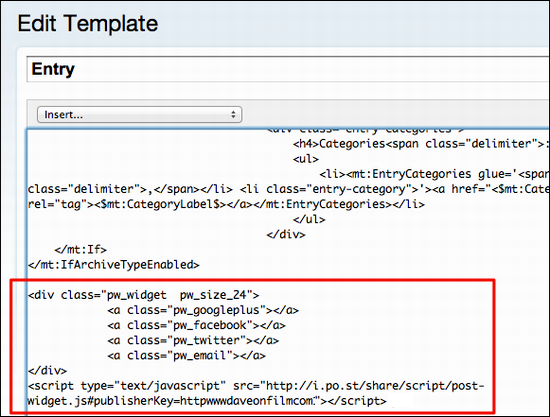 A click on the "Save and Rebuild" button and the widget strip instantly shows up on all my film review pages:

It really couldn't be much easier!
Wondering what it looks like? On this particular page, a
review of the film Soylent Green
, I'll click on the "+1" button and a window pops up: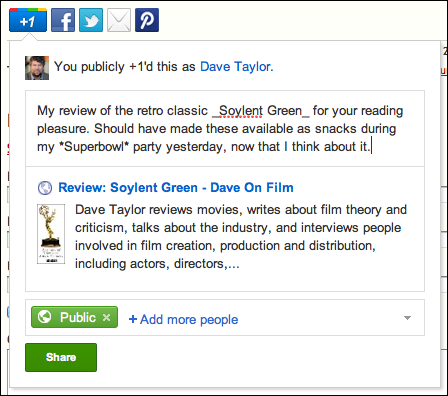 As you can see, I've added a comment, including using the special "_xx_" notation to get something in italics and "*xx*" to get it to show up in bold. A click on "Share" and we're good to go!
Nice. Now what's stopping you from signing up for
Po.st
and adding their social media widget to your own site?
Disclaimer: I run Po.st on this site and received some compensation from the company as part of our initial test. As you can see, however, I've kept the widget live because, well, it's just better than any of the alternatives I've seen in the marketplace.