I'm quite new to myspace and still not sure how to fully work it, I'm asking about how to upload pictures into your blogs? it doesnt seem to work for me?
I can understand why you're having a hard time: somehow it seems like you should be able to do just as you say, upload a picture from your personal computer onto the MySpace server then just slip them into your comments or blog entries as you desire. Sounds good! Unfortunately, well, that just ain't how it works…
The biggest problem is that MySpace just doesn't have infinite disk space, plus there are frankly quite a huge amount of legal issues that can cause trouble for the company too. For example, if you were to upload a copyrighted image (perhaps a movie poster or the cover of a magazine) they'd have some serious legal problems that are sidestepped if the actual files live elsewhere.
And so, obviously, you need to have an "elsewhere" and since I'm sure you don't actually want to have your own computer act as a public Internet data server, this means you'll need to find a different place to save your files. A popular image home is Flickr, and I've written a tutorial on how to use the Flickr service to host images too: how to use Flickr.
For this time, however, let's look at a super-popular image hosting service Photobucket.com. Once you've signed up, you'll see a simple upload form: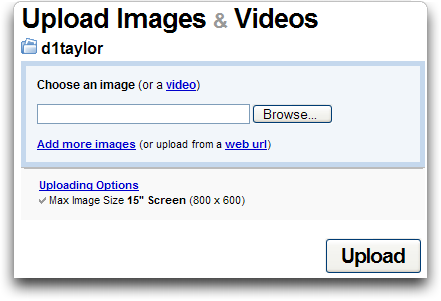 Assuming that you already have your image scaled and sized to what you need, it's just a matter of selecting the image with the usual Windows (or Mac) file selection dialog: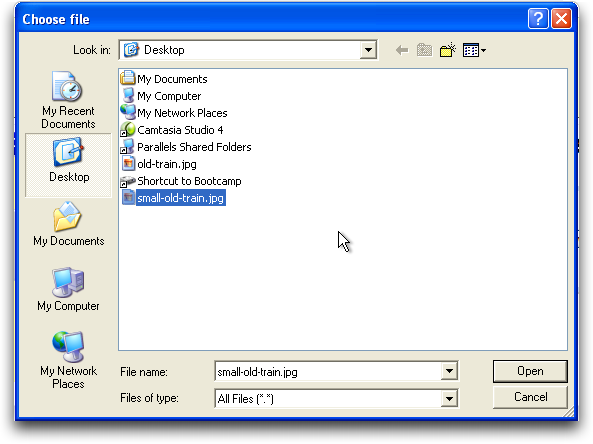 Click on "Open" and you'll see that the form on the Photobucket site will change to show you the name of the file you want to upload and it'll also give you a chance to enter a title for later reference. I've taken advantage of this to add a title to my own image here, "Old, decrepit train, color desaturated":
Ready? Click on "Upload" and a few seconds later (or longer, depending on your network connection) you'll see "Your images have uploaded" and if you scroll down just a bit on that page, you'll see your new image along with three key information fields:
The one we want for MySpace blogging is "URL Link", but let's get to that point and I'll show you how it works…
Open up a new Web browser or a new tab in your browser and go to MySpace. Now go to your blog and click on the "Post New Blog" link. Now you'll see something like this: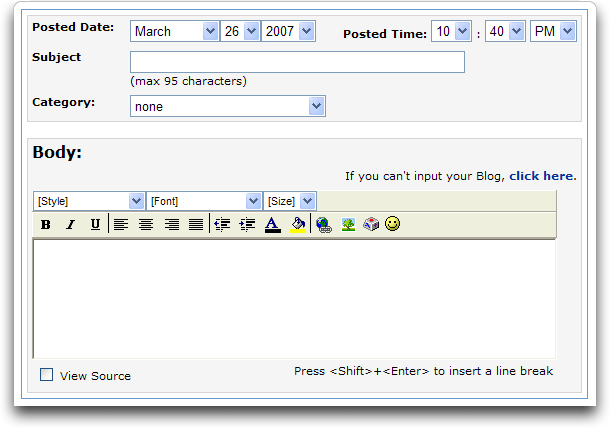 This is the "advanced" editor view, by the way. If you don't see all the fancy links then you're using the normal editor, though it's generally the same. Either way, there's an "image" link somewhere or other on the toolbar!
Click on that link and you'll get a pop-up window that asks for not the name of the file on your computer (which is what you were hoping) but the URL Link of your image stored on Photobucket:
Now you'll want to flip back to Photobucket and click on the text box adjacent to the "URL Link" which will automatically copy the needed URL into the copy/paste buffer:
Back to the dialog box from MySpace, click in the text box and choose
Edit
–>
Paste
(or, on Windows, Ctrl-V or Mac, Cmd-V) and now you'll have the image URL in the dialog box itself:
That's really all there is to it. Now just click on "OK" and you'll see the image actually appear in the entry window (if you're using the advanced editor, otherwise you'll just see some HTML which you shouldn't touch!). Now just add some additional content: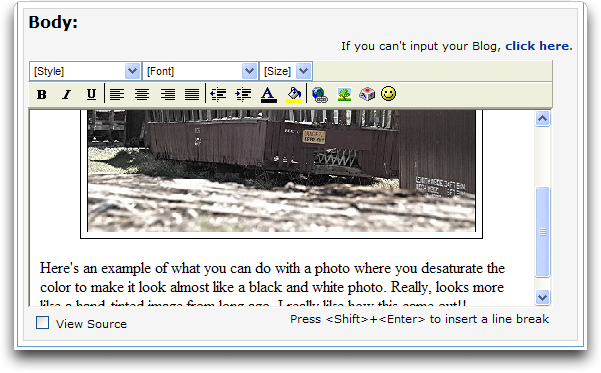 and, when you're ready, click "Preview and Post" and next thing you know, you'll have a blog entry on MySpace that includes your photo or set of images! Here's how mine ends up looking: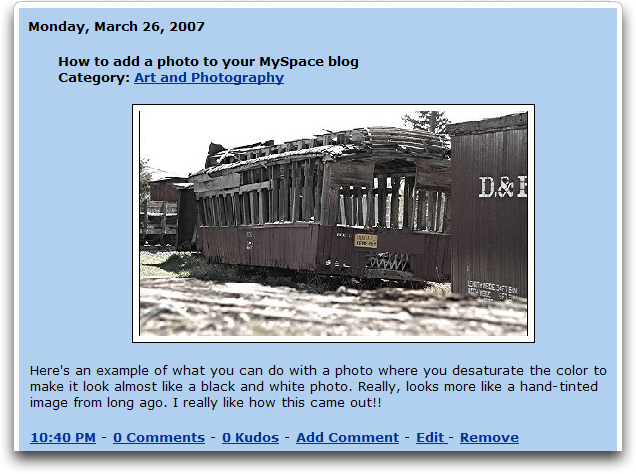 That should get you going!! And while you're checking out different techniques on MySpace, don't forget that I have quite a bit of
MySpace Help
here and you can also check out my own
MySpace Profile
too and even "friend" me! 🙂