I'm continuing my journey down the Pinterest rabbit hole (and notice you're on there too, Dave!) [[ I am indeed: Dave Taylor on Pinterest ]] and want to add some new boards but I'm confused: How do I create a new pinboard on Pinterest?
Glad to have you following me on Pinterest. Like you, I've started out slow but am getting increasingly enthused about this photo-sharing base social network site. It's starting to show some rough edges with a bit of spam and internet marketing stuff appearing, but it's easy to unfollow individual boards or even completely unfollow someone, as I explain in this tutorial: unfollow someone on Pinterest.
As with many different sites where you upload lots of stuff, Pinterest benefits from your curation skills. Don't just have a single board "everything I post" and then populate it with a completely random assortment of inspirational quotes, infographics, cute kittens and motorcycles you wish you owned, but instead split it into individual "boards" tied to a specific theme. Think of them as keywords, actually, that's what I do.
Which leads to the question: how the heck do you add new boards?
Fortunately it's not too difficult once you know where to look.
A clue: the following menu choice does not take you to the right place: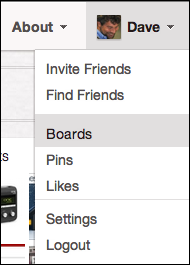 Seems like it should, and it does let you rearrange your Boards so that they're not in the order you created them but instead in some more logical or aesthetically pleasing order. To do that, click on "Rearrange Boards":
That's not what you want to do, however. You want to actually create a new Pinterest Board. To do that go back to the Pinterest home page and click on the "Add" button on the top right. You'll get the usual pop-up:
Ah, there ya go. The rightmost entry is what you seek, "Create a Board". Makes sense. Click on it…
Now we're talking! Enter the name of your Board, then click on the Select a Category menu to ensure you characterize it properly: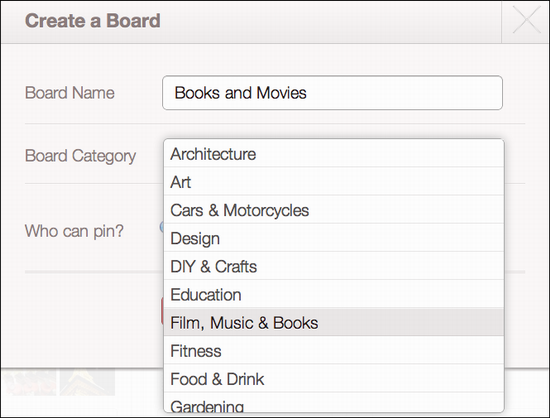 You can see that I've named my new Boar "Books and Movies" and am categorizing it as "Film, Music & Books". Decide if only you can post to it or whether your friends can too, click "Create Board" and congrats, you've got a new Pinterest board.
What? You still aren't following me on Pinterest? That's craaaaazy. Find me and follow me here: Dave on Pinterest. Thanks.