This is such a simple question I can't believe I'm asking it! Being a huge gmail fan since switching from hotmail I can't find out how to save the sender's address to my contcats list other than copying and pasting the address having gone to contaxts and create a new contact. Surely the good people at google have a one click solution for me that I just can't find! Your help is greatly appreciated.
Your confusion is understandable, because like so many features in Google's splendid Gmail service, what you seek is hidden under the innocuously labeled More options link.
To accomplish what you seek, simply open up a message from the sender who is to be memorialized in your address book. The head of the message will look like this message from my friend Scott Allen:



Click on "More options", though, and suddenly there's a world of choices: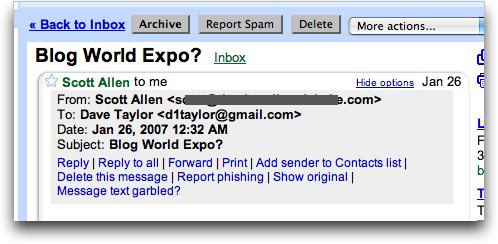 You can see the option you want:
Add sender to contacts list
. Assuming everything works properly — and it should — you'll now see a status message above the email:



That's all there is to it. Hope that helps you figure the "one click" solution!