I'm a big fan of Google's Calendar program, but am finding it annoying that I have to always have my Web browser running on my Mac to remember events. Is there some sort of notification system that will let me keep up with my Calendar events without having a page perpetually on Google Calendar?
I'm also hooked on Google Calendar with its nice cellphone interface, my ability to sync it with my iPhone calendar (via Spanning Sync), its multi-calendar support, and more. However, I'm with you: some sort of reminder would be nice!
Fortunately, Google's addressed the issue with its Google Notifier for Mac utility. Download it from that link, install it, and with a little bit of configuration, you'll have just what you need.
First step is to install it:

Then click on "Open Google Notifier" from the post-install screen: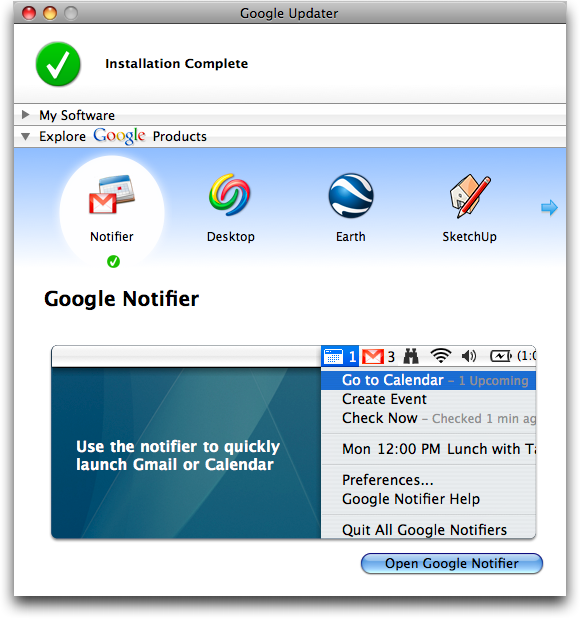 Once it launches, you'll have a chance to log in to your Google account: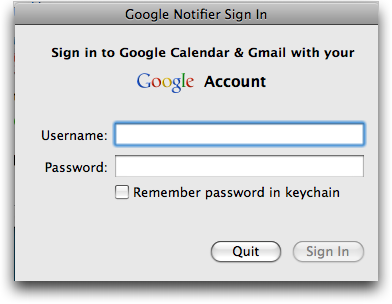 Do so with your correct credentials, and suddenly you have two new icons on your menu bar:

The leftmost is Google Calendar, the envelope is Google Mail (then, left to right, are Spaces (from Leopard), battery, wifi, sound, date, and spotlight. But you knew this already, right?). Click on either of the Google icons and you'll have a chance to set your preferences: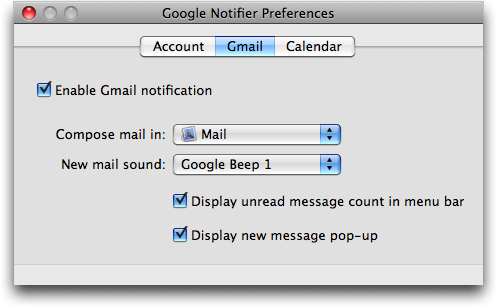 Uncheck "Enable Gmail Notification" and the envelope will completely vanish from your menubar and that service will be disabled. I do have a Gmail account so I leave it running since it's useful to have a sense of when new messages arrive.
That's about all you need to do. One more step, however, so that the notifier starts up automatically each time you log in to your Mac account. In Preferences, check "Start Google Notifier at Login" and now, finally, you're done.
You can then add new events by choosing "Create Event" or "Quick Add Event" from the Calendar menu: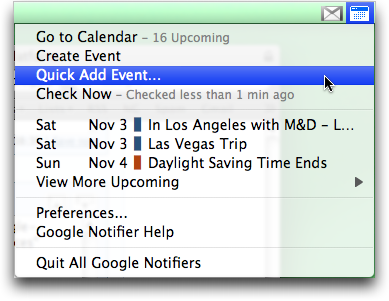 When new events come up, you'll now get a little tiny flag in your icon bar:
That should get you going!