I want to buy a few new CDs from my favorite artists, but the prices on the iTunes Store seem to be going up. I also want to share the music with my boyfriend and can't unless we have a shared account. Stinks. A friend told me I should buy my music from Amazon instead with its MP3 downloads. How does that work with iTunes, iPods and iPhones?
That's a great question and it's a situation that my daughter and I just encountered too: we wanted to share the cost of a new CD and then have the songs both on her iPod and my iPhone. Problem is, I can't authorize the version of iTunes on her computer with my account information because I've already hit the five device limit. So what to do? Buy it twice? Not so much a fan of that.
Instead we dug around and found that the CD, the soundtrack to the amusing animated film Rio, was $11.99 on iTunes, but only $9.49 on Amazon through its own music store. Cheaper and more portable across our devices? That was a good deal, but more importantly us buying the Mp3 encoded versions of the music files meant that we could share the CD across our computers without a problem (and lest someone from the RIAA complain that this violates our purchase terms, we could have easily bought the physical CD at Target or similar and then simply ripped it ourselves, producing completely DRM-free audio files to share).
To accomplish this task, I went to Amazon.com and looked up the Rio soundtrack:


Confusingly, there are two versions of the soundtrack available. One with a digital information booklet for $9.49 and one without the digital booklet at $9.99. So it's -0.50 for the booklet? We bought that edition! 🙂
To purchase it, I click on "Buy MP3 album with 1-Click" and…
Here's where I agree to the terms of use without actually reading them. I bet you do too, now that we think about it.
Check the box, click on "Continue" and you've just bought a music CD. Nice and simple.
But where is it?
Turns out that this is the more complicated part of the transaction. There are two choices: you can add the music to your "Amazon Cloud Drive" or you can opt to just download the tracks to your computer:
The download option is so small, however, that I'll zoom in so you can see it in the screen capture above:

That's all I want to do, get the actual files onto my system so I can manage them, share them with my daughter and have them back up along with the rest of my (extensive!) music collection. To do that, I click on the rather alarmist "No thanks, only save to this computer".
(sure seems like Amazon thinks this is a bad idea, doesn't it?)
Oh good, more software to put on my computer. Okay, it is pretty slick and it actually not only manages the music download but then automatically adds the music to my iTunes library as it's downloaded. Very easy!
To install the Amazon MP3 Downloader, I click on "Download now" and the software installer is downloaded and shows up as a new external drive on my computer"

Double-clicking it reveals: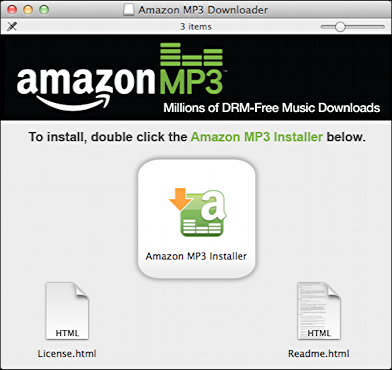 As you might suspect, double clicking on the "Amazon MP3 Installer" is the next step in the process (and btw, you only have to install the Downloader once regardless of how many CDs you buy from Amazon so your second purchase will be way, way easier than this)
Yup, thanks for the warning Safari! I'll continue by clicking on "Open"…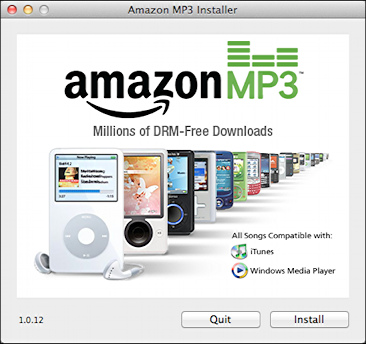 Jeez, yes already, I want to install the $#@$#$& software. I click on "Install" and, finally, finally, it installs. I do, however, need to restart my Web browser so just a sec and I'll be right back:
Okay, back. Again, that's a one time thing, next time I buy music from Amazon this'll all be installed and ready to go, fortunately.
When the browser does restart, it reopens the same page on Amazon.com with the CD purchase, but this time since it knows I've installed the Amazon MP3 Downloader, I get a message that includes a "Download album" button:
Click on that button and – ta daaaa! – the download begins: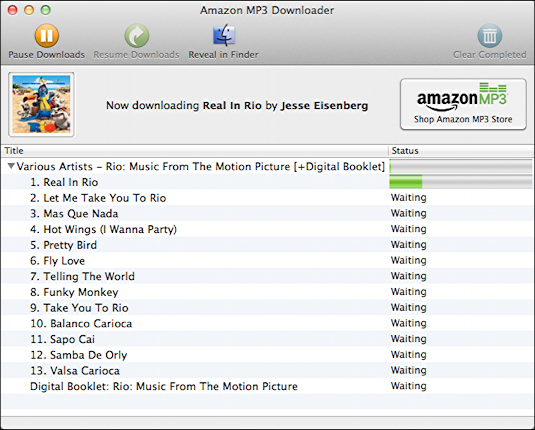 Yes, the song that's being downloaded features popular young actor Jesse Eisenberg singing "Real in Rio". Life is weird, eh?
After a short time the songs all download and the helper app reports:
Very nice: "Your music has been downloaded and imported successfully". The "imported" means "imported into your iTunes library". Yup, it's that easy.
In fact, if I pop open iTunes and search for the Rio soundtrack, here it is:

As a last step, to grab the files for my daughter, I simply select all the tracks on the CD and drag them onto the Desktop. iTunes automatically makes copies and one file copy later she can simply drag them onto her own iTunes library and she has them too.
Hope that helps you out with your own music sharing dilemma!