I appreciate having a shortcut for "home" on my Android phone's map program, but I'd also like to add one for my workplace. How can I add a "work" shortcut to Google Maps?
You're right that it's quite convenient to have shortcuts for common places you visit in your favorite mapping program. Since Google Maps is tied to your Google account, it also turns out that you can set them up from any version of Maps, even through your Web browser. Remembering a location and setting it as your "Home" or "Work", however, isn't quite the same thing, so let's crack open that Android phone app and get to work.
To start, know that this is exactly the same sequence you would use to set your Home address too, so that when you're poised to search for directions you'll have a convenient "Home" button too. Let me show you what I mean.
GOOGLE MAP SETTINGS ON ANDROID
On your Android phone – or tablet, actually – open up Google Maps and you'll undoubtedly see something like this:
You can see from the blue dot in the approximate middle of the screen that I'm in Longmont currently. More importantly, notice on the very top, just under the "Search here" box, is a button for "Home" and some common categories of search like "Restaurants", "Shopping", and, just barely off-screen, "Coffee".
To set your Home or Work location, tap on your profile picture to access the main menu:
Notice the "Turn on Incognito mode". Handy for if you ever want to search for an address without it then being added to your search history! For this task, however, tap on "Settings".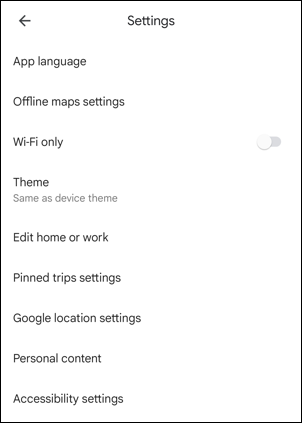 Almost there. One more tap: "Edit home or work", about half-way down this list. If you find yourself using Google Maps on your Android phone when you don't have a good cell signal, you'll also want to check out "Offline maps settings" too, but that's for another time. For now, tap on "Edit home or work".
The results are super interesting, actually: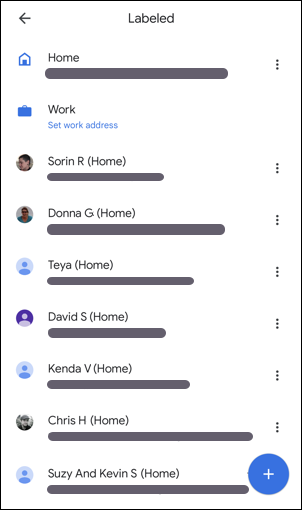 What Google Maps has done is analyze the actual location of every address in my Contacts list, then present them sorted from closest to furthest. My friend Sorin is less than a mile away! [I've obviously masked this data for their privacy]
SET YOUR WORK ADDRESS IN GOOGLE MAPS APP (ANDROID)
To proceed, tap on "Set work address". Finally, it'll prompt you to actually enter the address of your workplace: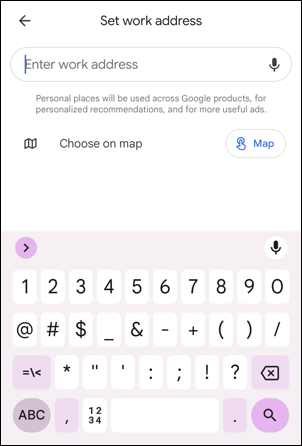 Since I'm working at a coworking facility called CoSolve, I can actually just type in the name to find a match. Here's what happens when I enter "cosolve":
That first one is the match I seek, so a tap on "CoSolve – Coworking Space in Lon…" does the trick. Notice that you can also choose a location on the map itself if you prefer with "Choose on map".
Now when I go back to the previous screen "Labeled" it shows a Work address for me too, not just a Home address:
Much more importantly, when I go to enter an address in Google Maps now, it shows a "Work" shortcut adjacent to the "Home" shortcut: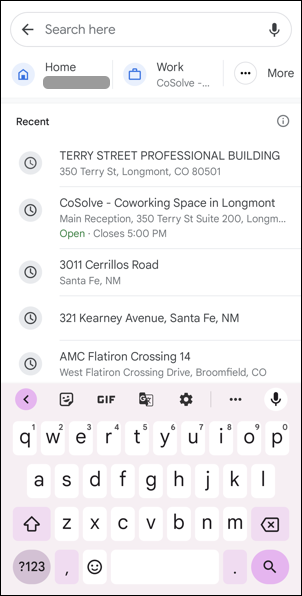 One tap and I have directions from anywhere in the world to CoSolve in Longmont. That's easy!
Pro Tip: I've been writing about Android and Google tools forever! Please check out my extensive Android help and Google tools help areas while you're here, for lots more useful tutorials and guides! Thanks.