I know, I can't stick with Windows 7 forever, but is it possible to at least bring my familiar Windows 7 wallpaper along when I switch to Windows 10? If so, where do I find the Win7 wallpaper?
Changing the wallpaper on your Windows 10 computer won't make it behave like a Win7 system, unfortunately. You realize that. Here's the thing, though: Give Windows 10 a shot. You might be surprised how many of the changes from the crufty old Windows 7 system are improvements that make your computer run faster, smoother and let you get things done more efficiently. If nothing else, there's a much fancier version of Solitaire included with Windows 10, as I explore here: All About Windows 10 Solitaire.
More seriously it turns out to be super easy to make any image your desktop wallpaper in both Windows and MacOS X nowadays. The trick is to find an image that's going to look good, and for that it's smart to have a sense of the screen resolution so you can try to match. Most screens have a similar resolution ratio to a modern TV screen, actually, 16:9. For example, my Mac system runs at 2560 x 1600 and modern Windows computers commonly are running at HD resolution of 1920 x 1080 or 1368 x 768 (though that second resolution isn't particularly good because it's way off from 16:9 so distorts lots of content and programs).
Regardless of your screen resolution, what you seek are images that are at least that big and approximately the same width x height ratio. For example, let's say you have a 1368 x 768 screen. That's roughly 2:1 as a ratio, so any wallpaper you use should have similar dimensions. That Windows 7 wallpaper? The version I have for you to download is actually 1920 × 1200 so it'll likely be a bit distorted for you. People with 1920 x 1080 "HD" screens will have it also look distorted, but less so because the ratios are much closer.
ANYWAYS, let's just jump into this and you can see how it looks on your own computer screen, right? 🙂
To start, click on this link to get the wallpaper in its own window in your Windows Web browser:
It should look something like this: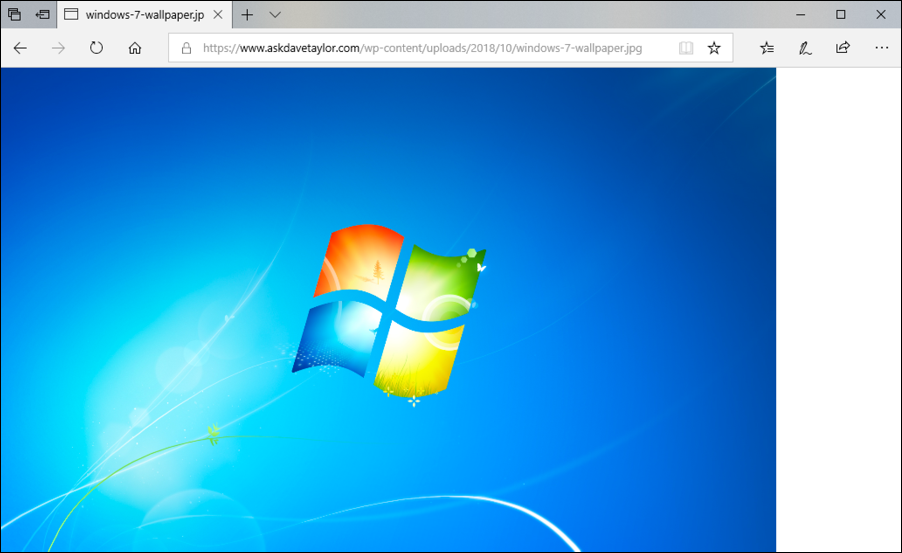 Now just right-click on the image itself to pull up the context menu.
You'll see, there's a specific entry you want: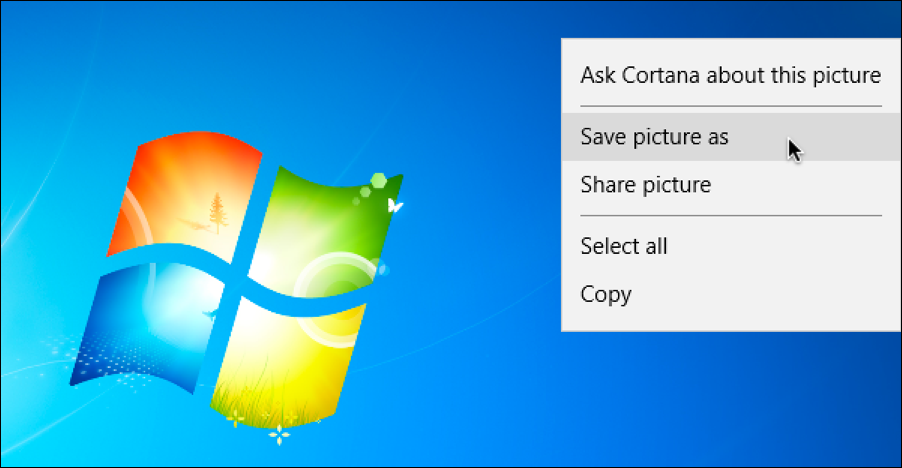 I've already highlighted it: Click on "Save picture as".
It'll bring up a file save dialog window:
It doesn't really matter where you save the wallpaper graphic as long as you can find it again later. 🙂  I'm just going to drop it directly onto my Desktop but in the long run, I'd rather have it in a "wallpapers" folder in Pictures or similar. Anyway, pick your location, then click "Save" to proceed.
Cool. Now just right-click on the image file itself and choose…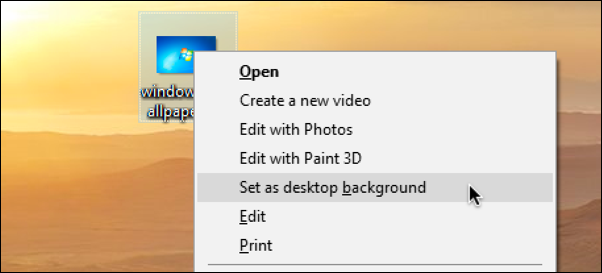 You guessed it! Choose "Set as desktop background" and instantly *poof* it should be set!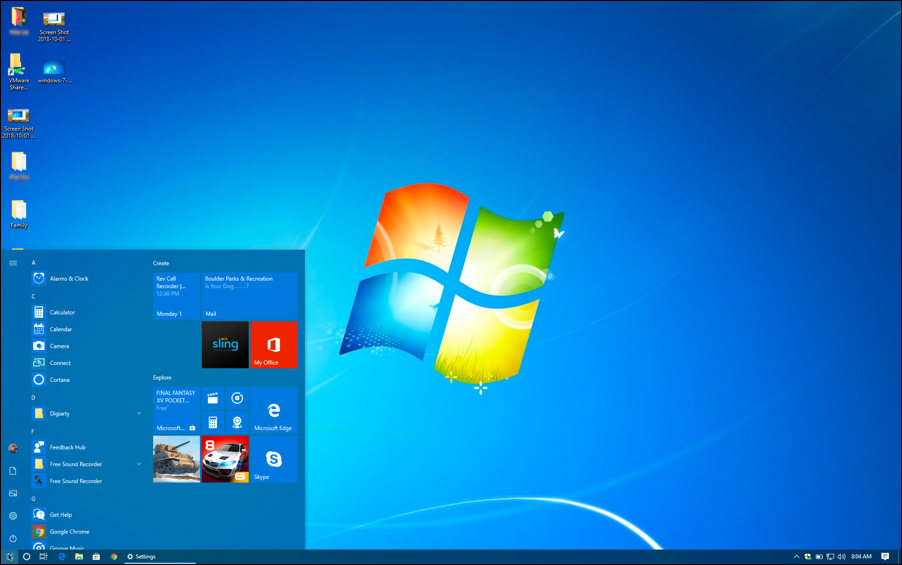 I have to admit, that's pretty darn cool actually! And now you have a Windows 10 system that on first glance might just still be Windows 7. But please, embrace the new features and capabilities of Windows 10 too, especially Cortana and the new search system that's 100x better than anything that was ever included with Windows 7!
Pro Tip: While you're here, please do check out my extensive Windows help area. Lots of useful tutorials, with an emphasis on Win10.