Hey Dave! Is there a way that I can have the current temperature on my Taskbar? Not on the Start Menu, on the actual Taskbar itself? Running Windows 10.1…
Though many people think of icons as being static graphics that represent an app, utility or game, the fact is that program icons can convey timely or thematic information too. The Wifi icon in the Windows 10 Taskbar, for example, can show whether you're online or off, and obviously the battery icon shows you – in a tiny form – the status of your battery charge. But weather? That's a bit more tricky.
Microsoft does include Microsoft MSN Weather, which is a really good program and offers up a nice weather view in the Start Menu in Win10, but on the Taskbar? It's got nuthin'… And so, to solve this puzzle we need to look a bit further afield, to Weatherbug, because it turns out that one of its free weather program capabilities is to add a tiny icon with the current temperature to the little parade of icons on the right side of your Taskbar. Let's have a look!
UPDATE: Weatherbug is not Win10 compatible at this point. Instead, check out WeatherEye from The Weather Channel. Here's an updated tutorial on how to install it and get it working on your PC:
Show Temperature On Your Windows PC Taskbar
.
First off, here's the MS Weather display in my Start Menu. A solid option and quite attractive too: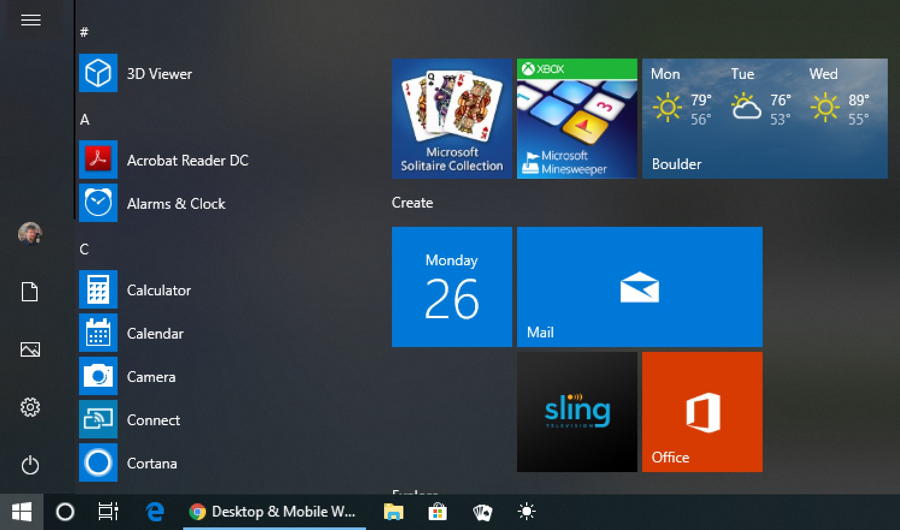 You can see that it's currently 79F, with a forecast low of 56F and tomorrow's more of the same, while Wednesday is going to wkr up to 89F. Easy, fun, and a single click launches the Weather app itself.
Which doesn't help us get that weather onto the Taskbar. Yes, Weather has a tiny "sun" icon on the Taskbar, but that's the app icon, not an indication of weather, and clearly there's no temperature information.
Enter Weatherbug.com. While there are plenty of weather apps in the Microsoft Store, I trust Weatherbug more than some random programmer who wants me to run their program 24×7 on my PC. A click on weatherbug.com/appdownload/ and you'll see, it's pretty obvious how to proceed:
Click or tap on the green "Get the WeatherBug App" and it's a fast download. A few moments later, you'll see this prompt for it to install on your PC computer: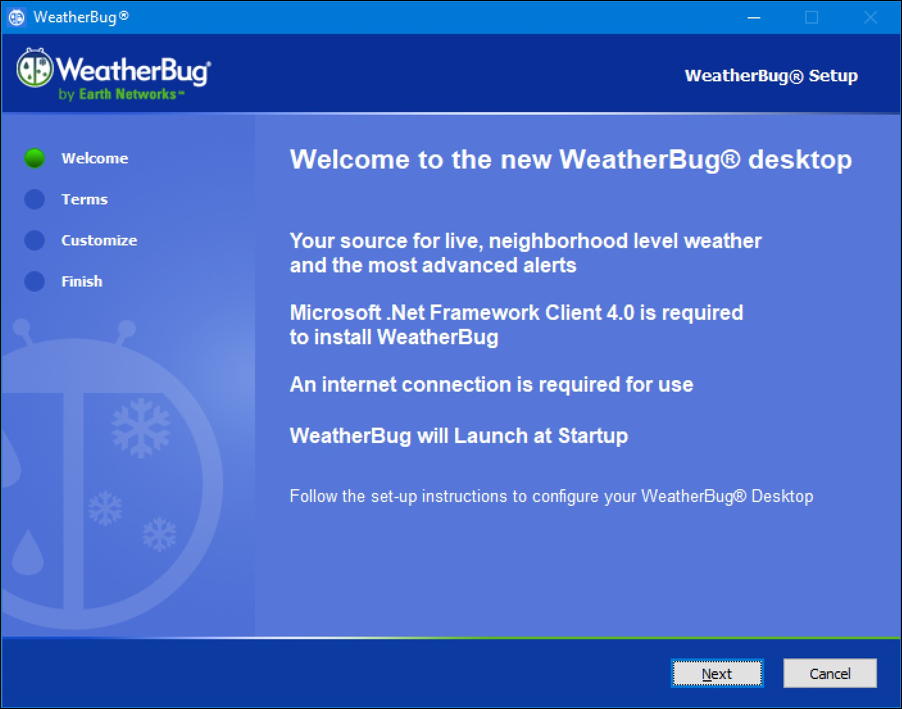 Install it normally, noting that it requires .Net Framework Client 4.0 (which you probably already have if you're keeping your computer updated with Windows releases) and it also automatically launches each time you start up your computer.
Install and run the program and here's what you'll see. Very nice, really!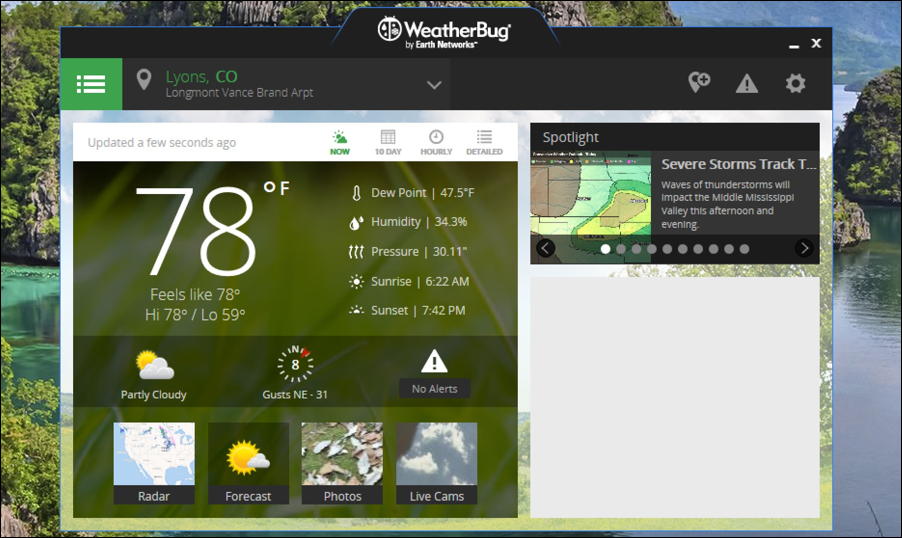 The program wants to put a live icon on your Taskbar too, but probably you won't see it. Why? Because you probably have icons disabled by default as I do, to avoid icon overload! Easy to fix, though. Right click on the Taskbar along the bottom of your window: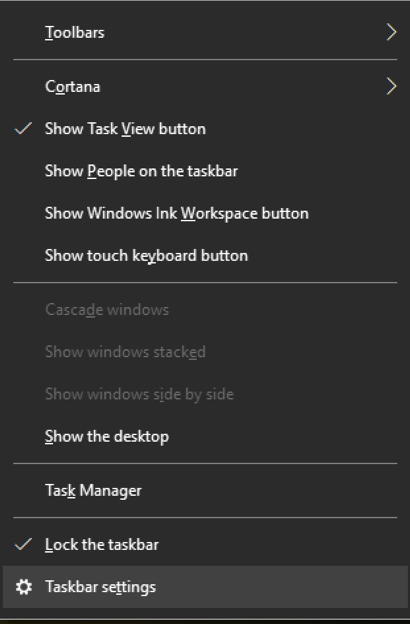 Lots you can fiddle with, but focus! Focus! Click or tap on "Taskbar settings" to proceed. You'll see a window with a lot of options and settings, reasonably enough:
You might need to scroll down a bit, but you're searching for the link "Select which icons appear on the taskbar". Click or tap on that and you'll get a list, which will now include WeatherBug: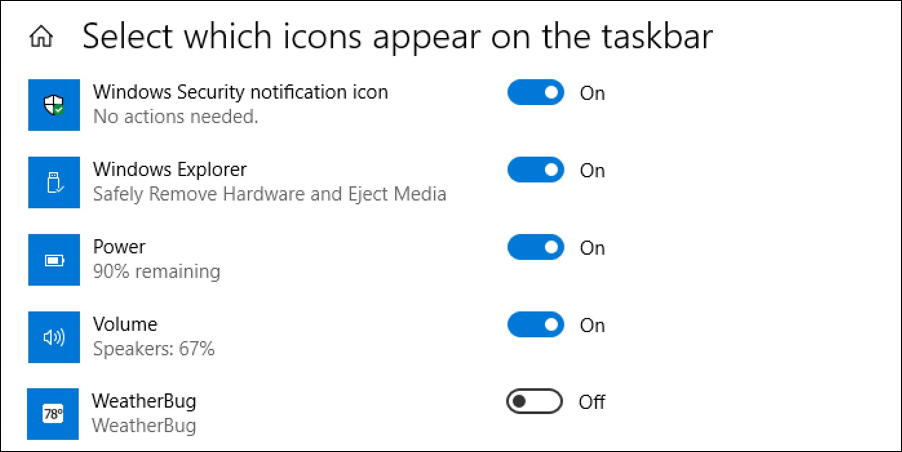 You can see that by default I have WeatherBug off, which is why it isn't showing up. A click to change it to "On" and *poof* here's what shows up on the Taskbar:

See it leftmost? 78°. That'll change as the temperature changes. Done, and pretty slick too!
The only caveat is that WeatherBug needs to be running for the icon to appear and have the correct temperature, so I suggest you just minimize it and ignore it. It consumes very few resources, so you shouldn't even be aware it's running.
Pro Tip: I've been writing about Microsoft Windows for many years and have hundreds of Windows 10 help articles for your perusal and edification. Please take the time to check it out while you're here!