I've become increasingly aware of the issues around privacy when I'm online, and since I use public wifi a lot, really want to utilize a VPN. What I want, however, is to be able to easily turn it on or off from within Google Chrome. Is that possible?
First off, props to you for becoming more savvy and aware of privacy issues. It's not only the stuff of headlines, it's a very personal issue for each and every one of us who spends time online. We can't rely on our computer, operating system, ISP or the services we utilize to guard our privacy. Clearly, with the latest news! Instead, it's up to each of us to figure out how to guard our privacy and a Virtual Private Network (VPN) is a solid step in that direction.
If you're not familiar with a VPN, it basically adds a layer of encryption to every interaction between your computer and the greater Internet, meaning that the wifi hotspot you're using and the ISP offering its connection can't see or decipher what you're doing, where you're going, etc. There is a performance penalty for using a VPN, but that's usually fairly negligible with a good connection. Not only that, you can use it with wired connections too; it's not just for Wi-Fi!
There are also a ton of VPN services out there. One of my favorites, however, the one I use almost every day is ExpressVPN. One reason is that they have really worked on creating a system that is as fast as possible while still ensuring you have the privacy a good VPN offers. Downside is that it does cost money to use, but it's pretty negligible, particularly compared to the cost of repairing identity theft or similar!
As a huge bonus, ExpressVPN has an extension that allows you to control it with a single click from within the Google Chrome browser, so you never have to step back to your OS if you're a browser sort of person. Let's have a look…
To start, ExpressVPN sits on your menubar on a Mac or TaskBar on a Windows system, ready to launch. It's pretty easy to work with:
Notice the very first entry on the menu, however: "Add Chrome Extension". That makes it easy. Install ExpressVPN as normal, then choose "Add Chrome Extension" to proceed. You'll see this:
You can guess the next step – click the blue "Quick Install" button…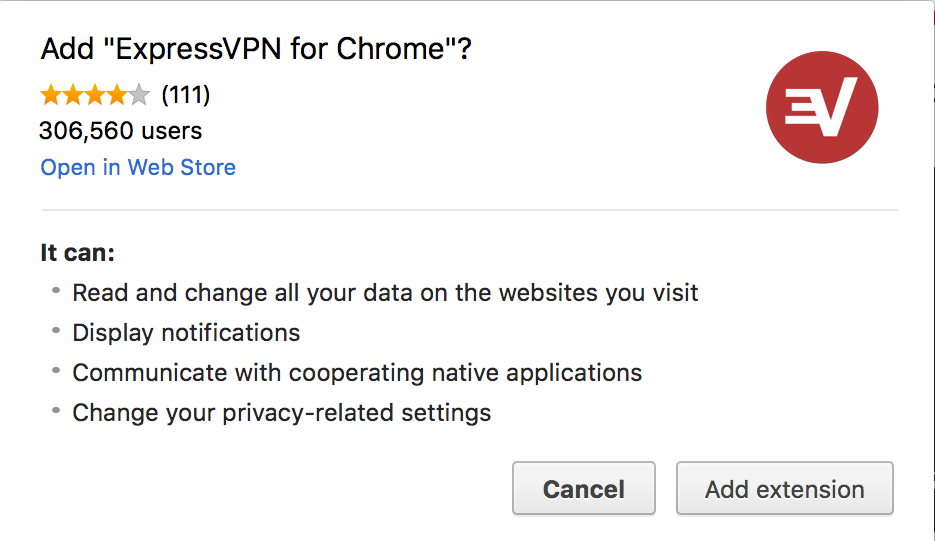 You can see it's popular and gets pretty decent ratings with four stars against 111 reviews. I'll proceed by clicking on the "Add extension" button. It downloads a rather oddly named package:
My guess is that each person who downloads this gets a different filename and it's associated with some level of software encryption. Whatever the story, I never have to type in the fgddmllnllkalaagkghc… name so it's all good. 🙂
That opens up an installer and installs the extension. Suddenly a new button shows up on the browser's toolbar and an explanatory window appears:
That's about it. Now you can click on the button to jump straight to the VPN service:
I recommend you use "Smart Location" (button on the lower left). Then click on the big round button in the middle of the shield graphic to enable ExpressVPN. It can take a few seconds to establish a secure connection…
Once it's connected, however, the button graphic on the toolbar actually changes to show you that everything's working as it should be:
And that's all there is to it. Super easy to work with and install in Google Chrome, and as I said, I've had very good experiences with ExpressVPN and suspect you will too. Give it a try!