I don't trust Apple Maps and use Google Maps on my iPhone 6s with great results. Except for one annoyance: I can't add stops en-route, it's just start to end. Help!
Can't speak to your distrust of Apple Maps, but I too am a big fan of Google Maps on my iPhone and computer. The good news? Google just added the ability to add stops en route to the iPhone version of Google Maps! (Interestingly, the iPad version of the app doesn't seem to have this capability as of yet).
Even better, you can reorder your stops and have more than one en route too, so if you're on a delivery route and have a half-dozen addresses, you can move 'em around to get the optimal route (though there's not yet a button that does that automatically. Seems like a natural, though, Google!)
To start, make sure you have the very latest version of Google Maps for your iPhone and enter a destination address, either your final destination or an interim waypoint. I'll use the UA Colorado Center: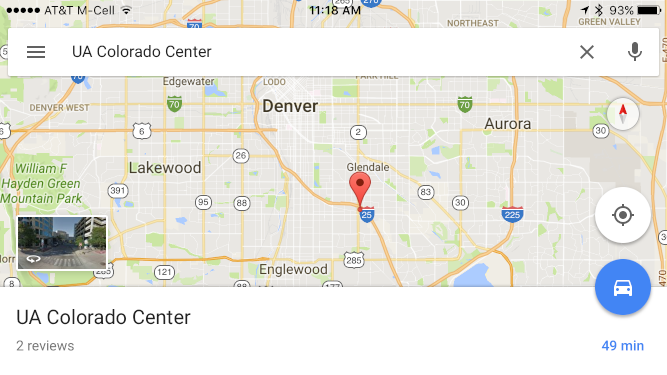 Now tap on the car button on the lower right to indicate that you want directions:
Now here's the trick: see the three dots on the top right? Turns out there's a menu of options that let you fine tune exactly how your route should be calculated, including adding stops along the way!
A tap and here are the options shown:
See "Add stop"? That's the button! Tap on it and you'll be able to add an additional stop, though by default it shows up after the initial destination:
Simply tap on the "Choose destination" in the "B" box and type in a destination address!
Notice you can add an additional stop too, by simply tapping on "Add stop" on the list.
Locations in wrong order? No worries, you can drag and reorder as needed:
That's it. Just tap on "Done" and you'll get your route, including any stop or stops en route!
Now to get to the movie theater before the film starts!