I listen to Spotify all the time, but don't always want to have the app open on my Android phone. I've seen that there are active widgets for the iPhone, can I do something similar to have Spotify controls on my Android home screen too?
Android actually introduced widgets, tiny little app windows that can be added to your Android screens, long before Apple got the inspiration to add it to the iPhone system with Apple iOS! Heck, if you think about how you can have small windows open on your computer that let you interact with multiple programs simultaneously, it's not a big leap to offer the same functionality for smartphones and tablets too, right? Indeed, widgets are useful on phones, but it's the bigger screens of tablets that really show off the increased usability and control of a widget-ful Android device.
Unfortunately, most programs and apps on your Android device do not have associated widgets, so mostly you're left in the dark. Instead, notifications can keep you in the loop (somewhat) and you can always just leave the app running and shown on the screen. Not a great solution, I admit, but fortunately Spotify is one of the few apps that does have a widget. And it's a really slick one that's great for every Spotify fan too. Let's have a look…
HOW TO ADD WIDGETS TO ANDROID HOME SCREEN
Not to state the obvious, but the first thing you need is some space on your home screen to add the widget. Some are 1×1 (e.g., the same size as an app icon), but many are larger, and this Spotify widget we're going to stretch to be the full width of the screen. To start, then, here's my home screen with a nice, big space in the middle: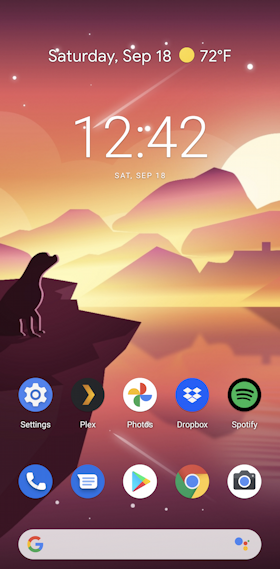 It works really well with the wallpaper graphic design, but we're going to change that.
Now, you're probably familiar with holding your finger on an app icon for a few seconds to get to the "arrange" screen, but did you know you can do the same on an empty spot too? Tap and hold somewhere on your screen, and after a few moments you'll see this: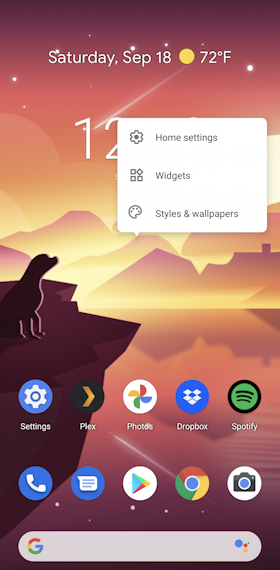 You can change your home settings or update your styles and wallpaper, but for this task, tap on Widgets to proceed.
A new window pops up with a bunch of different widgets, based on the apps you have installed on your Android device.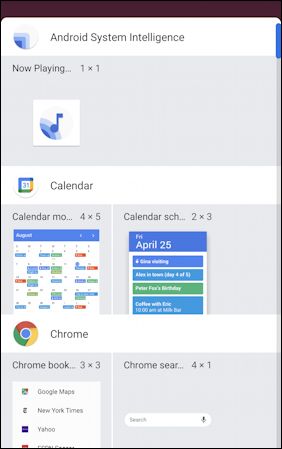 "Now Playing" is an odd one, actually, because it's really just an app icon for the Now Playing feature of Android. Below that, however, you can see more typical widgets for Calendar, Chrome, and, off screen, Gmail, Weather, Maps, and more.
Swipe down near the bottom, however, and you'll find some music app options: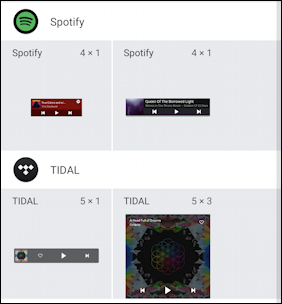 There are two styles of Spotify widgets you can try out to see which you prefer. I like the one on the right that lets you stretch it out to be more than the 4×1 default size.
ADD THE SPOTIFY WIDGET TO YOUR ANDROID HOME SCREEN
To actually add the widget to your screen, tap and drag it. As soon as you do that, the entire catalog of widget options vanishes and your home screen reappears. Lift your finger and it's added!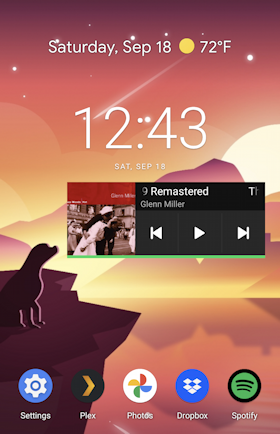 I like symmetry on my devices and screens, so having it not be stretched across the entire width would definitely bother me. To fix that tap and hold on the widget itself. After a few moments it'll display resize handles on the sides: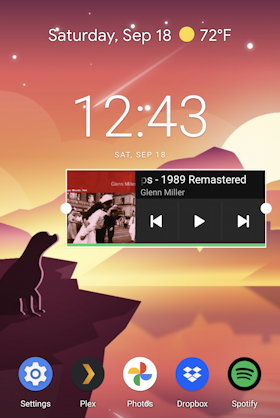 Now it's easy to tap and drag the left size of the widget to stretch it out one more screen display space unit. Finally, mission accomplished: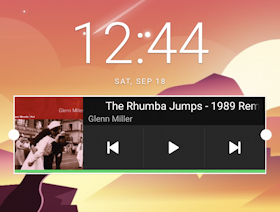 Notice the album art, title information, artist, and, of course, the controls that are now front and center on your Android device. Nice!
HOW TO REMOVE AN ANDROID WIDGET
Decided you don't like it after all? No worries. Tap and hold your finger on the widget, then start dragging it and a REMOVE option will appear on the top, as shown here: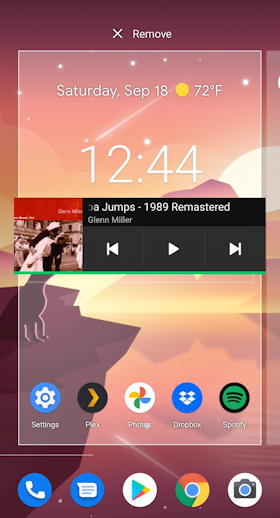 Drag it to the Remove area and it'll vanish. Spotify is still on your device, however, so no worries, you didn't uninstall the app, just the widget.
That's it. Now, have at it and customize your Android screens!
Pro Tip: I've been writing about Android since the beginning. Please check out my extensive Android help area while you're visiting for lots more useful tutorials and guides! Thanks.