I often miss away games for the teams I support and am wondering if there's an easy way to add my team's schedule to my Google Calendar? While I'm at it, any way to add UK holidays even though I'm based in the USA?
For reasons I can't explain, it seems like there were more public calendars that we could add to our subscriptions five years ago then there are today. And that's as people rely more and more on synchronized calendars that can show on any device, mobile or desktop. Fortunately all the major sports teams seem to offer their own updating calendars and the calendar programs themselves – Outlook Calendar, Google Calendar, Apple Calendar, etc. – offer holiday schedules for dozens of nations.
Of course, they don't have every regional holiday calendar schedule, nor do they have every possible sports league or team. If you support a team that's not supported, it's worth doing a quick search to see if they offer their own calendar, but we'll return to that a bit later in this tutorial.
SUBSCRIBE TO A NATIONAL HOLIDAY CALENDAR IN GOOGLE CALENDAR
Let's jump into it by starting with my rather open calendar for the current week in January, 2021: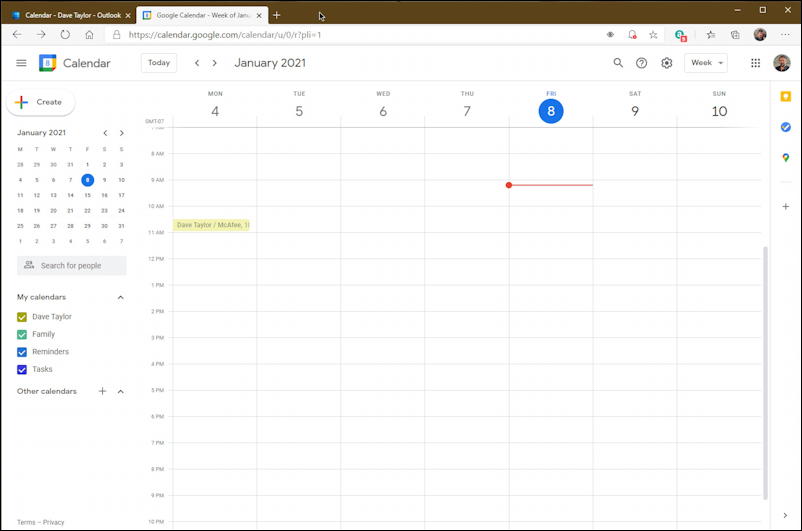 This is week-by-week view, but the left side will be the same regardless of which view you've chosen. What's important is the "Other calendars" area and the "+" adjacent. Click on that and a new menu will pop up: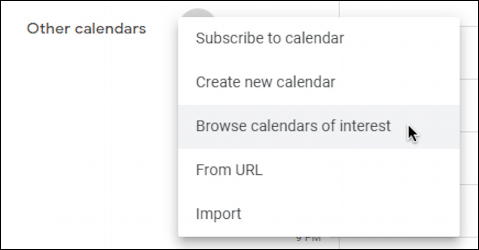 If you get a link to a calendar – typically an ".ics" URL – you can utilize "Subscribe to calendar" but for right now, choose "Browse calendars of interest" as there are quite a few calendars already managed and maintained by the global Google Calendar team…
The top options are birthdays from your Contacts list and religious holidays:
See a set of religious holidays you'd like to add to your own calendar? Just click on the associated checkbox. It's that easy.
For regional holidays, click on the "Regional holidays" link, as you would expect. It opens up and there are a lot of regions covered in the Google list.  Scroll down to find the one you seek – United Kingdom – and subscribe to it.
Done. It'll instantly show up on your calendar.
SUBSCRIBE TO SPORTS TEAM CALENDAR IN GOOGLE CALENDAR
But what about your sports team? Well, if you're lucky, the next section down will have the sport and league that includes your favorite team:
Missing in my eyes? Soccer. Perhaps if you're based in the EU or UK that shows up and Baseball and Basketball are missing? Unfortunately I haven't figured out any way to see every single possible sports calendar, but we'll come back to that!
For now, find your team if possible by choosing sport, then league, then team. Baseball offers quite a few leagues, including many overseas: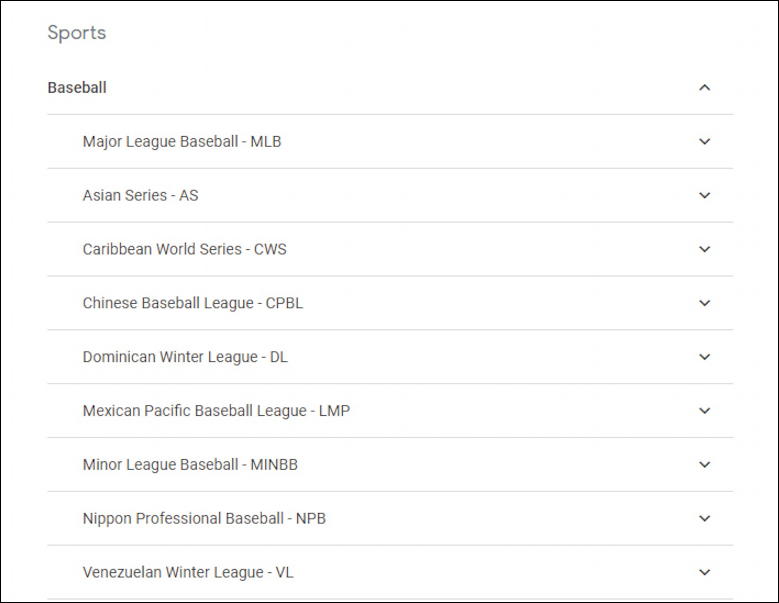 I'll subscribe to my own local baseball team, the Colorado Rockies. Again, once found, it's just a single click.
But what about if your team doesn't show up? Or your entire sport isn't shown? Well, the good news is that their calendar and schedule might well just be a Google search away. For example, I'm a lifelong fan of the UK soccer team Tottenham Hotspur and it's a matter of a few seconds and a search for subscribe tottenham hotspur game schedule calendar to reveal that there is indeed a schedule available for subscription. On that page it shows this button:
A click and, after filling out a few forms and giving the team my email address (sigh), it finally reveals this URL:
webcal://ics.ecal.com/ecal-sub/5ff893fc6eb7a8b453/tottenham.ics
Now you don't want to subscribe using my link but you can see how this works. Just about all major teams now seem to have something similar, though the process can be frustratingly different from sport to sport and team to team. Once you get that ".ics" file, however, just go to the link off the main Google Calendar page that says "Subscribe to calendar" and paste in the URL. Done!
Here's what my week looks like with a few new UK holidays added:
You can see that Nov 5 is Guy Fawkes Day and Nov 8 is Remembrance Day. Notice the colors too, because they match the colors shown on the list of external calendars you now have:
Once baseball season rolls around, those Colorado Rockies games will show up in calendar automatically too!
Pro Tip: I've been writing about the Google office suite and its various tools since they were released. Please check out my Google Office help area for tons of useful tutorials and Gmail help tutorials too. Thanks!