I've been going crazy trying to figure out how to add special characters and symbols to email and documents on my Dell Windows 8 system. Is there a shortcut or app or something to make the process easier?
If you're just used to typing in A-Z, a-z, digits and basic punctuation, there's a world of symbols and special characters that you could be using to add color and verve to your text communications, and it doesn't involve stickers, smileys, emoticons or anything else. In your case, you already know the need because there are certain characters you need to include that are difficult to find on a standard Microsoft Windows keyboard, whether you're running Win7, Win8 or an early beta of Windows 10.
The problem is there just aren't that many spaces on a keyboard and when you think about which characters and symbols are used most often, it's quite reasonable for some punctuation, like $, # and * to appear, while others, like the British Pound Sterling symbol, or the Japanese Yen symbol, are missing.
Not a crisis!
Some programs like Microsoft Office offer a specific special character, diacritical or symbol inclusion menu, but Windows itself has had the solution since, gosh, Win 3.1, if not earlier.
First off, let's start with WordPad, a nice built-in word processor included with Windows 8.1: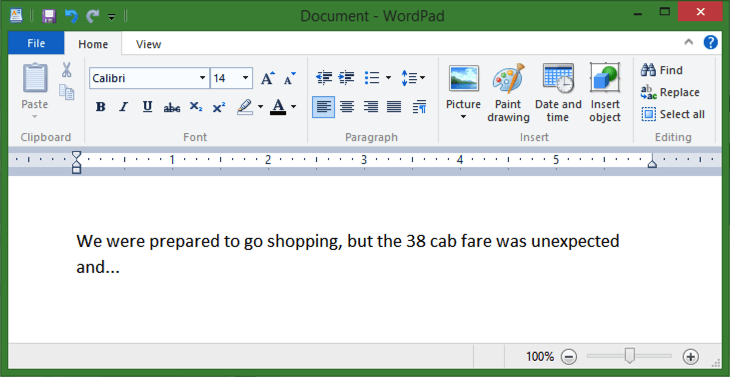 The problem here is that what I want to specify is that it was £38, not just "38" or $38 (which would indicate the wrong currency)…
You might think that right clicking on the spot where you want to include the symbol will work, but in WordPad it doesn't: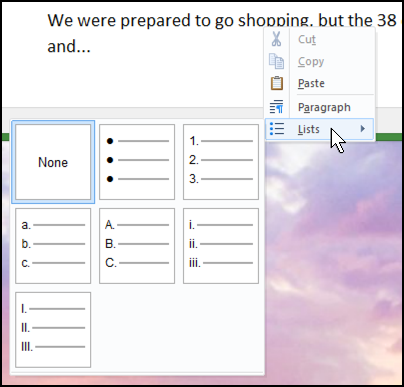 You can change lists, you can change Paragraph style, but you can't access a special character menu. Harumph!
Fortunately, as I said, Windows has a nifty, albeit horrible outdates, utility to help out: Character Map.
Get to it by using the Win8 built-in search capability, which you access most easily by pressing Windows+S to search, then entering a few characters of the app's name: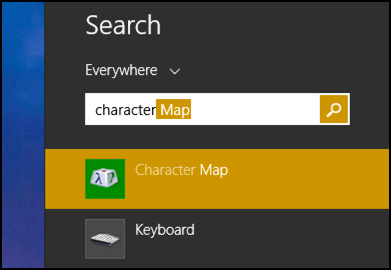 That's it. Press Enter or Return to launch it and…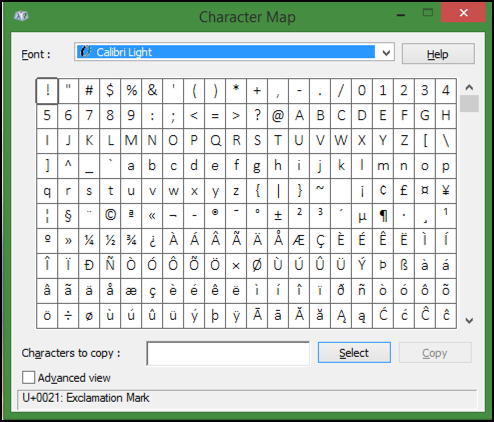 Yeah, I warned you that the interface wasn't very glamorous! Use the pop-up font menu to ensure that it's showing the same font as that you're using in your doc already (to make life easier), then scroll and use your eagle vision to find the symbol you need. For me, it's the £ symbol:
Notice that the Character Map application shows the keystroke equivalent on the lower right: Alt+0163. I don't even know how to make a "0163" sequence, so Character Map is a definite win.
Found the symbol you want? Click on it until it shows up in the "Characters to copy" box near the bottom.
Got everything lined up the way you want? "Copy", go back to your editing app, move the cursor to the right location, and paste:
Nice. And not too horrible, though the Character Map application could sure do with a facelift!